By David Templeton
"I just turned 70," says actor/producer George Maguire. "But in many ways, as an artist particularly, I feel like I'm just starting out."
After a lifetime appearing in other people's plays and films, and teaching others how to do the same, Maguire is finally venturing into the field of developing and producing his own projects.
"It had to happen eventually," he says with a laugh.
Having appeared in dozens of films and television shows, and hundreds of stage plays, Maguire is perhaps best known for the small, colorful, slightly offbeat characters he's played in such cult-hit films as David Fincher's The Game and Fight Club, Clint Eastwood's True Crime, Finn Taylor's Dream With the Fishes and the upcoming Netflix series 13 Reasons Why. He moved to California from New York City in 1984, initially finding work in Southern California, where he was an actor, teacher and board member of the acclaimed Pacific Conservatory Theatre. Maguire moved to the Bay Area in 1986, and soon became a frequent figure on local stages, racking up numerous appearances with the Marin Shakespeare Company, Marin Theatre Company, Aurora Theatre Company, Magic Theatre and more. He eventually landed a gig teaching theater at Solano Community College, from which he just recently retired.
"I'd done New York and I'd done Broadway," he says of his motivation for leaving his home state and becoming a permanent West Coaster. "I'd been onstage with Phil Silvers and Ginger Rogers, traveled around and done regional theaters. I'd done all the things an actor is supposed to do—but I was turning 40, and I wanted something new and different. Moving here turned out to be the very best thing, because I have been able to keep doing stage work, which I love, and to teach, which I love—and then, when the film work started coming, I was able to relax into that too, and my life has been endlessly wonderful ever since."
For his stage work, Maguire has received numerous nominations from the San Francisco Bay Area Theatre Critics Circle. Asked what his favorite stage role has been, he instantly names the part of Kent in a 2006 production of King Lear, staged by Marin Shakespeare Company at Forest Meadows Amphitheatre in San Rafael.
"I loved doing Kent," he says, of playing the mad king's resourceful but banished counselor. "I liked doing him a lot because King Lear is such a good show and Kent is such a rich and juicy character. He's a real 'butch part,' a manly man, and he was a discovery every single night."
Maguire says that his string of parts at Marin Shakespeare Company was some of the most fun he's ever had on stage—a run that included wearing a dress as Lady Bracknell in Oscar Wilde's The Importance of Being Earnest.
"The very first thing I did there was Brabantio in Othello, in 2004," Maguire recalls. Brabantio, the father of doomed Desdemona, appears in the first act, and is not heard from again until his death is mentioned in the fifth act. "It doesn't get better than that," Maguire adds with a laugh.
"Brabantio is so fun because he's fast and he's fearless—he's in and out of the play, and then he's gone," he says. "I also enjoyed playing the Emperor in Amadeus, for the same reason. It's a small role, but he has some of the best lines in the show."
Maguire acknowledges that many actors often want the lead part.
"They want a lot of stage time and they want the most lines," he says. "But it's the small roles that really test an actor. It's easy to do a lot when you have a lot to work with. But doing a lot with very little—that's when you really show your skill as an actor. And actors who can do that are golden in this business. Directors love actors who give their all, no matter how small a part you put them in."
Maguire says that he considers himself "mostly" retired from stage acting, but finds the film work, especially some of the independent short films he's been acting in over the last few years, to be the perfect kind of project for his skill set.
"I don't have to learn so many lines," he says, "and I get to do things on film that people never asked me to do on stage. I recently did a bedroom scene in a short film called Youth, which won the Casting Society of America's 2017 Artios Award for short films. I'm the lead, and the first day out I meet the gorgeous Jessica Stroup, from Beverly Hills 90210, and the next day we're shooting a bed scene together. 'Hi, I'm George!' 'Hi, I'm Jessica!' 'Now, let's eat mints, get naked and shoot a bedroom scene.' I have to say, it was hilarious. And that's the nature of the business."
The other thing that Maguire likes about making movies, he admits, is the intensity of the process.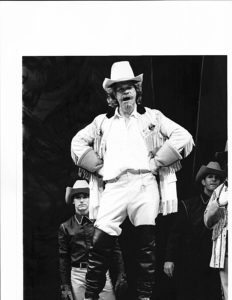 "The thing that's so addictive about film work," he explains, "is that, unlike stage work, where you slowly create a character over several weeks of rehearsal, in movies you have to make very, very strong choices, right at the top. It's scary, and it's intense and it's intoxicating."
Given that, in television work especially, actors with their own wardrobes are given a bonus, Maguire has collected a number of surprisingly specific costumes.
"I play a lot of priests, and a lot of funeral directors," he says. "I just have that kind of face. So I have my own priest outfit, my own funeral director outfit and sometimes it pays off in other ways. When I was shooting The Sweetest Thing with Cameron Diaz, I played an Irish priest, and because I wore the outfit to and from the set, I ended up getting free parking because everyone thought I was a real priest."
Of his many film roles, Maguire counts his appearance in Fight Club—playing the morose group leader of a testicular cancer support group—as one of his all-time favorite movie-making experiences.
"That was wonderful, and it's one of the parts I still get recognized for," he says. "It was grand getting to work with Brad Pitt, Edward Norton and Helena Bonham Carter, and my old buddy Meatloaf, who I knew from back in my New York days. I never got to work with Jared Leto, unfortunately.
"But it was a blast, making that film," he goes on. "David Fincher works very carefully and slowly, so a part that might have taken someone else a day to film, kept me on set for five days. I'd had a wonderful scene in Fincher's The Game, working with Michael Douglas. But he's a taskmaster, and he's fascinating to work with. Clint Eastwood shoots one or two takes only, but David shoots take after take. And I had to be at the top of my game every single take. Artistically and intellectually, it was an amazing experience."
Which brings Maguire to his current project, producing a short film based on his own original idea. The film, to be titled Generations, is currently in pre-production, with the budget still being raised. But Maguire says that it's quickly become a passion project for him.
"You know, time ticks by and pretty soon you start thinking about how time is running out," he muses, "and then you start thinking about all the things you haven't done with your life. And the one thing I'd never done was produce a film."
There was an idea that had been sticking in the back of his mind, a story about several generations of a single family coming to grips with a long-buried secret about their genetic heritage. The film, in which he will star, involves a man, his wife, his daughter and granddaughter, and a surgeon. Maguire declines to tell more, but says there are twists and surprises.
"The story sprang from a conversation I had with one of my brothers," he says. "So I commissioned a script from Candice Holdorf, and it turned out beautifully. I gave the script to a brilliant young director I know named Kourash Ahari, and he loved the story. And suddenly, there I was, producing a short film. Which has been eye-opening and exhilarating—and we haven't even started filming it yet."
The film, which he hopes to shoot in Solano and Marin this May, will cost an estimated $40,000, about half of which has been raised through crowdsourcing sites and private fundraisers. He has high hopes that the film will play the film festival circuit, and based on the responses he's received from the script, he believes that it will capture the attention of filmgoers all over the world.
"That's what happens with these shorts, a lot of times," Maguire says. "Shorts are where it's at right now. Big stars are doing them. In Youth, the one where I do the bedroom scene, it's actually  played all over the place. My sister saw it at a film festival in Holland. She called up and said, 'I don't know what was wilder, watching my brother play the lead in a sci-fi movie, or watching my brother make love to a woman half his age.' I told her, 'Well, pick one. They're both funny.'"
As for Generations, Maguire says that he's currently holding his breath, working to pull together the final funding and lock in the locations.
"We'll be filming part of it on Mare Island, and possibly some of it outdoors at the Marin Art & Garden Center," he says. "I'm a first-time producer, so I've made a few mistakes, including launching our big fundraiser at Christmas time, last year. Evidently, that's the worst time to ask people for money! We did OK, but we have a little ways to go."
With a laugh, Maguire adds, "And who knows? If I don't screw up really badly, there could be more films in the future I might produce. I'm really having the time of my life!"
If you want to help fund 'Generations,' contact Mammoth Pictures at mammoth-pictures.com or write to George Maguire at [email protected]