By Flora Tsapovsky
The sneaky art of regifting was invented for a reason, and no wonder it comes alive around the holiday season. The chances of getting the perfect object to reflect your current affinities, sophisticated tastes and latest obsessions are slimmer than your new laptop. And then comes the worst part—pretending. "You shouldn't have," fake smile, tossing the gift aside and later confining it to the 'hideous presents' drawer—it's a common formula, and it's anything but cheerful. And on the gifting side, the same potential heartbreak lurks. While you fancy yourself the gift wizard, the recipient might strongly disagree and secretly hate that rare secondhand record/embroidered sweatshirt/handcrafted dreamcatcher.
Sure, there are several safe routes to take—a portrait of one's pet is a winner, well-known to bring even the most cynical to tears. Foodie gifts are another good bet, and so is the boring, yet straightforward, option of a certificate to the recipient's favorite retail chain. But why be that person when you can gift the ultimate gift of experience? The thing with 'experience' gifts, even if it's a gift certificate, is that even in the worst case scenario, you're giving the person a chance to do something possibly new, and probably fun. Memories linger longer than dusty plants and clothes, and certainly longer than artisanal jam. We scanned the county for the most fun, most indulgent experiences that you can gift this season. You're welcome.
The gift of a new language
Spanish is one of those languages everyone wants to learn—sometime, in the future, perhaps, when a trip to Cuba strikes? But why wait? Gift a Spanish course to a loved one, and they're guaranteed to start the year on a fresh, and rather exotic, note. Aptly named, 'Spanish in Downtown San Rafael' is your best bet, offering beginner, intermediate and advanced courses for $17.50 an hour, in a friendly, casual atmosphere and a central location. When gifting, don't forget to mention that learning a new language is linked to longevity and prevention of neurodegenerative diseases—but keep it light.
Spanish in Downtown San Rafael, 1299 Fourth St., Suite 203; 415/505-6449; spanishindowntownsanrafael.com.
The gift of boozy art-making
It's easy to be artistic in picturesque Marin County, but guidance and inspiration can't hurt. At the cool and happening Art Works Downtown studios in San Rafael, you can find gift ideas ranging from Introduction to Drawing to Ceramics, but for maximum effect and minimum commitment, go for the Wine & Collage workshop, happening every second Friday. Led by artist and teacher Dan Caven, the $40, three-hour workshop includes snacks, two glasses of wine and some serious collaging in a small group. Perfect for the shy artist at heart—we all know one.
Art Works Downtown, 1337 Fourth St., San Rafael; 415/451-8119; artworksdowntown.org.
The gift of the forest
It's virtually impossible to hate a holiday gift that sends you outside and encourages exploration, especially given all the traditional eating in store. Gathering Thyme, a women-owned herb store in San Rafael, can help with that—the small business offers numerous field trips, short-term workshops and nature walks available for gifting. The gift with the broadest appeal is the Wild Mushroom Foray day trip to Salt Point Park, happening on December 20. Herbalist Autumn Summers will educate the group about different mushrooms and the bounty is up for grabs.
Gathering Thyme, 1447B Fourth St.; San Rafael; 415/524-8693; gatheringthyme.com.
The gift of pampering
Not the most original, but always welcome, a massage certificate is a timely holiday treat, ideal for relieving obvious stress and tension typical for the season. When shopping for such a commonplace offering, it's best
to choose the newest, glitziest spot—enter the freshly opened Soulstice Spa in Sausalito. This is the spa's second location (the first is in Santa Rosa), and it's pleasant and calm. The fairly priced ($119) 80-minute massage is a gift no one can refuse, especially when all the creams and oils smell divine and are made in-house.
Soulstice Spa, 501 Caledonia St., Sausalito; 415/729-9121; soulsticespa.com.
The gift of camping
Not everyone is familiar with Hipcamp, a new-ish, Bay Area-based initiative calling itself 'the Airbnb of camping.' All the better for your gift's surprise factor. Stay with us: Hipcamp is a Northern Californian website offering campsites, cabins and glamping options listed by community members and available to rent. Some of them are fairly familiar, some are secluded and lesser known, but all are magical. The website is promising a gift certificate option early this month, so make sure to go online and get one for that camping-loving friend.
Hipcamp; hipcamp.com.
The gift of beer-tasting
Now here's a gift that could bring the whole family together—not including wine snobs and children. A beer-tasting tour may sound like something only tourists do, but it's undeniable fun and somewhat educational. Plus, it's a guaranteed bonding experience. Sebastopol's own Brew Brothers Brewery Tours has the formula down: A comfy bus, three Sonoma County breweries, lots of tastings, easygoing atmosphere and an affordable price—$85 per person, available as a gift certificate on their website. If you want to be really fancy, there's the $110 combined breweries and distilleries tour as well.
Brew Brothers Brewery Tours, Sebastopol; 707/206-PINT; brewbrothersbrewerytours.com.
The gift of appetizer-making
While cooking may not be everyone's thing, a cooking class is always fun—as in embarrassing yourself in a small, well-intending group while playing with food. Gifting the experience of a holiday season-appropriate class—something many people may want but may not purchase themselves—will put you in the considerate category in an instant, and for extra laughs make sure you gift it to the unassuming, I-can-barely-make-an-omelet guy in the family. Cooking By The Bay, a charming San Rafael establishment, offers a number of very relevant and useful classes through December. Pick the Holiday Appetizers ($60), or go big with Sexy New Year's Eve Dinner ($70). And prepare for lots of gratitude.
Cooking by The Bay, San Rafael; 415/515-6498; cookingbythebay.com.
The gift of strength
It's no coincidence that every food magazine in the nation comes out with a 'healthy' issue right after the holidays. Eating and sitting around is the way we tend to spend the happiest season of all, which gives us plenty of time to come up with determined fitness resolutions for the next year. Turn dreams into reality with a gift subscription to a newly opened, beautiful yoga studio. New World Om is precisely that, offering Power Vinyasa, TRX classes and 10-class passes for $125 for the grand opening. Yoga has a better reputation than the good old gym, and there's something exciting about trying out a new place.
New Om World, 67 Tamal Vista Blvd., Corte Madera; 415/891-3764; newomworld.com.
The gift of adrenaline
Living in Marin, it's impossible not to take advantage of the natural resources out there. The gift of kayaking would be super-local and Marin-patriotic, but also a fun way to encourage loved ones to push themselves and try new things. Sea Trek Kayak & SUP is the place to go for all things watersports, from kayaking trips to stand-up paddle boarding classes. And you can't go wrong with the easygoing, $65 half-days trip around Sausalito—suitable for the most unprepared.
Sea Trek Kayak & SUP; 2100 Bridgeway, Sausalito; 415/332-8494; seatrek.com.
The gift of breathtaking views
When gifting experiences, it's nice to do something unusual and 'touristy,' because why not get an outsider perspective on your immediate surroundings? This is where Seaplane Adventures comes into play, with a simple yet genius idea: An aerial view of the Bay Area, experienced on a miniature Dehavilland Beaver or a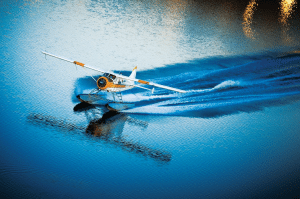 Cessna. At 60 minutes, the Norcal Coastal Tour will cost $289 per person, but you can go cheaper with an action-packed Golden Gate tour or a sunset trip, if the gift recipient is into romance.
Seaplane Adventures, 242 Redwood Highway Frontage Rd., Mill Valley; 415/332-4843; seaplane.com.