By Flora Tsapovsky
Daniel Tellez, executive chef of Sausalito's Copita Tequileria y Comida, tries to visit his home country of Mexico at least twice a year. Traveling between Mexico City, Puebla, Jalisco, Oaxaca and other spots, he always makes sure to visit some of his cousins. That's quite the itinerary, since Tellez has 52 of them. In the beginning of 2016, Tellez decided to channel all of that family love into the new menu at Copita, launching a weekly specials program dedicated to his cousins and their culinary preferences.
When Tellez joined Copita in the beginning of 2016, it was with a goal to refresh the menu. Born and raised in Mexico City, he's worked in a number of restaurants in Rome and his hometown, tapping into Michelin-starred establishments and collecting, on his route, awards and recognition from Bocuse d'or, the New York City Wine & Food Festival and more. Despite all of this glitz and résumé markers, family and tradition are enormous inspirations for Tellez.
"Growing up in Mexico and being surrounded by all of my family and a lot of friends brings back a lot of wonderful memories," he says. "Whenever I visit, there is always some kind of special feast happening. Of course, I love to do most of the cooking and it's also a fun time for the rest of my family to get involved and help out. I really love and miss that."
Taking all of that longing and adding fresh local ingredients, Tellez is now on the 30th week of his tongue-in-cheek, elaborate 52 Cousins menu journey. After all, family is where passion for cooking was ignited within him.
"I grew up only a few blocks away from my grandmother's house," he recalls. "She always called on all of her grandchildren to help her in the kitchen. I was one of the youngest grandchildren and I always loved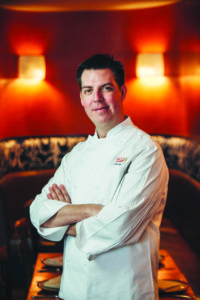 watching her cook. I was also very eager to jump in and help out as much as I could!"
In his cousin-celebrating menu, there's something for everyone, with plenty of dishes rarely seen on typical Mexican-Californian menus. Week 31, running from July 18-23, is dedicated to cousin Cassiana, who grew up in Zacatecas, one of the six known birthplaces of the famous pozole dish. Her week will feature Pozole Rojo de Pollo, a rich chicken stew with hominy corn, lettuce radish, oregano and chile de arbol.
"Though her mother had made it with pork, she told me she preferred chicken, as it offers a much lighter flavor profile," Tellez says.
Next, Week 32 (July 25-30) will shine a spotlight on cousin Julio, a cactus grower and "one of the leading voices in the debate on whether cactus may become the world's next kale." To honor Julio's healthy outlook, Tellez created an Ensalada de Nopal, with Nopal cactus, tomatoes, onion, lettuce, and panela cheese. In the following weeks, customers can expect Mexico City Street-Style Esquites (off-the-cob white corn with epazote, queso fresco lime and chili powder), Chile en Nogada (poblano chile filled with Mexican picadillo meat and nogada sauce), Crab Taquitos (fried crab tacos in tomato and serrano broth with chipotle aioli) and other regional Mexican delicacies.
When it comes to Mexican cuisine in the Bay Area, this approach—looking back to lesser-known classics and incorporating old family recipes—is exactly the right way to innovate and keep things interesting. In his cooking, Tellez, who oversees all of Copita's gluten-free menu, combines the family rarities with news fresh from Mexico.
"I am constantly in contact with my chef friends in Mexico to hear about the latest trends and I also get a lot of inspiration during my trips to Mexico," he says. "My vision has always been to continue to evolve Mexican food without losing its roots, and using high-quality ingredients."
The cousins, on their end of things, welcome the tribute.
"When I came up with the idea, I let them know about it before I started putting together the menu and they seemed really happy and excited," Tellez says. "It's my way of saying thanks to them and to relive some of the memories we have from growing up together."
Copita Tequileria y Comida, 739 Bridgeway, Sausalito; 415/331-7400; copitarestaurant.com.