By David Templeton
"The most surprising thing about this whole process, for me," says actor Dameion Brown, who's playing the lead in Marin Shakespeare Company's new production of Othello, "is hearing all of these amazing actors I'm working with, these incredibly experienced professionals, look me in the eye and say, 'You belong here. This is your place. This is your home.' That's been the biggest surprise.
"I also got another surprise last night, during dress rehearsal," he says with a laugh, "when I realized how hot a Shakespearean costume can be!"
Taking on what is believed to be one of Shakespeare's most difficult roles would be considered a challenge for even the most seasoned of actors. Brown has not only never acted on a professional stage, he's got just one stage performance to his name. In May of 2015, he played Macduff in a production of Shakespeare's Macbeth. The one-time-only production was held inside the medium-security California State Prison Solano, where Brown was then incarcerated, an inmate of the correctional system since the age of 25.
"Theater is about transformation," says Robert Currier, artistic director of Marin Shakespeare Company (MSC), and the director of Othello. "Actors transform themselves into characters, and that can be an incredibly healing thing," he says. "It transforms the actors, and it transforms the audience—who see people in ways they've never seen—and as part of that, theater eventually transforms the world, one play at a time."
For more than 12 years, MSC has been conducting Shakespeare workshops in California prisons as part of its Shakespeare for Social Justice program. Overseen by Lesley Currier, managing director of MSC, the prison project currently operates workshops and stages prisoner-performed plays at several institutions, including San Quentin, California State Prison Solano, Folsom Women's Facility and High Desert State Prison. This, says Lesley Currier, is the first time one of the program's participants, after being paroled, has been cast in a role during Marin Shakespeare's summer season of shows at the Forest Meadows Amphitheatre, on the Dominican University campus in San Rafael.
It's one of many firsts that the company, and Brown, are experiencing together this summer. Along with his first time performing alongside professional actors, the long-imprisoned Brown recently took a dip in a pool during a cast party to break up a long day and night of rehearsals.
"That was the first time I've gone swimming in 26 years," he says. "It felt good."
Brown first encountered the Curriers after signing up for the workshop, which he learned about from a flyer posted in the prison. At the time, he was in the 22nd year of his life sentence (with possibility of parole), following his 1993 conviction for a number of violent offences against his family and children. After years of self-education and a long effort to come to grips with the harm he'd caused the people he loves, Brown says he was ready to dig deeper, but had no idea that the opportunity would come through an acting class.
"I saw the flyer, and I really thought it was some kind of short-term workshop, and that would be the end of it," Brown says. "It was something to do. I signed up for the class out of curiosity, with no expectation that I would end up cast in a play, or that it would end up sparking the kind of transformation journey I've been on ever since."
The class, conducted by Lesley Currier, consisted of a variety of acting exercises. Brown admits that they seemed "weird" at first, so alien and contradictory compared to everyday life in prison.
"Ultimately, it was an opportunity to laugh," he says. "To laugh at oneself, and to laugh at someone else, without anyone taking offense. It was amazing, and it lightened up the environment in which we all lived."
Previous to that, Brown's only experience with acting was in school, back in Jackson, Tennessee, where he grew up as one of 12 children. In middle school, he auditioned for—and was cast—in a production of Othello, but the show never took place.
"I'd gotten the lead," he says, "and I wanted to play the part, and we were going to perform it, but then there were divisions amongst the adults—the black and the white adults. Being in the South, some parents did not want their daughter intermingling with an African-American man, and some African-American adults did not want a young black man intermingling with white people's daughters."
Brown says he never forgot his brush with Shakespeare, and he remembered it as he committed himself to the class at the prison. Expecting little more than a series of exercises and perhaps the performance of a scene or two, he was surprised when Currier announced that she would be auditioning the participants for a production, to be held at the prison, of Shakespeare's Macbeth.
"I'd never really acted before, so I asked for a very small role," Brown recalls. "I didn't want to shoulder the responsibility of anything large. So of course, Lesley gave me the part of Macduff.
"That," he says with a laugh, "was a heavy load."
What followed was a period he now looks back on as some of the hardest work he'd ever done in his life.
"It helped that the men who were in the play were very serious about getting it done," Brown explains. "That camaraderie, that sense of 'We need you,' 'We're in this together,' 'If you're there, we'll be there,' that thing took over, and it became a family, in a sense. Family is not smiled upon in prison. There are different gang members, different races, who would otherwise not interact in this manner. But because of the play, and our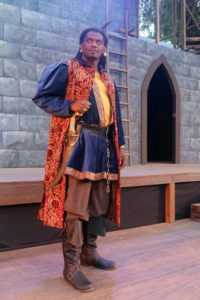 common interest in creating the best play we could do, all of that other stuff went out the window once we were in that room together, during that time. It was beautiful."
The play, in which Scottish warlords fight for territory, and Macbeth becomes addicted to violent action, gave the cast an opportunity to talk about the part violence had played in their own lives. The day of the performance, he says, was incredibly emotional for all of them.
"We only performed it once," he says. "At the time, had you said, 'Would you like to perform it twice?' I'd have said, 'Are you crazy?' I had so much anxiety leading into the play. I just wanted to do it and be done.
"There was a fellow actor, Ronan, who was in the play," he continues. "He said to me, 'Whatever you think, you are ready for this. And I guarantee you, once you complete it, you are gonna want to do it again.' And I said, 'I can guarantee you, that I will not.' And then, after we had completed it, the first thought that crossed my mind was, 'How many different ways are there, that I could make this even better, if I had the opportunity to do it again.' It was natural. I did want to do it again."
Over the course of those rehearsals, Brown says he developed a great deal of trust in Lesley Currier.
"She gave me everything I could receive to help me do well," he says. "And then we did the play, and I didn't get a single report back that was critical of my performance—and this was in a place that is one of the most highly critical places on earth."
Shortly afterwards, Brown was paroled. After a short stay in transitional housing in Vallejo, his parole was moved to San Francisco—which put him within a bus ride of Marin Shakespeare Company.
"During Macbeth, Lesley had always encouraged me to think about acting more in the future, and that if I was allowed parole, to consider looking the company up," Brown says. "At the time, I just took that as a polite thing to say. Lesley is a very sweet, very humane person. I thought she was just being nice. I appreciated it, but I didn't believe it."
Once in San Francisco, Brown called up the Curriers, who invited him to come up and see their production of Richard III, staged last summer with Aidan O'Reilly in the lead. For Brown, it marked another first.
"It was my first time seeing a professional play," he says. "I was blown away."
Not long after, Brown took a chance, and told the Curriers that if they ever wanted to stage Othello, he wanted to be considered for the part.
"Plain and simple, we chose Othello for this season because Dameion wanted to play the role," says Lesley Currier. "We decided to do it last year, when Dameion was paroled and came to San Francisco. Bob has spent a lot of time reading through the play with him. He's been taking diction lessons. He's been working very hard, and it's paying off in spectacular ways."
Marin Shakespeare Company last staged Othello 12 years ago, and Lesley Currier believes that this production will be electrifying, in part because of the raw honesty of Brown's performance, and a cast of professional actors who, she says, have been incredibly supportive. After all, casting a recently paroled, untested actor as the lead in one of the Bard's most powerful dramas is, by definition, a chancy move.
"We spoke to our board about it, and had a lot of discussion about whether this would be potentially distracting publicity for the company," Lesley says. "The board had concerns that we tried to answer. Dameion was living in transitional housing in the Tenderloin. His life situation was tenuous. He didn't know where he'd be living. We didn't know if he'd be able to live up to the demands of rehearsing and performing.
"But," she continues, "you meet this man for one moment, and you know he's a trustworthy man, a man who is committed to doing something with his life. He's talked to his family, to make sure that they were OK with it, if there was publicity about his background. We all did a lot of soul-searching, and we decided, 'Let's do it!'"
"My family [has] been very supportive," Brown says. "They want me to do it. They believe they are strong enough to deal with anything that might come their way in terms of the content of Othello. And they believe I am strong enough—so here we are."
Brown praises the work ethic of his fellow performers, who include Luisa Frasconi as Desdemona, the wife of the Moorish general Othello, Jeff Wiesen as his faithful secondhand man Cassio and Cassidy Brown as the treacherous Iago, who schemes to make Othello jealous of his new wife.
"Acting is very hard work," Brown says. "I was given a very serious introduction, doing Macbeth. That was incredibly hard work. But this—working with people like Luisa and Jeff and Cassidy—they are top-shelf actors, and they are so generous with their knowledge. They are giving and they are encouraging. That feels good."
For his part, in addition to rehearsing hard for Othello, Brown has been working as a case manager for transitional-age youth and high-risk young people, through a program headquartered out of the San Francisco Sheriff's Department.
"It's very humbling work," he says. "Very satisfying, very painful work, but very rewarding."
He's found support there, too.
"Some of the deputies, some of my co-workers and some of my clients, they are planning on coming to see the show," he says. "That's going to be something."
Asked if he'd like to continue acting, Brown smiles.
"I think, this time, I am not going to say I can guarantee I will not want to do this again," he says. "I do want to keep doing this, if I am fortunate to receive the opportunity. What I wonder, though, is if I have it in me—with the places I've been and the things I've experienced—to ever be effective in a role that is not tragic, like what I've played in Macbeth and now Othello. Could I ever play comedy? Nothing I've experienced convinces me that I have that inside me.
"But maybe I'll try it," he says with a laugh. "I am willing to be surprised."
'Othello' runs from Friday, Sept. 2-Sunday, Sept. 25 at Forest Meadows Amphitheatre, 890 Belle Ave., San Rafael; 415/499-4488; marinshakespeare.org.