The holidays should be about spending time with friends and family, enjoying big meals together and expressing gratitude for our many blessings. But there are still obligations to buy things. Fortunately, we in the North Bay are blessed with an abundance of creative folks who make and sell some beautiful products.
It's become a cliché to bemoan the commercialization of the holidays, but you can fight back by avoiding the malls and supporting locally made goods and businesses. With that in mind, we present some of our favorite things that will bring a little cheer into the lives of friends and family.
J'Amy Tarr
In other places, a jacket is a seasonal companion—you pull it out when skies turn grey, and store it when it's time to switch to tank tops. In the Bay Area, a jacket is a permanent fixture, an eternal back-seat passenger and a commuter's best friend. With Karl the Fog, Indian Summer and other local phenomena, you never know when you might need an extra layer—hence, a designer focusing exclusively on outerwear makes a lot of sense. Enter J'Amy Tarr, a Mill Valley native who has been doing just that for the last three years. Tarr was born and raised in Marin, and  received a Master of Fine Arts degree in Fashion Design and Applied Textile Design from the Academy of Art in San Francisco, so the fog is a familiar occurrence.
"During my high school days at Tamalpais High School, I remembered seeing the fog silently roll over the redwood trees," Tarr recalls. "With it came cold, crisp weather that always called for a jacket."
Tarr discovered her passion for outerwear while designing her first independent collection in 2012. "Not only do jackets and coats anchor an outfit quite unlike any other, but they are absolutely necessary in the Bay Area year-round," she says. "The microclimates in San Francisco and varying temperatures throughout the Bay Area are key elements in my design inspiration."
Constantly working with the Bay Area in mind, Tarr designs from a small studio in Mill Valley, sharing a building with The Hivery, a relatively new female-only coworking space. Why not head straight for San Francisco, where her garments are produced? Tarr is indeed looking to expand to a city location sometime in the near future, but for now, the small studio, where clients can visit by appointment, supplements the online store. "I focus on community," she says.
"Because my community is based in Mill Valley, I thought it was a natural progression to establish my design studio here," she continues. "I strive to make connections on a more personal level, which led me to recently open up my design studio, a place where I design, sew and work, to the public."
How does one stay relevant from season to season while working on only one type of garment? An essential component is probably truly loving that one garment unconditionally. Tarr, no doubt, displays just the right amount of infatuation, bringing her own angle to it, literally and figuratively.
"My fascination with design, especially in outerwear, came during my high school geometry class," she says. "Shapes, forms and proportions are the focus in geometry and in fashion design. My geometry teacher, Mrs. Hunter, fostered my curiosity, which later developed into my signature design aesthetic of balancing shapes and maintaining clean lines."
Tarr's biggest influence? A type of a coat, naturally: "Chiso, a traditional Japanese kimono company, is a huge inspiration of mine," she says. "The company is said to create the essence of Japanese beauty because of its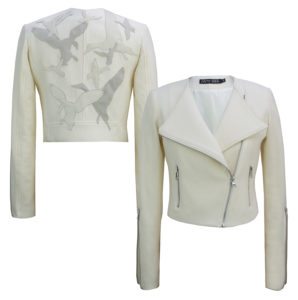 highly intricate, even laborious, designs on their kimonos. Each detail is poured over with such care that there is an artistry to it all."
Not as elaborate as products by Chiso, Tarr's jackets are thoughtfully made and are big on the small details. The majority of them come in four shapes, repeated each season in different colors and prints: The Bomber, a zipped, slightly sporty piece; the Moto, a classic tighter-fitting jacket; the Funnel-Neck, an elongated zipped coat; and the Tux, an open tailored jacket. There are also heavier coats, a newer edition of the season's hot trend, the Cape, all in deep blues, shades of black and grey, and with a brief appearance of camel and cream. The fabrics range from lightweight cotton blends to rich wools, accommodating different microclimates and nuances in Bay Area weather patterns. "Particularly, I'm drawn to luxurious wools and fine leathers," Tarr says.
"These materials, because of their slight density and weight, form their own structure on the body. I enjoy experimenting and seeing how the forms harmonize together. Balancing fabric weights, angles, shape and proportion all bring me back to my love of geometry."
For the upcoming winter, Tarr plans to introduce a few more hues to her palette—namely crimson, bronze and frost. Capes are a strong collection leader, and so is the brand new embellished Take Flight Moto Jacket. "These jackets are embellished with hand-cut leather and suede bird shapes inspired by the birds of the Marin Headlands," Tarr explains. "For me, the name represents the freedom that is associated with launching into new adventures in one's life."—Flora Tsapovsky
J'amytarr.com.
The Native Daughter
There are a number of things that Thayer Gowdy does really, really well: Photographing and directing, hanging out with abandon and creating warm, stylish spaces for people to flock to. Her latest Sausalito project, The Native Daughter, is a combination of all three, and currently the most buzz-worthy place in town. Don't show up out of the blue, though—it's by appointment only. Unless, of course, there's an event/party going on—the space, part gallery, part office and part event hub, is Gowdy's way to 'bring people together' in all sorts of creative ways, and everyone's welcome to attend the pop-up shopping events, workshops and gatherings advertised on the website. Since opening in April of this year, Gowdy has managed, to her own surprise, to organize more than seven events, from exhibitions with photographers and multimedia artists from all over the U.S., to a Full Moon Bazaar featuring local artisans.
On November 25, a three-day Winter Faire will take place, curated by Jasmine Hamed, founder of the online marketplace the Secret Souk. To stay true to West Marin's rugged terrain, there are lassos by Julia Khan Anselmo, woodworks by Aleph Geddis, and Hamed's selection of rugs, leather goods and indulgent design items, dream catchers, jewelry by Amanda Hunt, textiles and weaving by the Ghost Dancer, Ceramics by Rambling Bird and wooden plates, bowls and vases by Gowdy's brother, JS, who also made stylish three-legged wood and leather chairs for a recent spiritual gathering called Oh Heavens, an Afternoon of Wellness and Inner Hugs.
Gowdy, who wasn't born in California but spent more than 25 years in the state, moved to Bolinas from San Francisco two years ago and immediately found herself engaged in the local art and style community. When she's not hosting in the newly established, fully refurbished and beautifully decorated space, Gowdy shoots videos for the likes of Ziploc and Benefit, and photographs for brands and art shows. All of the artwork she displays at Native Daughter ("I met two ladies at the dog park who told me I'm basically a Native Daughter of the Golden West," she says) is for sale, and the prices "are not obnoxious."
In addition to bazaars and art-centric events, Gowdy plans to mobilize the space for more workshops—mostly photography, but also crafts by guest artists. There's even a sewing class in the works, of the basic and "self-serving" kind. "A friend was in town from Mexico; she was the first to have a pop-up here, of these lovely dresses, and she sold stuff like crazy," Gowdy recalls. "It was really fun."
For some of the events, Gowdy partners with Urban Remedy, which provides the food and drinks, and occasionally, when it feels right, there are local bands playing. "But usually we just spin records," Gowdy says. "It's a big hangout. I don't think it's economically profitable to have a fun little space like that, but I do it for the pleasure of it."—F.T.
Winter Faire takes place November 25-27, 12-5; 491 Gate 5 Road, Sausalito; thenativedaughter.com.
Griffin Map Design
Petaluma native Scott Lowrie has always loved maps. He studied geography at Sonoma State University, and has worked with Geographic Information Systems (GIS) for 10 years professionally.
He also studied art in school, an interest that turned into a creative outlet six years ago, when he began designing and creating artful and often vintage-inspired maps on the side. That project evolved into Griffin Map Design, Lowrie's custom cartography and large-format printing shop located in the heart of downtown Petaluma's Putnam Plaza.
Highly detailed and convincingly old school, Lowrie's maps are more than throwback drawings—they gorgeously represent historical depictions that look and feel authentic. Lowrie's portfolio includes maps that recreate Civil War battles, highlight railroad lines from 1895 and offer bird's-eye illustrations of North Bay towns, as the maps would have accurately looked at the turn of the last century.
"They tell a story," says Lowrie of his artwork. "People come in and look at, for instance, an old map of Petaluma, and they'll tell you where their house is or the way things used to be. It creates, not an escape, but a way to look back."
Lowrie makes original maps and repurposes historical (and public domain) maps. He takes inspiration from antiques of all kind and incorporates patterns and images that he finds in his frequent antiquing trips.
Feeling a connection to the local art scene, Lowrie opened Griffin Map Design as an art gallery and storefront two years ago. Monthly art shows hang on one wall of Griffin Map Design and many of Lowrie's prints and works from visiting artists are available to purchase. December's show will be Prohibition-themed, sticking with the vintage aesthetic of Lowrie's output.
His shop also boasts a T-shirt printer and large-format printer, meaning that he's able to satisfy custom orders of all kinds. Griffin Map Design is located at 122 American Alley, Suite A, in Petaluma. Store hours are limited: Fridays and Saturdays, noon to 5pm, and by appointment. Lowrie will also be selling his work at Petaluma's Holiday Crafterino on Sunday, November  27, at the Petaluma Veterans Memorial Hall.—Charlie Swanson
Kitsbow Mountain Bike Apparel
The North Bay is the birthplace of mountain biking, and Petaluma's Kitsbow taps into the history and still vibrant energy of the sport with a line of high-end, made-to-last mountain biking apparel. Kitsbow's stuff isn't cheap, but it's made to take abuse on the trail and last. A pair of their flagship men's biking shorts goes for $265.   
"There's an ingredient-based ethos behind everything we make," say P.K. Hart, Kitsbow COO., in defense of the high price tags. He points to premium ingredients, bullet-proof stitching and attention to detail. "We support that core mountain biking group."
Right now I'm coveting their Icon Shirt, an item that wins for form and function. The wool flannel fabric is made by Pendleton from vintage patterns selected by Kitsbow. Kitsbow adds venting and abrasion-resistant patches to the shoulders and sleeves. Locally made clothes are a rarity, but this shirt is assembled in Oakland and the company's Petaluma facility at the Foundry Wharf. You can hammer the trails and look good hoisting a beer at the pub afterwards in this handsome number.—Stett Holbrook
Look for Kitsbow stuff at Studio Velo in Mill Valley, The Bike Peddler in Santa Rosa and online at kitsbow.com.
Dylan Flynn: Blacksmith
Blacksmith-artist Dylan Flynn works out of an old horse paddock up on the Big Mesa in Bolinas that provides a view of the Bolinas Ridge that's as spectacular as it gets. On a recent dew-drenched morning, the young artist-blacksmith was hand-forging coathooks and talking shop from an open-face horse stall he converted to his shop.
His anvil, the centerpiece of a small, open-face working space, is more than 100 years old and was purchased at a Santa Rosa barn sale some 10 years ago. Flynn's forge is an old electric transformer box that he rigged up to a propane gas tank. There's no electricity, but Flynn installed a gas generator and built a box around it to keep the noise down. He saves up his jobs that require electricity and does them all at once.
It's mighty quiet up here, other than the banging of Flynn's hammer as he creates wrought-iron hooks in pastoral splendor. To put the finest of points on this uniquely Bolinas mixed-used commercial zone, there's a young calf in a neighboring stall.
Flynn is 30 years old and studied blacksmithing at Warren Wilson College, a small liberal arts school near Asheville, N.C., that has historically been for rural kids to get an education, tuition-free, while also gaining real-life training in the school's various work programs. The San Anselmo native heard about Warren Wilson from a high school counselor at Marin Academy after the young man expressed a certain disinterest in going to college at all. Most of Flynn's pay-the-bills work is done on commission, and his functional creations can cost thousands of dollars. A custom gate for a Berkeley homeowner falls into that category, but Flynn also creates custom pieces of hardware, giant hinges, door handles—and a four-piece fireplace set available at The Shop in Olema for $425.
The hooks retail for between $15 and $20 and the bottle openers go for $30, but it's the last bottle opener you'll ever need (makes a great, heavyweight stocking stuffer.) "Lifetime guarantee," says Flynn as he gets back to the business of the day, hammering hooks and twisting them into fine filigree in preparation for upcoming holiday craft fairs in Point Reyes Station and Bolinas.
The only sound is the sound of his hammer and the wind. And the braying calf.—Tom Gogola
Check faultlineforge.com for more info or contact Flynn directly at [email protected]