by Annie Spiegelman, the Dirt Diva
The farmer rises while the sky is still inky black and the cool misty air is heavy with dew. The morning sun prepares to peer over the coastal hills of Point Reyes Station. Neighbors shuttle their children to soccer games or off to school or simply sleep in. The farmer's children dutifully waken on their own at 6am. Their instructions on this brisk and busy autumn morning are brief and direct: "Hurry up. Get dressed and find yourself some breakfast."
Next the farmer ushers Sassy, the pony, out from her stall for some morning grazing, all the while making sure the ranch's working dogs have water sufficient for the day before collecting 5 gallons of dew runoff from a large nearby barn to water the drought-thirsty flowers edging a bountiful garden. Next, it's off to the milk barn to check in with the dairy farm employees to see if any health issues have arisen overnight or if any new baby calves were born. On this particular day, the farmer is getting the tractor and truck ready to move the seed and seeder from Point Reyes to Marshall before any tourists begin driving on Highway 1. Fifty-pound sacks of seeds are loaded, as well as flags and the OVERSIZED sign. The truck begins the steady haul with two sleepy kids in the back seat, leading the tractor up the road.
"I usually start with a glass of milk for breakfast as that is all time allows," says Karen Bianchini Taylor, sixth-generation dairywoman and owner/operator of Bivalve Dairy in Point Reyes Station.
The iconic and celebrated image of the American farmer is that of a weather-worn male wearing dusty overalls in front of a tall red barn with pitchfork in hand, talking about the latest storm, the price of beef and his struggling corn crop. Think "Old MacDonald." Many of us still hold that image dearly. However, for far too long, Old Mac's wife has played second fiddle, though she, too, lived and worked a hard life.
But … drum roll, please … we're ready now for the ladies to rock! Today, strong, capable and fearless farmwomen are beginning to be acknowledged with, or without, the rugged farmer guy by their side. It's the ladies' turn to stand in the moonlit shine. In fact, researchers at the University of Iowa estimate that more than 200 million acres of farmland in the United States will change hands by 2027, with women potentially owning a majority of the land.
Well, fasten your seatbelts, my friends, cuz were going old school, baby! I'm talking Neolithic. Back during the Neolithic era, roughly 12,000 years ago, while men were out hunting and protecting, women worked the nearby 'hood. With babies wrapped in their arms or carried on their backs, they collected seeds and foraged plants, thus ensuring a steady food supply for their village. Today, in the United States alone there are nearly one million female farmers and ranchers. Some of these women choose to be farmers. Others are thrust into farming by having outlived their fathers or husbands. With that, they inherit the stewardship and responsibility of working and managing the land entrusted to their family for generations.
Yesterday's Farmer Jack is today's Farmer Jane. Same job, different face.
Christine and Don Scioli of Zan Media in Marin County are presently in production on their documentary entitled, Golden Girls: Cultivating an Amazing Life. The upcoming film will feature farmwomen throughout California and highlight the critically important and underrepresented work they have been doing on their family farms to feed the American public. Their stories will convey the universal themes of the contemporary farmer or rancher: It is a hard, but rewarding life—a life worth celebrating in complete harmony with all living things. Similar to independent family farms, Zan Media is a family-run film operation. The Sciolis have been working together for the past 34 years, and are now joined by daughters Niki and Alexandra helping out the production team. They farm a small piece of land organically in Marin.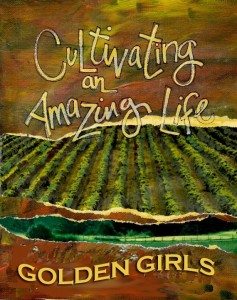 "Women are leaving the traditional workforce in record numbers and are heading to farms and ranches all over the world," Christine Scioli says. "Many of these are not the female farmers of past generations. They are educated professionals who have switched career paths to embrace the growing trend of conscientious, local agribusiness. They are wives, mothers, daughters, artists, authors, lawyers, political leaders and businesswomen. They stand on equal footing with the land as they look to the first quarter of the 21st century as the watershed for responsible agriculture."
Who are these women who are slowly breaking the grass ceiling in agriculture, a historically male-dominated industry? Some are independent farmers, some have supporting roles, some work off the farm at another job so they can have health insurance for their families, and some have come to farming later, as a second career. They all share a love for their families and a love of the land.
"In past generations it seemed like female farmers weren't engaged in engineering and economic concerns but in fact, they were; they just didn't know it," Don Scioli says. "How to make the family farm profitable with the least amount of toil while simultaneously protecting the soil was always job No. 1. While the new female farmers and the ones from past generations may differ in method, their passion is the same."
The filmmakers have cast the ideal host for their film: Nicolette Hahn Niman, author of Righteous Porkchop: Finding a Life and Good Food Beyond Factory Farms and Defending Beef: The Case for Sustainable Meat Production. She is an environmental attorney/advocate, wife, mother, writer and morally responsible cattle rancher.
"For me, women have a very special role in agriculture. Increasingly consumers are looking for foods that are raised in a healthy way, that treat animals with respect and that are also safe for the environment," Hahn Niman says. "There's a huge role for us to be playing in agriculture. And today there are more and more women running farms so I am excited about the showcasing of women farmers in the Golden Girls film."
In 2000, Bobby Kennedy, Jr. tapped Hahn Niman to work for Waterkeeper Alliance in New York City. While working on various environmental cases she met conscientious cattle rancher Bill Niman and moved across the country to the ranch he had built in Marin County. They raise grass-fed cows and heritage turkeys with their two children.
"We had heard of Nicolette. We went to Niman Ranch in Bolinas and fell in love with the whole enchilada—and that was that," Chris Scioli says. "Her knowledge on the core issues is vast; her personal stories of marrying an "older man," who is Jewish, while she is Christian, moving from New York City to a ranch on the edge of the ocean, becoming a vegetarian cattle rancher and mother of two little boys—it's all great stuff."
"Women farmers are our heroes of today," writes Bay Area author Temra Costa, in her book, Farmer Jane: Women Changing the Way We Eat. "They are becoming the fastest growing number of diversified farmers in the country. They control the majority of household spending. They dominate nonprofits dedicated to shifting the balance from conventional to sustainable foods, and they continue to create innovative businesses that reflect their socio-environmental values." These visionary farmwomen see the dire urgency and necessity of saving a broken food system. The last century has been characterized by the onslaught of industrialized factory farms. According to the U.S. Department of Agriculture, the number of family farms in the United States has fallen from 6.8 million in 1935 to roughly 2 million today. About a dozen corporations now control most of the food we eat, and, the U.S. is now rated No. 1 globally in childhood obesity. Any correlation? You decide, Sherlock.
Ready to digest some more? Presently, agricultural chemicals account for two-thirds of all water pollution in the U.S. A conservative estimate of pesticide use in American agriculture is 1.2 billion pounds per year. That's about 4 pounds of chemicals for every American man, woman and child. And, don't even get me started on G.M.O.'s …
If our food system hadn't been so robbed of nutrients and polluted with toxic chemicals maybe women wouldn't have to be so involved. Aren't we busy enough? OK, just put that on our list of mom crap to get done!
To-do list: Monday morning:
1. Find real food for kid's lunchbox.
2. Go to work.
3. Rehaul American agriculture (In spare time?)
*****
Originally, the filmmakers were going to create a project that would feature female gardeners. Their working title was Dirt Divas. "We've produced two wine-related documentaries: A State of Vine and A Passion for the Vine, and numerous tasting room videos, all of which led us to learn more about vintners and their intimate connection to their terroir," Chris Scioli says. "The women had very engaging, personal stories and were keen to share them. As we did more research and met more females involved in the bountiful potential of the dirt beneath our feet, we meandered as we saw a larger picture emerge—women as farmers and ranchers, cheese-makers and chefs—all providing a female perspective to the food chain. Fertile land demands to be nurtured, and therefore the most basic connection becomes apparent."
They were also motivated to create this documentary while working on a different film production at a dinosaur dig on the Standing Rock Sioux Reservation. "We realized we hadn't seen any crops for hundreds of miles. Next we traveled to several national parks in Utah and Arizona and likewise, no farms or ranches nearby. At the Grand Staircase-Escalante, for example, there are 2.2 million acres of land, largely devoid of food or cattle. By contrast, here in Marin, we live side-by-side with all sorts of fantastic farms of every size and product," Don Scioli said. "This was the first thing we noticed moving here from suburban Philadelphia, over 30 years ago. In both cases our home-base was about 22 miles from a large city but what a difference in terrain!"
By documenting California's growing breed of female farmers, the filmmakers hope to highlight the accomplishments of women in agriculture as well as energize the next generation of women working the land. "By infusing photographs of women farmers into the 'image' of agriculture, the perception of a farmer will eventually start to change," says Iowa photographer, Marji Guyler-Alaniz, founder of www.farmher.com. "It's time for that role to shine. When people see an image or idea regularly, they come to believe that it is the way things actually are. By changing perceptions you break down barriers. More resources become available to these women. More young women will see the positives in pursuing a career in agriculture."
According to Diane Ullman, associate dean for undergraduate academic programs at UC Davis, 71 percent of this year's freshman class in the College of Agricultural and Environmental Sciences, is female. Many are interested in sustainability and tend to graduate and run smaller, more specialized farms, selling heirloom tomatoes or grass-fed beef to eco-conscious consumers.
"We all have a role to play in caring for the precious resources on this planet and an opportunity to doing something for the public good," says Amy Ridout, farm coordinator and cultivator of future of farmers at Indian Valley Organic Farm and Garden in Novato. "Food is one of the basic necessities of life, and it's a basic human right to have access to healthy food."
Feel the same way? Have a farmwoman to highlight? Then come on down to the farm! Don and Chris Scioli want you. They're still in production and seeking Golden Girls to be interviewed. You can contact them at www.goldengirlsfilm.com.