The air is brisk, the holiday music is playing, the lights are strung—and the options for gifts are overwhelming. Too many loved ones, and too little time. Jumping online is tempting for last-minute shopping, but what fun is that? It's so much more rewarding to meet and support the local merchants who spend their days making heartfelt products by hand. The North Bay is full of them, and below, we've highlighted some places where you'll find them. Consider the list a treasure map as you discover all that Marin, Sonoma and Napa have to offer this season. Happy exploring, and the best of holidays to you and yours.—Molly Oleson
Heath Ceramics
Since its founding in 1948, Heath Ceramics has been owned by two families, and has expanded from its Sausalito-based factory to showrooms in San Francisco and Los Angeles. But one of the coolest things about shopping locally for the handmade, brightly colored tableware and architectural tile is that you can see exactly how it's all produced by a team of 40 craftspeople.
Inside the historic 15,000-square-foot factory, nestled among artist studios and designed by Marquis & Stoller, is a behind-the-scenes glimpse of how clay is made, and where product shapes are formed, glazed, trimmed and fired.
Check out Heath's bold, seasonal classical red collection, meant to "bring warmth indoors when it's cold outside," and flip through the new Tile Makes the Room, a book featuring the work of the world's leading designers and architects.
Working tours of the factory are offered on Fridays and Saturdays, and visitors can even score near-perfect dinnerware that's discounted because it didn't meet quality standards—evidence that these guys care deeply about their craft. 400 Gate 5 Road, Sausalito; heathceramics.com.—Molly Oleson
Ink.Paper.Plate Studio & Shop
Sirima Sataman's printmaking shop in downtown Point Reyes Station is more than just that. It's a gathering space for adults eager to learn something new about printmaking, and maybe jam out a little on some old Townes Van Zandt tunes.
Enter the shop on a typical Saturday afternoon, and Sataman is orchestrating music that's heavy on the ukulele and cowboy chords as she creates extremely cool linocut prints and teaches people to become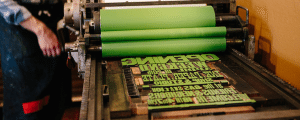 skilled printmakers themselves. Sataman offers a big list of classes and all sorts of personalized teachable moments on a chalkboard menu behind the counter, and she says a number of people have called this holiday season to inquire about Ye Olde Popular Gift Certificates, which she has a-plenty.
The shop is also a great stop-in for stocking stuffers and holiday cards—lots of cool mini art-makers are on offer, such as a wallet-size watercolor palette spread through a shop that's both a working studio and a retail joint. Sataman only asks that you leave the kids outside or at home. This is an adults-only playground where you can learn to create letterpress greeting cards, set type and make your own dang poster. Sataman can help you transfer screen-print artwork onto fabric—scarves, dishtowels, whatever you've got—and also offers a class called Scrappy Little Books, which is all about the art of bookbinding. In the era of Kindle, no less. Classes run Wednesday through Sunday. 11401 Hwy. 1, Point Reyes Station; inkpaperplate.com.—Tom Gogola
47th Annual Industrial Center Building Winter Open Studios
The annual ICB Winter Open Studios, which takes place Dec. 5–6, from 11am to 6pm in the lofts of a historic World War II–era building near the Sausalito waterfront, always provides the opportunity for holiday shoppers to find photography, paintings, sculpture and more by local artists. But this year, the talented community has united to try something new: More than 30 artists will donate pieces of work to benefit Doctors Without Borders.
Taking the theme of migration, the collective effort—envisioned by paper artist Ingrid Butler and organized by oil painter Jennifer Fearon—honors the act of those who leave their homes in search of better lives. The idea came about, Fearon says, to call attention to the international refugee crisis, and to support those currently suffering.
"One of the challenges we have as artists is connecting with larger causes," Fearon says. "As a group, we have an opportunity to do that. Doctors Without Borders is fantastic because their humanitarian aid is completely independent. They give aid to whoever needs it."
A colorful installation (directed by Butler, and in collaboration with ICB artists) of more than 4,000 hand-cut butterflies will symbolize a "movement of hope," and 100 percent of the sales of designated pieces will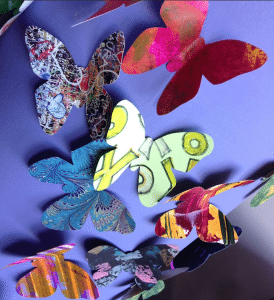 support Doctors Without Borders' work with refugees and internally displaced people affected by conflict.
Fearon hopes that Open Studios visitors will walk away with a sense that the collaborative ICB artists are aware of, and connected to, the events of the larger world.
"As artists, we have a responsibility to bring awareness of what's going on," she says. "And we're interested in trying to have an impact." 480 Gate 5 Road, Sausalito; icbartists.com.—M.O.
Northern Light Surf Shop & Bodega Bay Surf Shack
Five years ago, I moved to the North Bay from Santa Cruz, a town with more than its fair share of surf shops (and more than its share of good waves). But when it's on, the North Coast can be as good as anywhere, yet not so good that surfers are going to come from far away to surf here. And I'll take the area's low-key surf scene and friendly locals over Santa Cruz's crowded lineups and bad vibes any day.
Part of the local surf scene emanates from the year-round stoke served up at Northern Light Surf Shop and Bodega Bay Surf Shack. Bodega and Bodega Bay don't get the tourist traffic of warmer beach towns, so these shops have to cater to the crusty, cold-water-loving locals. Yes, they sell plenty of T-shirts, hoodies and glass pipes to fill in the gaps during lean months, but these are core surf shops whose stock in trade are boards and wetsuits made for North Coast waves.
Sure, you can buy everything you want online and you might get it cheaper, but when you shop at one of these stores your dollars stay in the community and you're doing your part to keep the local surf scene alive. Northern Light Surf Shop, 17191 Bodega Hwy., Bodega; 707/876-3032; Bodega Bay Surf Shack, 1400 Hwy. 1, Bodega Bay; 707/340-9404.—Stett Holbrook
Marin Jewelers Guild
Need a special bracelet, necklace or ring for someone who means the world to you? Look no further than the Marin Jewelers Guild, a cooperative of local artists who display their work in a beautiful, inviting gallery on Fourth Street in San Rafael.
Hand-fabricated pieces made of silver, copper, gold and bronze are available, and stones like turquoise, amber and sapphire add splashes of color. The motto of the guild is "Know your jeweler," and the local community is provided with opportunities to engage with the artisans on a regular basis.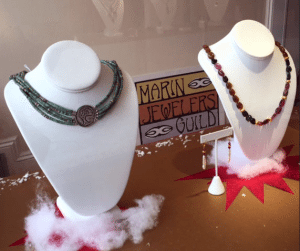 The gallery's current window display educates curious shoppers about topaz: "When worn as an amulet," a yellow sign reads, "topaz was said to drive away sadness, strengthen the intellect, and bestow courage."
Commission a piece and work in collaboration with your favorite jeweler. Your loved ones will thank you for years to come. 1331 Fourth St., San Rafael; marinjewelersguild.com.—M.O.
Calistoga Depot
Whenever I read The Boxcar Children books as a child, I imagined a life on the tracks, cozy in a railroad car and solving mysteries. Silly, but every time I visit the Calistoga Depot on Lincoln Avenue in downtown Calistoga, that feeling comes back.
Originally built in 1868 by Napa Valley settler Samuel Brannan, one year before the completion of the Transcontinental Railroad, the Calistoga Depot train station and designated California Historical Landmark was restored in 1978 by the Calistoga Depot Association, and today houses six railroad cars containing historical exhibits and retail shops.
One such shop is the Calistoga Wine Stop, located inside a former Central Pacific Railroad car. Operated by Tom and Tammy Pelter since 1986, this family business has been helping customers find Napa and Sonoma County wines that are a little off the beaten path. The tasting room, open Thursdays through Mondays, specializes in smaller producers who would not otherwise have their own tasting space. The Wine Stop also has its own family wine, Pelter, a Cabernet Sauvignon that's available exclusively in the depot.
One of the newer shops in the depot is Flowers & All That Jazz, which opened just this year. By the name, it's clear that the shop specializes in floral arrangements, and that's true; but the studio and shop, again cozily packed into another train car, also showcases "jazzy" prints, apparel and jewelry by local artisans that will appeal to all ages. There are even custom gift baskets, and many floral arrangements are available in vintage or repurposed pieces for one-of-a-kind displays. 1458 Lincoln Ave., Calistoga.—Charlie Swanson
Duncans Mills
With the wooden planks creaking underfoot and the old-styled street lamps overhead, the scene in Duncans Mills looks straight out of 1880, complete with classic small-town charm and wonder. If you've been meaning to stop there, there's no better time than now to visit the cluster of shops and cafes along Highway 116 that the former logging outpost now offers.
And, there's no better way to start a day of shopping in Duncans Mills than grabbing a hearty meal at Cape Fear Cafe, a local favorite that serves straightforward California fare with a Southern twist. It's also a great place to grab a craft beer before you peruse the shops surrounding the cafe.
Make sure to visit Pig Alley, a retail store that sells handmade crafts, jewelry and décor, including items from well-known designers like Northern California jeweler Holly Yashi. Then poke your head into the colorful Worldly Goods, a shop that imports global items, from African masks to Ecuadorian weavings to reclaimed wood furniture, all made through fair trade and sustainable means.
For the artistically minded gift giver, there are several galleries to choose from. First, check out the Christopher Queen Gallery for classic California art dating from the mid 19th to early 20th century, as well as more contemporary works. Then, make sure to find the Quercia Gallery, where local artists show new works on a regular basis. Owned and operated by plein air painter Ron Quercia and clay sculptor Bobbi Jeanne Quercia since 1990, the gallery also offers hand-finished frames and frame restoration.—C.S.
NapaStyle
I love a kit, and I especially love a kit when you can buy your kit and have a fancy-sounding lunch in Napa at the same time. Enter NapaStyle, which is as much a state of mind as it is a multi-pronged endeavor of goodness and goodies, a catalogue-driven cavalcade of delights that range from hammered-copper jugs to weird chutneys.
One product in particular jumped out as just the sort of all-inclusive kit that is guaranteed to provide at least one night of family pleasure over the holidays, before everyone starts fighting again. Why, it's the Gourmet Game Night Gift Set! And it sort of embodies the spirit of NapaStyle as a whole. For 99 bucks, it ought to. The kit is centered around the parlor dice game Shut the Box and also includes a couple of bags of "beer-kissed" caramel popcorn, some beer brittle, pistachios dipped in chocolate, all packed in a retro-not-chic wooden crate. It's sort of like when Blockbuster threw in some microwave popcorn with your rental—remember those days?
And how about that lunch? NapaStyle is kind of amorphously epic when it comes to its output of products, which include a grilled chèvre and strawberry-walnut pesto panini, along with fancy sets of forks and knives on the retail side. The goods are available at the V Marketplace in Yountville, the NapaStyle flagship, which also fields a "paninoteca e insalateria" menu. That's a fancy way of saying they've got some choice sandwiches and salads for you, too. 6525 Washington St., Yountville; 707/945-1229.—T.G.
Favorite Things
Corinne and Patrick Murray have called Sonoma County home for more than 40 years, and have owned the popular Favorite Things store in Santa Rosa for 20. After a dead-end job working in an office, Corrine Murray opened the home and garden store, located on Fourth Street and Talbot Avenue. Despite a lack of previous retail experience, she combined a keen eye for décor and gifts with a neighborly attitude and a willingness to build relationships with regular customers.
Handbags and jewelry, wool scarves and mittens, seasonal gifts and rotating items, bright window displays and a spring garden too—these are a few of the favorite things you'll find upon entering the store. While the shop keeps the selection fresh year-round, with holiday-inspired offerings for everything from Valentine's Day to Halloween, it truly transforms into a winter wonderland for Christmas. In addition to a wide array of ornaments, Favorite Things is the place to go for stockings, mantelpieces and both indoor and outdoor holiday décor, like plush Santa dolls and hanging garden lanterns.
The store tripled in size in 2003, and three years ago, Patrick joined the store's staff after retiring from a career in liquor distribution. Favorite Things carries gift items perfect for any age, like hip canvas canteens and mugs, though the Murrays specialize in contemporary women's items and accessories that anyone's mom would adore, as well as hard-to-find items like Annie Sloan's chalk paint. 1500 Fourth St., Santa Rosa; 707/541-7380.—C.S.
Healdsburg Shed
In the food- and drink-obsessed North Bay, you really can't do better than the Shed, an impeccably curated store that celebrates a life well lived, be it in the garden, the kitchen or at the table. To be sure, not everything is locally made. There are dowry-worthy garden tools, beekeeping supplies, and what is surely the North Bay's top spot for Japanese knives, garden tools, rice cookers and donabe (fireproof clay) cookware.
The countertop donabe smoker ($250) is at the top of my wish list. The pantry section of the store is like a museum of the world's best condiments, spices, oils, vinegar and chocolates. Choose a bottle from the lineup of local olive oils for a great locally grown and made gift.
There's a small but well-chosen selection of food and drink books, too. Oh, and how about a little cloth bag of locally grown wheat, milled in-house? It pretty much comes in its own stocking. The modern, creekside building (which won a James Beard Award for architectural design) and the superb restaurant are no slouches either. 25 North St., Healdsburg; 707/431-7433.—S.H.
Crafts Fairs Galore
Crafts fairs are plentiful this time of year, and offer some of the most friendly and fun environments for finding unique gifts (don't forget to treat yourself, too!). Plus, seasonal goodies are usually on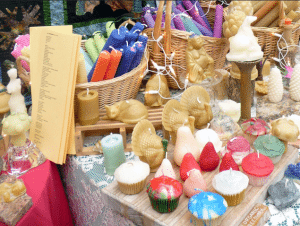 hand—homemade latkes, eggnog, yummy pastries, live music, snow slides, crafts demonstrations and visits from Santa.
Below is a roundup of upcoming Marin fairs, where you'll find plenty of treasures made by local artists. Visit and browse through ceramics, paintings, glasswork, centerpiece decorations, floral note cards, jewelry, antiques and collectibles, fine art, textiles and ornaments. And meet the creative movers and shakers—it doesn't get more local than that.—Lily O'Brien
44th Annual Dance Palace Holiday Crafts Fair
Friday, Dec. 4, 4pm-9pm, Sat-Sun, Dec. 5-6, 10am-5pm. 503 B Street, Point Reyes, Station. 415/663-1075; dancepalace.org.
Marin JCC Festival of Lights
Sunday, Dec. 6, 11:30am-2:30pm. Osher Marin JCC, 200 N. San Pedro Rd., San Rafael, 415/444-8000, marinjcc.org.
San Geronimo Holiday Arts Faire
Saturday, Dec. 5, 11am-5pm. San Geronimo Community Center, 6350 Sir Francis Drake Blvd., San Geronimo, 415/488-8888; sgvcc.org.
Landmarks Holiday Art & Craft Sale
Saturday, Dec. 5, 10am-4pm. Tiburon Art & Garden Center, 841 Tiburon Blvd., Tiburon, 415/435-1853; landmarksociety.com.
BINBA Holiday Gift Show
Saturday, Dec. 5, 12pm-4pm. Brain Injury Network of the Bay Area, 1132 Magnolia Ave., Larkspur, 415/461-6771; binba.org.
Mill Valley Winterfest
Sunday, Dec. 6, 11am-6pm. Depot Plaza, downtown Mill Valley, 415/388-9700; enjoymillvalley.com.
Mill Valley Holiday Craft Fair
Saturday, Dec. 5, 10am-5pm. Mill Valley Community Center, 180 Camino Alto, Mill Valley, 415/383-1370; cityofmillvalley.org.
Kentfield Craft Fair
Thursday, Dec. 10, 3pm-7pm. Bacich Community Center, 699 Sir Francis Drake Blvd., Kentfield; www.kspta.org.
Advent Festival and Faire
Sunday, Dec. 6, 11am-1pm, First Presbyterian Church of San Rafael, 1510 Fifth Ave., San Rafael; 415-456-6760.
Margaret Todd Senior Center Holiday Craft Faire
Friday, Dec. 4, 6-9pm, Sat., Dec. 5, 10am-4pm. Margaret Todd Senior Center, 1560 Hill Road, Novato, 415/899-8290; sanfranciscobazaar.org.
Marin Indoor Antique Market 31st Annual Christmas Show
Saturday, Dec. 12, 10am-6pm and Sunday, Dec. 13, 10am-5pm. Marin Center Exhibit Hall, 10 Avenue of the Flags, San Rafael; 415/388-2252; goldengateshows.com.
Marin Country Club Holiday Boutique
Wednesday, Dec. 9, 11am-2pm, Marin Country Club, 500 Country Club Drive, Novato; www.novatorwf.org. $33, includes lunch.
Muir Beach Holiday Arts Fair
Saturday, Dec. 12, 10am-5pm and Sunday, Dec. 13, 10am-4pm.
Community Center, 19 Seascape Drive, Muir Beach; 415-388-8319; www.muirbeachartsfair.com.
Novato Arts Center Holiday Fair
Sunday, Dec. 6, 11am-4pm, Novato Arts Center, 500 Palm Drive, Novato; www.novatoartscenter.org.
Hawaiian Holiday Craft and Bake Sale
Saturday, Dec. 12, 10am-4pm, St. Patrick's Parish Center, 409 Magnolia Ave., Larkspur; www.hulaon.org.
Fairfax Craft Faire & Baking Contest
Saturday, Dec. 12, 11am-5pm, The Pavilion, 142 Bolinas Rd., Fairfax; fxcraftfaire.com.