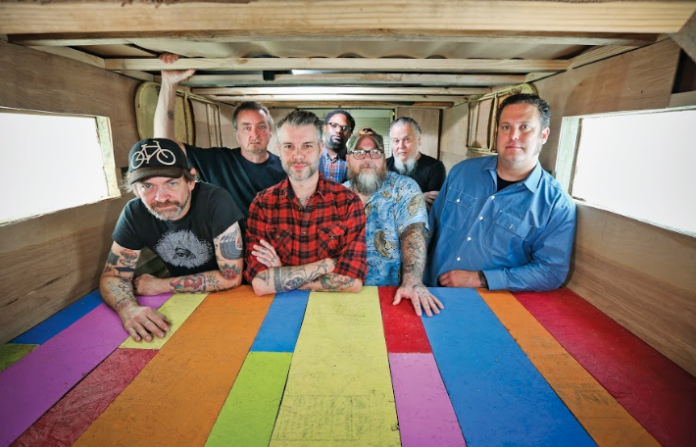 Allow us to be the first to close the books on 2017. With old acquaintances—both forgotten and remembered—we'll take a cup o' kindness yet, and we'll start with these New Year's Eve parties around the North Bay. From delectable dinners to cabaret shows and blowout concerts, here's a selection of ways to ring in 2018.
MARIN COUNTY
Noon Year's Eve Ring in the New Year with your little ones at the Bay Area Discovery Museum. Kids will love the celebratory ball drop at noon, dance to DJ Mancub and get busy with various art activities. In addition, the family can enjoy access to the museum's indoor and outdoor exhibits. Fort Baker, 557 McReynolds Rd., Sausalito. 9am to 2pm. $14-$15. 415/339.3900.
New Year's Eve Standup Comedy Showcase Osher Marin JCC's eighth annual New Year's Eve event boasts more laughs than you can shake a bottle of champagne at. This year, the showcase finds five smart and clean comedians on the bill, hosted by Jeff Applebaum, who has spent more than 20 years making crowds laugh in his adopted hometown of San Francisco. The rest of the lineup includes standup stars like Andrew Norelli, a veteran of both late-night talk show and TED Talks, and relatable comedian and writer Milt Abel. A selection of cocktails, beer and wine starts the party and a midnight toast wraps it up. 200 N San Pedro Rd., San Rafael. Pre-show party starts at 7:30pm. $32 and up. 415/444.8000.
New Year's Eve at Throckmorton Theatre The community comes together to break bread, literally, in this New Year's Eve party that feeds the masses with a symbolic offering of bread and other bites, and promises a chance to dance the night away with a headlining set from Marin's country rock veteran Danny Click & the Hell Yeahs. The theatre also hosts the good vibration of Tivoli, with Tibetan bowls, native flutes, bells and more ringing in the year. Champagne will be flowing and spirits are sure to be high. 142 Throckmorton Ave., Mill Valley. 7:30pm. $25-$50. 415/383.9600.
Chris Robinson Brotherhood A popular sight in the North Bay, the psychedelic rock 'n' roll family that operates somewhere in the wilds of Marin County dubbed "Unicorn, California" is back at Terrapin Crossroads for another round of New Year's festivities. This past year saw the brotherhood release their acclaimed roots-rock album Barefoot in the Head, and now the former Black Crowes front man and his bearded band of merry men once again fly their freak flag on Dec 29-31, 100 Yacht Club Dr., San Rafael. Friday and Saturday, 8pm; Sunday, 9pm. $50/$80-$200. 415/524.2773.
Lucero One of the hardest-working bands for nearly 20 years, Memphis musical institution Lucero lays down three nights of alternative rock in Mill Valley this New Year's Eve, and they're inviting different local stars to join them each night. On Friday, Marin country-rock raconteur Victoria George opens the weekend with a Nashville-meets-San Francisco sound. On Saturday, reliable roots-rock outfit San Geronimo descends from the hills of West Marin for a show of what critics call California Soul. On Sunday, San Francisco staple Travis Hayes offers a heaping helping of emotionally stirring folk-rock. Three-night passes are available, so Lucero fanatics can get a whole year's worth of the band's guitar-driven, denim-clad rock 'n' roll on Dec 29-31, at Sweetwater Music Hall, 19 Corte Madera Ave., Mill Valley. 9pm, 21 and over, Friday and Saturday, $42-$47; Sunday, $87-$97; three night pass, $157. 415/388.3850.
New Year's Eve Sound Healing Groove The ever-enchanting Harmonia social and wellness club says farewell to 2017 and welcomes 2018 with a loving and eclectic community celebration. Start the night in the Kava Lounge, before getting into the groove with the Sonic Shamanic's assortment of gongs, singing bowls, drums and more. After midnight, let it all hang down by sipping on elixirs and champagne, dancing to DJs and basking in the glow of the new year and possibilities to come. 2200 Marinship Way, Sausalito. 8pm. $75-$100. 415/332.1432.
NYE at the Center Mill Valley Recreation and Piazza D'Angelo present the party of the year with live music from The Sonic Steps and headliner Notorious. Enjoy complimentary champagne upon entry, plus delicious appetizers throughout the night, no-host full bar and festive party favors to heighten the mood during an exhilarating countdown to midnight. Mill Valley Community Center, 180 Camino Alto, Mill Valley. 8pm. $70. 21 and over. 415/383.1370.
New Year's Eve Prix Fixe Dinner Show Fenix, San Rafael's premiere supper club, knows how to cook up a good time. This year, they mix a delectable dinner with the power-packed sounds of Heartless, Northern California's best tribute act to Heart. 919 Fourth St., San Rafael. 7pm. $125. 415/813.5600.
New Year's Eve Celebration at Left Bank Brasserie The festive Brasserie is open all day with an a la carte menu and a four-course prix fixe dinner. While it's sure to be packed all day, in this case the last seating may be the first to fill up, as those who book 11pm reservations can expect to enjoy a complimentary sparkling wine toast and party favors at the stroke of midnight. 507 Magnolia Ave., Larkspur. Opens at 11am. $75 for prix fixe dinner. 415/927.3331.
Best of the San Francisco Stand-Up Comedy Competition This gut-busting comedy show at the Marin Center's Showcase Theater rings in the New Year with the funniest alumni of the internationally recognized stand-up competition. Several hilarious standups will be on hand for this show, which always sells out well in advance. 10 Avenue of the Flags, San Rafael. 9pm. $40. 415/473.6800.
Boogie Under the Golden Gate New Year's Eve With panoramic views of the bay as a backdrop, the Travis Marina Bar & Grill, formerly the Presidio Yacht Club, welcomes Western swing veterans the Lone Star Retrobates back for their seventh annual New Year's Eve party. Boasting a boogie-woogie attitude, the ensemble welcomes popular vocalist Sylvia Herold to join in the harmonies. Toast to 2018 in the shadow of the Golden Gate Bridge with complimentary champagne at midnight. 1679 Sommerville Rd., Sausalito. 9pm. $30-$40.
SONOMA COUNTY
Happy New Year, Charlie Brown Kids and families are invited to join Master of Ceremonies Snoopy and the gang at the Charles M. Schulz Museum for a fun afternoon of crafts and games, with a big balloon drop and root beer toasts at noon and 3pm. Hey, it's New Year's somewhere. 2301 Hardies Lane, Santa Rosa. 10 to 4. $5-$12. 707/579.4452.
New Year's Eve on the Square Since reunifying earlier this year, downtown Santa Rosa's Courthouse Square has become a beacon of fun in Sonoma County. This New Year's Eve is no exception, as the square welcomes families for an evening of live entertainment, activities for kids and several vendors serving food and drinks. Third Street and Mendocino Ave., Santa Rosa, 5pm. Free admission, catered VIP packages available at $125. 707/701.3620.
Mischief Masquerade The North Bay Cabaret never fails to raise a few eyebrows, and master of ceremonies Jake Ward is pulling out all the stops for this third annual New Year's Eve spectacular. Featured performers include Sonoma County burlesque starlet Dangerous Dollie, musician and inventor Andy Graham, improv comedy troupe the Gentlemen Bastards, slam poet Jordan Ranft and others. The masquerade also features two full bars, dinner and bites, a photo booth and a champagne toast at midnight. Whiskey Tip, 1910 Sebastopol Rd., Santa Rosa. 8pm. $20-$25. 21 and over. northbaycabaret.com.
New Year's Eve at Barndiva The Healdsburg culinary destination once again offers two separate menus of elegant dining in a festive and fun atmosphere. In the restaurant, a six-course meal of classic favorites features prime sirloin and black truffle mac & cheese, with special wine pairings available. In the relaxed bistro setting, the music gets pumping as you work off the calories with a dance or two. Reservations are recommended. 231 Center St., Healdsburg. $145 and up. 707/431.0100.
Petaluma Museum's Gala Concert & A Night in Vienna Sky Hill Cultural Alliance and the Petaluma Museum Association present their ninth annual New Year's Eve gala concert, full of classical flair and marvelous entertainment from members of the San Francisco Symphony. After that show, the action moves to nearby Hermann Sons' Hall for "A Night in Vienna," featuring many traditional Viennese dishes and desserts and waltzes performed by a live orchestra. This black-tie optional event toasts the New Year in stellar fashion. The gala concert happens at 20 Fourth St., Petaluma, 6pm. $50-$70. A Night in Vienna happens at 860 Western Ave., Petaluma. 8:30pm. $150. 707/778.4398.
Totally Awesome New Year's Eve Party Break out your best '80s gear and turn back the clock for a radical NYE celebration at the Flamingo Resort. The '80s invasion includes throwback party band Aqua Nett and DJ Refugee mixing it up in the ballroom and lounge. Full bars and concessions fuel the fun, and the resort hotel is offering special guest room packages with a deluxe breakfast buffet the next morning. 2777 Fourth St., Santa Rosa. 8:30pm. $55-$75. 21 and over. 707/545.8530.
New Year's Eve Bootleg Ball Can you imagine what New Year's Eve must have been like during Prohibition? Well, Sonoma Cider is laying out all of the good stuff that came from bootlegging in the Roaring '20s, including cider, beer, wine, cocktails and bubbly, a load of casino games and live music from local favorites Dixie Giants, Oddjob Ensemble and Hannah Jern-Miller. Three-course dinner options are also available. 44 F Mill St., Healdsburg. 7pm. $65-$150. 21 and over. 707/723.7018.
New Year's Eve Purple Party If funk is what you want, funk is what you'll get at this blowout party in Twin Oaks Roadhouse. First up, Bay Area world-beat buzz-makers Free Peoples set the tone with a mix of soul, reggae and funk that has defined the band since 2005. Then, Sonoma County's Marshall House Project lays down some of the slickest grooves this side of the Family Stone with eclectic and energetic rhythms. 5745 Old Redwood Hwy., Penngrove. 9pm. $25. 21 and over. 707/795.5118.
NAPA COUNTY
Brian Culbertson Since opening in downtown Napa, Blue Note Jazz Club has brought world-class talent to one of the North Bay's most intimate stages. This New Year's, Blue Note welcomes back multi-instrumentalist Brian Culbertson for three nights of music, including a jazzy New Year's Eve celebration. Dec 29-31. 1030 Main St., Napa. Friday and Saturday, 7:30pm and 9:30pm; Sunday, 7:30pm and 10:30pm. $55 and up, $69-$99 NYE show. 707/880.2300.
Red Tie Affair The Westin Verasa in Napa is seeing double and throwing not one, but two parties to ring in 2018. First up, a dinner party at La Toque offers a champagne reception before a sumptuous six-course dinner with a sommelier wine pairing option. After the meal, a Red Tie Affair kicks off next door at Bank Café & Bar, with dancing and cocktails leading up to the champagne toast. 1314 Mckinstry St., Napa. Dinner at 7:30pm; after party at 9pm. $75 and up. 888/627.7169.
Carlos Reyes & Friends If formal attire is not your forte, Napa also offers an electric and eclectic night of music from renowned Bay Area harpist and violinist Carlos Reyes, who welcomes several special guests to Silo's for two shows. Special desserts, party favors, bubbly and down-home fun culminate in two ball drops, one for each coast. 530 Main St., Napa. 7pm, 10pm. $75-$100. 707/251.5833.
New Year's Eve Dinner Train The Napa Wine Train is a popular adventure for North Bay wine and travel enthusiasts, and this New Year's Eve event boasts a night of culinary delights aboard the train. Sparkling wine and appetizers await you at the station, and a decadent four-course meal is served while the sights of the Napa Valley pass you by during a three-and-a-half-hour ride. 1275 McKinstry St., Napa. Reception at 5pm, train boarding begins at 6pm. $229 and up. 800/427.4124.
New Year's Eve Dinner & Party at Silverado The resort makes a day of it with a New Year's Eve dinner that features four courses and includes complimentary admission to the big party, which features DJs spinning the hits, party favors and a sparkling wine toast at the midnight balloon drop. 1600 Atlas Peak Rd., Napa. Dinner, 5 to 9, $30-$90. Party, 9pm, $35. 707/257.5400.