By Molly Oleson
"It happened like lightning." That's how Rita Abrams, former kindergarten teacher at the Strawberry Point School, describes how the little song that she wrote in 1969 about Mill Valley—"a place that's got a hold on me"—became the tune that "captivated so many people … all around the country and all around the world."
As the story goes, in '69, "Miss Abrams," as she was known, was a 26-year-old teacher who had arrived in California, looking for a job after teaching in East Boston. Mill Valley was just a name on a map—until an interview (that she almost skipped) at the Strawberry Point School.
"I drove down Miller Avenue, and I was just overwhelmed by the feeling and the beauty of that town," Abrams says wistfully over the phone, describing the paradise that became her new home. "By the time I got to my interview, I was already in love with the town."
On Christmas Day, Abrams suddenly had a feeling that Mill Valley needed a song. She penned love-letter-like lyrics that celebrated the town's mountain, creeks, trees and smiling people, with the idea that she would sing the song with her students.
Cut to the scene where Erik Jacobsen—a producer for Warner Brothers who was, at the time, working to produce the Norman Greenbaum hit "Spirit in the Sky"—played, for a group of men in suits in L.A., the "Mill Valley" tape that Miss Abrams and her students had recorded.
"First he played 'Spirit in the Sky,'" Abrams says proudly, "and he said there was a polite smattering of applause. And then he played 'Mill Valley' and he said, 'they jumped to their feet, and they gave it a standing ovation!'"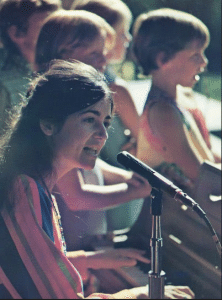 Ten days later, the sweet song about "a little place where life feels very fine and free" was playing around the world. The calls to the Strawberry Point School were nonstop. Letters flooded Abrams' mailbox. There was a video of the teacher and her students shot by aspiring filmmaker Francis Ford Coppola, a photo by Annie Leibovitz for Rolling Stone, a spread in LIFE magazine and countless public appearances.
This Sunday, August 23 at the Throckmorton Theatre, Abrams will, for the first time, host a community event to celebrate the 45th anniversary of the song. She'll be joined on stage by around 12 of the third-graders—now in their 50s—who she recorded the song with in 1970.
"It just seemed really appropriate with the anniversary of the song and the impact that it's had, to have people come together," says Throckmorton founder and executive director Lucy Mercer, who describes Abrams as someone with core enthusiasm who draws people close to her.
The song, carefree and from a simpler time, Mercer says, made people relate to one another. "That feeling, I think, continues to reverberate today."
"It was really kind of about smalltown America," says 53-year-old Cindi Koehn, who will be one of the former third-graders at the event. "It's just amazing that this little song about our hometown transformed so many people, and that they're still listening to it."
Abrams says that she still receives letters, many of which will be read aloud at the celebration. One particular one, years ago, was from a man who was writing from the trenches of the Gulf War.
"I have been scared out of my wits," the letter read, "And I want you to know that your little song has saved me."
It sounds dramatic, Abrams says, but she sees it as remarkable. "Whenever I feel the most frightened," he wrote, "I hear your little song going around in my head, and it calms me."
The innocent song describes a place that has changed drastically over the years. But the connection to it, Mercer says, hasn't diminished. "They come back to feel it," she says of Abrams, the students, the community and all those who relate to the song. "That sense of being a part of something.
"The reassurance that you have the connection … that it's still there," she continues. "Those are the moments we all look for in life."
Celebrate 45 years of the 'Mill Valley Song' with Miss Abrams, former students of the Strawberry Point School and special guests Terry McGovern and Celeste Perry. Sunday, August 23; 7pm; $20; Throckmorton Theatre; 142 Throckmorton Ave., Mill Valley. For more information, visit throckmortontheatre.org or call 415/383-9600.