by Rick Polito
Friday, Feb. 13 Fools Gold Matthew McConaughey and Kate Hudson play an estranged husband and wife who discover clues to the location of shipwreck treasure. They also discover a reason for McConaughey to take his shirt off every five minutes. (2008) American Movie Classics. 7pm.
Be My Valentine Charlie Brown The round-headed kid finally gets a date with the cute little red-headed girl. We imagine this is going to turn out like Lucy and the football and Charlie will end up going home to Internet porn. ABC. 8pm.
Hawaii Five-0 The murder of a journalist presents the team with a peculiar case. Most journalists starve to death. CBS. 9pm.
Saturday, Feb. 14 Rollerball The nation becomes enthralled with a violent sport that can leave the players dead or maimed for life. But that's just football. This is a science fiction movie. (2002) The Movie Channel. 7:20pm.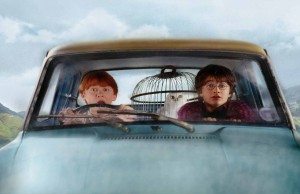 Harry Potter and the Chamber of Secrets Or, if you're a 12-year-old boy Harry Snotter and the Chamber Pot of Secretions. (2002) ABC. 8pm.
Casablanca Anti-government insurrectionists with drinking problems hang out in a bar and suppress their emotions. (1943) KQED. 8pm.
Zack and Miri Make a Porno If you're considering this as a career option, we recommend buying a high definition video camera. And leaving the lens cap on. (2008) Comedy Central. 10:15pm.
Sunday, Feb. 15 The Fifth Element Bruce Willis plays a cab driver in a gritty future, where he gets caught up in a galactic mystery, but is never able to find the sixth element: a plot. (1997) SyFy. 4pm.
Saturday Night Live 40th Anniversary Special Researchers have found it possible to predict a person's age and health conditions by the last Saturday Night Live sketch they remember. If the words "more cowbell!" mean anything to you, it's time to start getting your cholesterol checked. If you are quoting "Kill My Landlord" or recognize the name "Joe Piscopo" you are shopping for bifocals. If you're still talking about "Land Shark" or "Samurai Delicatessen" you are on life support. NBC. 8pm.
Monday, Feb. 16 Splitting Adam A teenager accidentally clones himself, which helps him accomplish everything in his busy schedule but also sets him up for a "Mom always loved my clone best" session with his therapist. (2015) Nickelodeon. 7pm.
The Celebrity Apprentice In the finale, the remaining contestants are tasked to find somebody who still considers them a "celebrity." NBC. 8pm.
Tuesday, Feb. 17 Ben-Hur Charlton Heston is there for the birth of Christ, the crucifixion, a number of key Roman wars and a terrific chariot race, a list of experiences he shares with Brian Williams. (1959) Turner Classic Movies. 5pm.
Westminster Kennel Club Dog Show A small group of dog owners make it to the final rounds where they are transported to an alternate universe where they are considered normal, functioning human beings. USA Network. 8pm.
Wednesday, Feb. 18 To Kill a Mockingbird We don't know whether the screening is a response to news of a second novel in the series being published, but we hear the mockingbird survives in the sequel. (1962) Turner Classic Movies. 7:15pm.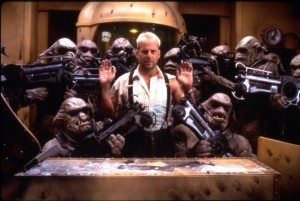 Booty Call It's nice to see that Oprah's network has returned to its original, sophisticated, mission of presenting program that respects women and feminine values. (1997) Oxygen. 8pm.
Thursday, Feb. 19 Jurassic Park Dinosaurs grown from ancient DNA run amok on an island, all the while careful to eat only the really evil guys. (1993) American Movie Classics. 8pm.
Comedy Central Roast: Charlie Sheen There is so much material here that it seems almost too easy—like shooting fish in a barrel—except he's had sex with most of the fish. Comedy Central. 9:30pm.
Silver Linings Playbook Released from a mental institution, a delusional bipolar man still obsessed with his ex-wife meets and falls in love with a beautiful woman. This doesn't work for everybody. Don't put "delusional bipolar" in your OkCupid profile. (2012) The Movie Channel. 10pm.
Critique That TV Guy at [email protected].