The Marin Museum of Contemporary Art (MarinMOCA) has a long and deeply-rooted history in supporting local art and artists from communities across the Bay Area.
The museum itself, located in the historic building that once housed the Hamilton Air Force Base Headquarters, was technically founded in 2007—but the idea behind MarinMOCA can be traced all the way back to 1983 when 11 College of Marin students came together with a shared goal: to bring accessible contemporary art to the community.
Though a lot has changed since the museum's inception (including its name and location), much of the original concept remains intact. This includes the annual Bay Area Legends exhibition, a MarinMOCA springtime tradition that celebrates a local and legendary Bay Area artist.
"We started working on this exhibition in the spring of last year. It's a part of our annual Bay Area Legends exhibition series," explained Amy Owen, executive director of MarinMOCA.
"Since I started my tenure here, I've been really interested in presenting historically underrepresented artists of the region."
MarinMOCA is currently setting up to host the next installation of the series with its upcoming "SUPER-SILLY-US" exhibition, featuring the art of two legendary local female artists: Barbara "Bobbie" Stauffacher Solomon and her daughter, Nellie King Solomon. The exhibition will run from March 25 to June 4, with an open reception on April 1.
"It's been great working with Bobbie and her daughter, Nellie, who plays a key role in her mother's work as a collaborator and is an accomplished painter in her own right," said Owen.
"Since Bobbie is now 94 years old, Nellie is often boots on the ground in handling logistical aspects of projects."
This mother and daughter duo share more than just a passion for art and an upcoming exhibition, however, and their similar yet wholly unique experiences and styles lend to an exhibition that is simultaneously as diverse as it is cohesive.
"Nellie's work is abstract and irreverent, and has a kind of relationship to movement and the body," explained Owen. "Bobbie's work is really informed by her meticulous training in Swiss graphic design with set rules behind it. That said, they were both trained as architects, and it's interesting to see how each of them has taken that interest and translated it in very different ways through visual art."
Stauffacher Solomon is a legendary San Franciscan artist, born in 1928 and perhaps best known for her work as a graphic designer and as a landscape architect. As a young woman, she worked as a dancer and studied painting and sculpture at the San Francisco Art Institute. After the death of her first husband, she left America to study graphic design in Switzerland and, years later, studied architecture at the University of California, Berkeley.
"When Bobbie's husband died and she was trying to find a way to make her way in the world, she packed her bags and went to Switzerland to make her living through graphic design," explained Owen. "She studied there for a few years and later started working for Laurence Halprin and got an office with him—from there it evolved, and the idea of Supergraphics happened almost by accident."
Stauffacher Solomon famously pioneered the concept of Supergraphics (a popular interior design technique, first used at Sea Ranch in Sonoma County in the 1960s as a response to its large-scale architecture).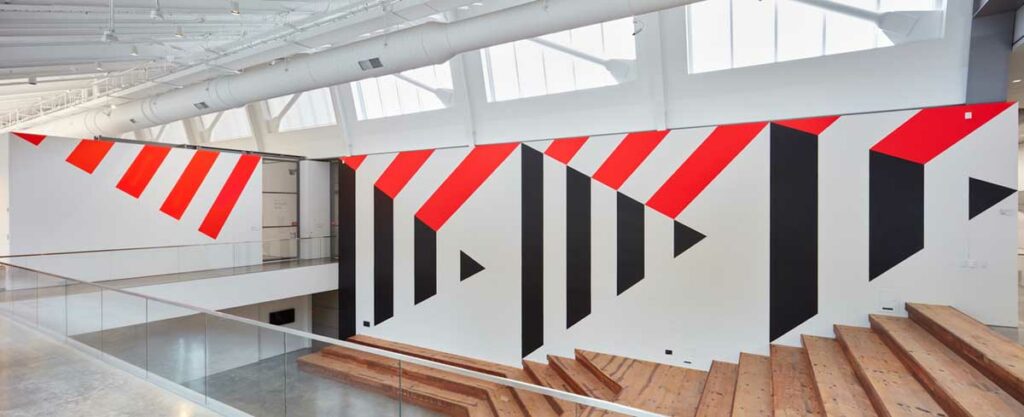 "[Bobbie] just kind of fell into her art, in many respects," said Owen. "It's interesting, given Bobbie's history with dance and many other kinds of disciplines such as landscape architecture, seeing how she pulls from those various points of knowledge and interest and expertise."
Stauffacher Solomon remarried in 1969 to an architect and professor named Daniel Solomon (father to Nellie King Solomon). King Solomon grew up to become an established artist in her own right, having studied architecture before receiving her BA in art from University of California, Santa Cruz and a MFA from California College of the Arts, San Francisco. She has also taught art at Stanford University. King Solomon resides in Los Angeles and continues to make waves in the artistic community.
King Solomon played an integral role in planning this year's MarinMOCA Bay Area Legends exhibition for both herself and her mother. Not only did King Solomon make a name for herself in the competitive landscape of abstract art, but she did so in a way that simultaneously reflects and remains entirely independent from the work of her iconic mother.
"Bobbie works in a very site-responsive way, so we commissioned her to create a new lobby space which will open with the exhibition and continue into the year and will be accompanied by images from one of her handmade books: SUPER-SILLY-US," said Owen.
Those who visit this year's Bay Area Legends exhibition will have the opportunity to see drawings from Stauffacher Solomon's hand-made book, the namesake of the exhibit: "SUPER-SILLY-US." These drawings have never before been shown in an exhibition. And, to top it off, a new Supergraphic installation, designed specifically to complement the historic Hamilton Field building's original 1933 architecture, will stretch across the museum's Main Gallery and Ron Collins Lobby Gallery.
"Seeing Bobbie's art here in Marin is an opportunity to see her work in relation to place, site and the landscape of Northern California—in that way, it makes it a much richer experience," said Owen.
Owen is particularly excited for MarinMOCA's April Fools opening reception for the "SUPER-SILLY-US" exhibition, which will be open to the public. King Solomon is set to attend and is designing Supergraphics for a 1969 Ford Econoline that is, in many ways, the iconic centerpiece of the opening party—and not just because it will be parked outside with a DJ booth and a bar inside of it.
"We're always aiming to appeal to the masses at MarinMOCA. I think there's something for everyone with this exhibition, which is both rigorous and playful all at once," said Owen. "There's opportunity for intimate engagement but also an expansive, physical and immersive experience with the works…depending on how you like to engage with museum works."
The Marin Museum of Contemporary Art is located in Novato at 500 Palm Dr. and is open to the public Wednesday through Friday from 11am to 4pm and on Saturday and Sunday from 11am to 5pm. General museum admission costs $10 while seniors (aged 65 or older), military and student tickets cost $8 each. Children aged 12 and under and MarinMOCA members may visit the museum for free.
For more information about MarinMOCA and the 'SUPER-SILLY-US' exhibition, visit the website at marinmoca.org, send an email to [email protected] or call 415.506.0137.