by Tom Gogola
"It was a pretty outrageous idea," says Bruce Burtch, of what began, seven months ago, as a dream to bring together art by—and of—rock legends of the '60s, and at-risk kids. "But the outpouring of support has been phenomenal."
Burtch, known as the "Father of Cause Marketing" for his work over the last 40 years in building "win-win" partnerships—focused on creating a greater good—between for-profit, nonprofit, education and government sectors, is the author of the highly-acclaimed book Win-Win for the Greater Good.
Burtch, who says that he's technically retired, has been working around the clock on a project close to his heart: Forty-five works of art by some of the most well-known musical icons will be part of a month-long fandango to celebrate rock icons and benefit DrawBridge, a Bay Area art program for homeless and other underserved children that was founded in San Rafael more than 25 years ago.
The event is called, naturally, San Rafael Rocks, and San Rafael will commence to rock in June. It will rock through July, thanks to Burtch, who has produced and curated a multi-platform celebration of the art of rock that includes the biggest-ever showing of original art by the late Garcia (thanks to the good graces of the Jerry Garcia Foundation, which is overseen by the musician's family). This is the first-ever project of the foundation in the United States, Burtch says.
With the Fare Thee Well hoopla as backdrop, Burtch's first move was to approach well-known musicians who are also noted visual artists, and get them to donate paintings to benefit DrawBridge.
Now there's an art show, a film festival, a street fair, a planned musical tribute to Garcia and a local webcast of the final Fare Thee Well Grateful Dead show.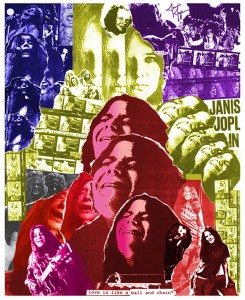 The Art of Rock Legends kicks off on Friday, June 12 from 5 to 8pm at Art Works Downtown (1337 Fourth St., San Rafael), and runs through July 24. Burtch has, along with snagging 21 original Jerry Garcia artworks for the exhibition (seven of which will be for sale) used his powers of persuasion to coax works into the San Rafael gallery from the likes of the Jefferson Airplane's Marty Balin, Carlos Santana and Rolling Stone photographer Baron Wolman.
The Rock and Roll Film Festival unspools July 6-8 at the Rafael Theater (1118 Fourth St., San Rafael) and will emphasize films about the Grateful Dead and the Jer-Man. As a high-impact warmup show, on July 5, the Smith Rafael Film Center will webcast the last of the Fare Thee Well Dead shows from Soldier Field in Chicago.
A rock and roll Block Party in downtown San Rafael on July 11 will include all kinds of cool, vintage and contemporary poster art from the folks at the Rock Poster Society.
And finally, the Fenix (919 Fourth St., San Rafael) is tentatively putting July 17 on the calendar for a musical event hosted by Merl Saunders Jr., and called "In the Spirit of Garcia." Merl Jr. works at the theater and Merl Sr. was a musical collaborator with Garcia. Burtch says to expect "a very special guest" at this show, the details of which are still being hashed out.
Burtch is too excited to retire any time soon. "People are saying, 'Let's have some fun, let's make some noise about the need to help homeless kids,'" he says. "'And let's celebrate the great art, music and film we have here in the Bay Area.'"
For more information, visit sanrafaelrocks.com and drawbridge.org.