​​Trevor Dunn of the seminal NorCal metal band on then and now
The Eureka-bred, avante-metal band Mr. Bungle cut its vicious, vampire teeth on the stages of the North Bay. The wacky funk-ska-metal beast that is Mr. Bungle is no longer creating layered and intensely original sounds as they did on their three albums of the '90s. Nah, these fuckers came to thrash.
Mr. Bungle was started in high school by a trio of friends. When lead singer Mike Patton helped lead Faith No More to commercial success, Bungle was signed to Warner Bros. Not a subsidiary, no; the young freaks were suddenly labelmates of Van Halen and other giants.
The band's experimental noisecore is my happy place, so I was thrilled, honored and all but moved to tears to interview Mr. Bungle and Fantomas bassist Trevor Dunn in advance of their upcoming show.
Giotis: The set on this tour is drawn from your very first demo, which is much different than the sound that defined Mr. Bungle in the '90s. It's an 4-track, almost death metal demo that you are now playing with the finest metal instrumentalists around. What's it like to return to your origins like that? How did it come about?
Trevor Dunn: "We always thought it would be cool to revisit this with, like, the people it was written for essentially, like Scott Ian of Anthrax and Dave Lombardo of Slayer (also in Fantomas with Dunn and Patton). We were 100% listening to '80s metal back then, so we thought, hey man, why not go back to the motherland for this?"
Giotis: That demo (the recently re-recorded 'The Raging Wrath of the Easter Bunny') was recorded in high school. How did that turn into a career?
Dunn: "[In the] late '80s, we [got] more serious about the band, and we started making road trips down to San Francisco, opening for Primus. We'd go down to the Phoenix [in Petaluma] and Guerneville to play the River Theater there and small clubs in San Francisco."
Giotis: When you were playing places like the Phoenix and The River Theater, you were building a sound on the backs of giants like Slayer and Anthrax. Now the most lauded members of those bands play with you. What's it like playing with your idols?
Dunn: "I remember…that Patton and I were like, man, we haven't played metal in a while; let's start a metal band. [He] went home and wrote all these pieces that became Fantomas. Then one day, he was just kind of like staring at his record collection [and was] like, 'You know what? I'm just going to call Dave Lombardo and Buzz Osborne.' We didn't know either of them at the time, and I was like, you know, 'Good luck with that man.'
"I remember the first rehearsal in the room with Dave Lombardo blasting a double bass drum, just thinking this is insane, what the hell am I doing here, man? Like, that's the sound of those records that I've been listening to, you know?
"By this time, I've spent a lot of time with Dave over the years; we've become friends. I got over being starstruck; this guy's a human being like everyone else. No, well, it's questionable because he's part animal somewhere."
Giotis: Like Animal, Muppets Animal.
Dunn: "Yeah, exactly, that kind of animal."
Giotis: So my wife says that the way she'll know I'm an imposter is if she comes home and I'm blasting Red Hot Chili Peppers. Then something is terribly wrong.
Dunn: "[Laughing] Hopefully, she'll put you out of your misery."
Giotis: Bungle and the Red Hot Chilli Peppers have a long standing beef that is legendary in the alternative funk thrash world. It was kind of one-sided, wasn't it?
Dunn: "They're such bullies; they really bullied us bad. They're this multi-million dollar band that is still annoyed by us. Is Bungle really hurting their sales? I don't think so. It affected us, personally, financially. They should be happy for spreading their hatred."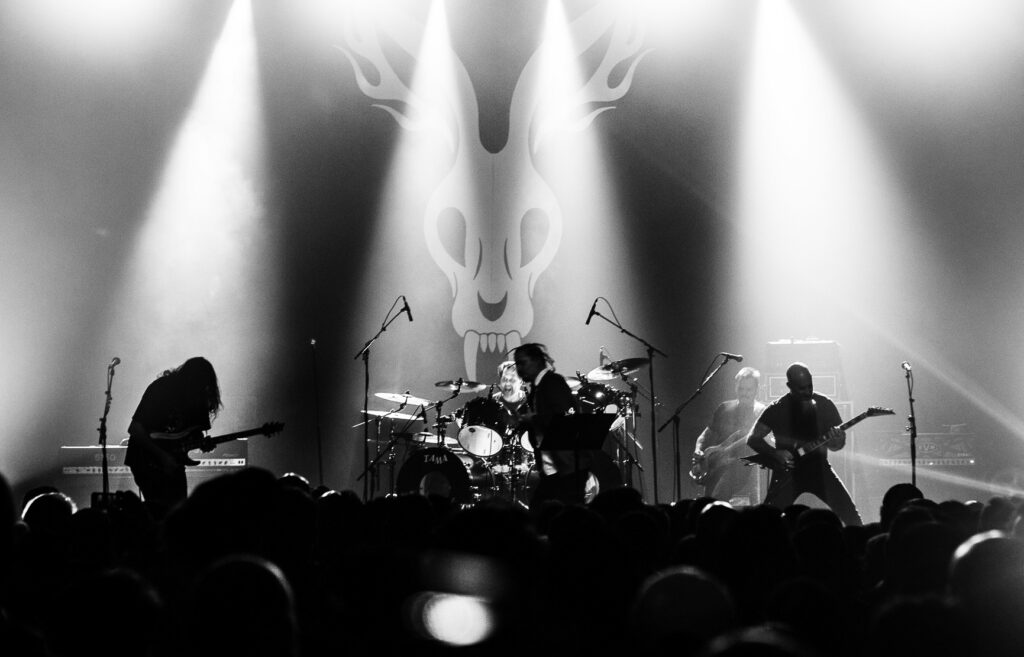 Dunn then mentioned the uncompromising Nick Cave, quoted in the '00s saying, "I'm forever near a stereo saying, 'What the fuck is this garbage?' And the answer is always the Red Hot Chili Peppers."
Giotis: Bungle is known for some pretty shocking shenanigans onstage. Can you just verify for me that I saw Mike Patton drink piss on stage at the New Year's Eve show opening for Primus in '92?
Dunn: "Yeah, some kid threw a shoe up on stage and Patton peed into it. And then basically poured it over his head and drank it; it was disgusting.
Giotis: No, [laughing] it was beautiful, man; that meant the world to us. Pretty sure that was my first Bungle show. Somehow at that point, you were already on Warner Bros?
Dunn: "The only reason Warner Bros kept us around was because they had hopes that we were going to write a Faith No More type of hit, which was obviously never going to happen. But the thing is they never paid any attention to us. They weren't breathing down our necks to put out records; they weren't checking to see what our music was like; we had total freedom. They'd give us like a hundred grand to make a record, and we'd spend it all, and if we had any left over we'd buy some gear, you know?"
Giotis: The indie-metal label Ipecac out of Oakland is the organizer of this label showcase tour, the "Geek Show." How is it working with Ipecac, which also releases music for your bands Fantomas and Trevor Dunn's Trio-Convulsant?
Dunn: "It's very grassroots. I think there's three people now, maybe four involved with the label. In the less than 10 years [we were at Warner Bros], so many hands changed. Every time we put out a record, no one at the label knew who we were. Like, 'What band is this?' [So in] terms of Ipecac as a label, it's like if you have questions, you want to know what's going on, you want to know how many records are selling, you want to know what the figures are, you just call them up. It's great; it's a relationship, you know?"
Giotis: A bit like coming home.
Dunn: "Exactly."
Mr. Bungle plays with Melvins and Spotlights on May 23 (sold out) and 24 in Oakland at the Fox Theater, 1807 Telegraph Ave. Tickets available through Ticketmaster or at thefoxoakland.com/listing.