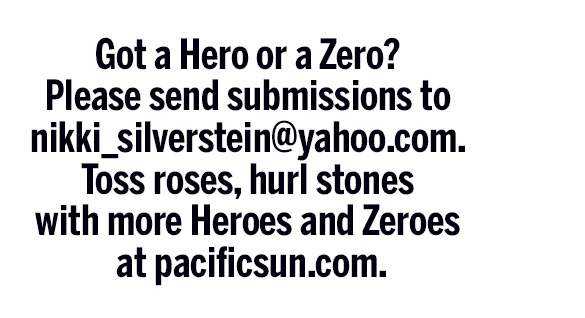 Hero
Woody's Yogurt Place in Strawberry Village has been a great neighbor for the past 21 years. Sadly, they permanently closed their doors this week, citing rising rent and expenses and the PG&E shutoffs.
Over the years, owners Woody Woodson and his son Brian have supported local schools and sports teams and donated ice cream to the evacuees of the North Bay fires, to name a few of their generous contributions. The community loves them, consistently voting them Best of Marin in the Pacific Sun's annual competition.
People posting on the social media website Nextdoor bemoaned the closure, not only because they'll miss the tasty yogurt and ice cream, but because Woody's was a local entity. Please support our locally and family-owned businesses, as they keep Marin diverse and unique.
Farewell to Woody's Yogurt Place and best of luck to Woody and Brian.
Zero
For almost 30 years, Marin folks have stopped by the Rombeiro's Christmas House to ogle the impressive decorations, statues and lights. This past holiday season, there were two firsts for the Novato house, one a hero story and the other a definite zero event.
The Novato house won first place in season seven of ABC's The Great Christmas Light Fight, taking home a trophy and the $50,000 grand prize. They certainly deserve the honor, after spending three months each year decorating the house.
The Rombeiro's welcome visitors into their home to view the angel room, the model train, a nativity scene and more. That's where the zero comes in: while touring the interior of the house, someone stole Mr. and Mrs. Rombeiro's iPhones.
The Rombeiro family spreads cheer to about 50,000 people annually and it took just one sticky-fingered Grinch to spoil the festivities. Despite the burglary, the family will continue their holiday extravaganza in 2020, though they will add a security system to the displays.