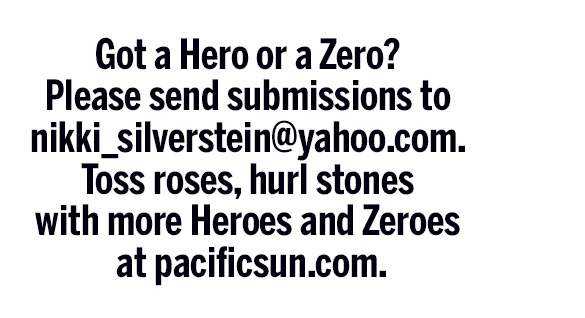 Hero
One of the newest recruits to San Rafael's police department is a dog named Blue, a two-year-old Labrador and golden retriever mix. Rather than serving as a patrol dog, Blue helps people as a comfort dog. His duties include delivering love and stress relief to police dispatchers and working with Lynn Murphy, the department's Mental Health Outreach Liaison, consoling mentally ill and homeless people on the streets of San Rafael.
Blue, trained by Guide Dogs for the Blind, worked with a visually impaired person for eight months. After showing a very strong desire for food, they retired him. In his new position, Blue receives plenty of treats and in return shakes hands and gives hugs. It sounds like he now has his dream job.
Blue is the first retired dog that Guide Dogs for the Blind, headquartered in San Rafael, has provided to a law enforcement agency. The nonprofit worked with the San Rafael police department to develop the comfort-dog concept. From what we hear, Blue is a popular fellow, well-trained in friendliness and affection. We wish him well in his new endeavor.
Zero
Word to the wise: when a man threatens you with a gun, don't dare him to shoot. You might just get a bullet in the foot, which is what took place in the wee hours of Sunday morning during a holiday party on C Street in San Rafael.
"David Michael Simonini, 71, allegedly pointed a gun at a man at the gathering, ordered the man to leave and threatened to shoot him," Police Sergeant Justin Graham said. "While on the porch, the victim told Simonini that he did not think he would shoot him. Simonini then shot the victim in the foot."
A local hospital treated and released the victim. Police booked Simonini into the Marin County Jail for assault with a firearm, criminal threats and spousal battery.
Folks, maybe lay off the eggnog a little earlier in the evening at your next holiday get-together. Happy holidays.