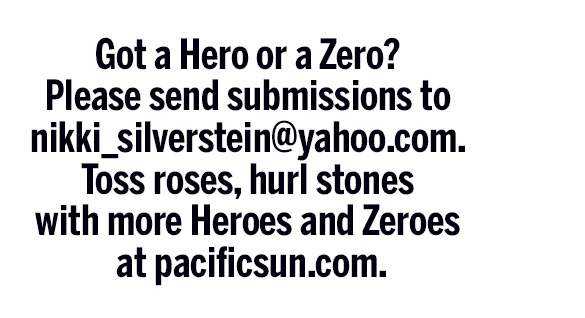 Hero
Marshall and Baja's San Rafael home is undergoing a much-needed remodel. Usually, a house renovation doesn't make the Heroes column, but in this case it's warranted. Marshall, an American white Pelican, and Baja, a brown Pelican, reside at WildCare and serve as ambassador animals for the wildlife-care organization. For several years, the birds' pool has desperately needed repairs and a new pump system, both for the safety of the birds and the WildCare volunteers who care for them.
To help out Marshall, Baja and their fellow feathered friends Farallon and Herman, three Marin companies made generous donations to WildCare to repair their home. Hendrickson Pools is repairing the pool and remodeling the entire enclosure. S.B.I. Building Materials donated bluestone and the pool's new pebble plaster finish is courtesy of Burkett's Pool Plastering, Inc.
While the construction work continues, the pool birds will take a break from public viewing, but the rest of WildCare's educational animals are there to greet you.
Zero
Another Marin gas station unknowingly harbored an illegal credit card skimming device. A County of Marin Weights & Measures inspector It was discovered and deactivated it at Gas & Shop on Sir Francis Drake Blvd. in San Anselmo and deactivated by a County of Marin Weights & Measures inspector.
A skimmer captures unsuspecting customers' credit and debit card numbers, ZIP codes and PIN numbers. When you use a gas pump with the device, thieves can gather your information is gathered and use itd for credit card fraud.
"The most we've found was seven or eight skimmers at one gas station," said John Larkin of the California Department of Food & Agriculture's Division of Measurement Standards. "We might find one and pull it out, but two months later another one is found in the same pump. It's a vicious cycle."
The division advises fFolks are advised to check their credit card statements frequently and use strong passwords that theyare changed frequently. Or better yet, use cash.
email: [email protected]