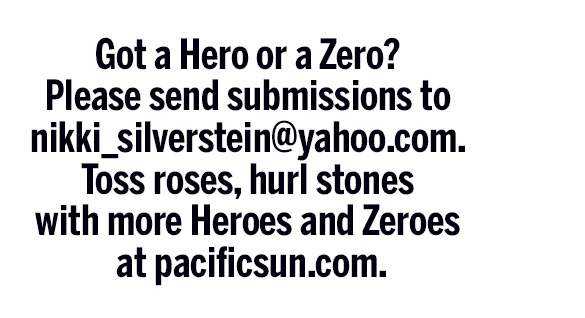 Hero
James, the school crossing guard stationed between St. Rita Catholic Church and the Fairfax public library, reports that motorists blow through the crosswalk, even as he stands in the middle of the street wearing a yellow vest and cap while waving a red stop sign. Did we mention there's also a flashing yellow light? It happens daily, especially during his morning shift. We're definitely describing zero behavior here, but new Fairfax police officer Eric Conrado makes this a hero story.
Officer Conrado recently began pulling over motorists who clearly saw James and the flashing light, but chose to ignore them. James says Officer Conrado's diligence keeps the children safe. We offer kudos to James for shepherding the children and to Officer Conrado for punishing the scofflaws who barrel through the school crosswalk like race car drivers.
Zero
Speaking of race car drivers, reviewers are giving two thumbs up to the racing film Ford v Ferrari. With such a good flick on screen, we're wondering why a Zero sprayed a fire extinguisher at a Novato theater audience watching a matinee showing of the auto action movie last Wednesday.
Imagine sitting in the theater at Century Rowland Plaza, munching on hot, buttered popcorn, engrossed in Matt Damon on the big screen, and suddenly an 18-year-old punk pulling a prank sprays a fire extinguisher in your direction. Apparently, his buddy egged him on. (These two Mensa members need to get a job or a hobby or something.)
Witnesses saw the suspect make his getaway in a red Mustang and reported it to the police, who found the young man and his car down the street at Novato Community Hospital.
No one was hurt during the incident; however, the Novato PD, rightfully so, is taking the caper seriously. They booked Joshua Quinn Meade of Fairfield into the Marin County Jail on suspicion of battery, vandalism, releasing a gaseous substance within a theater and disturbing the peace.
email: [email protected]