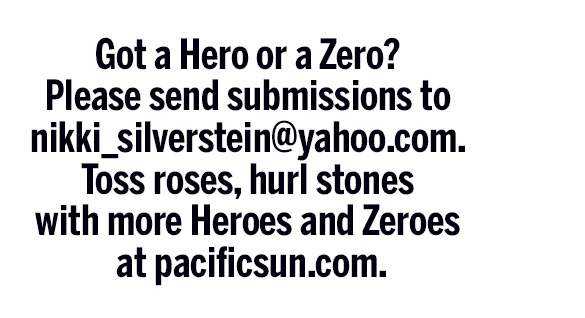 Hero
As PG&E threatens more outages this week, let's give a shout out to some of the places that helped those of us left in the dark when the inept public utility pulled the plug last time. Take note, because you may need them again. The Sausalito Library opened its doors and offered power, with extra tables and charging stations. The Marin County Sheriff's Office turned a meeting room into a charging station at the Marin City substation. They even allowed neighborhood kids to bring in their TVs and gaming consoles to wile away the hours. I set up office there for two days while I worked on Pacific Sun stories. The chairs were mighty comfortable and they let us bring in food.
The Mill Valley Community Center, Tamalpais Valley Community Service District office and Strawberry Rec Center welcomed their communities indoors to escape the heat and charge their small electronic devices. Thanks for the hospitality—it looks like we might be seeing you again soon.
Zero
When I get in a stranger's car with an Uber or Lyft sticker, I sometimes wonder whether it's safe. Fortunately, like most people, I've never had trouble. But what about the poor drivers exposed to the public, normal or otherwise?
In Marin recently, drivers have experienced a couple of incidents where they were at risk from passengers. Last week a man with a machete sat in the backseat of a ride-share and carjacked the driver. In a smart move, the driver exited the car and called 911.
Police responded and found the machete man near the Park & Ride lot near the Ferrari dealership in Mill Valley. Gustavo Angel Neri, 18, of San Leandro, decided not to drop his weapon and began crossing the street, prompting a cop to taze him.
Police booked Neri into the Marin County Jail on suspicion of carjacking, brandishing a deadly weapon, resisting arrest and possession of a controlled substance.