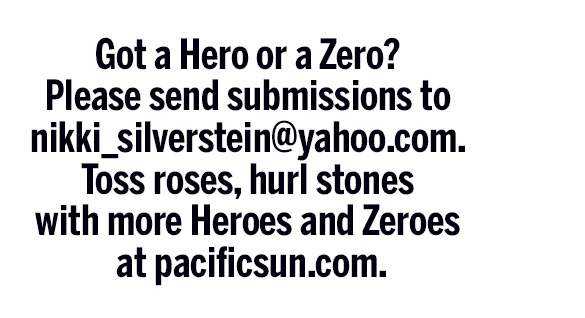 Hero
The Novato Police Department and the California Highway Patrol's Marin office team up to present Start Smart, a free driver-safety class designed for drivers or soon-to-be drivers, ages 15–19, and their parents. This highly impactful interactive traffic-safety program aims to eliminate high-risk driving behaviors that cause accidents, injuries and even deaths.
The two-hour class takes place on Saturday, Oct. 26, from 10am to noon at the Hamilton Community Center in Novato. Teens must bring a parent or guardian and seats are limited. To register, visit eventbrite.com and search for Start Smart Novato.
Zero
Some simpletons decided to shoot off fireworks in Mill Valley last Tuesday evening, right in the middle of our dry, hot weather. The fire started a few minutes later, burning vegetation on the edge of Fern Canyon Road before moving downhill into heavy brush. As the wind blew, fire whirls visible from Highway 101 developed, scaring the bejeezus out of people.
The Mill Valley police and fire departments responded immediately. Firefighters from Marin County and a special strike team joined them to help battle the blaze. Within 35 minutes, these amazing firefighters stopped the progress of the fire and contained it at one-quarter of an acre. With the fire doused, two fire engines stayed on scene all night to ensure the fire didn't rekindle. A total of 23 fire resources responded to protect us from a potential out-of-control wildfire.
Mill Valley police and fire personnel determined that used fireworks and sparklers found on Fern Canyon Road were the cause of the fire. Authorities are not amused and wish to pursue criminal charges against the firebugs. If you have info or security camera footage, turn in these hooligans who put us at risk. Call Detective Ryan Smith at 415.389.4100.