Hero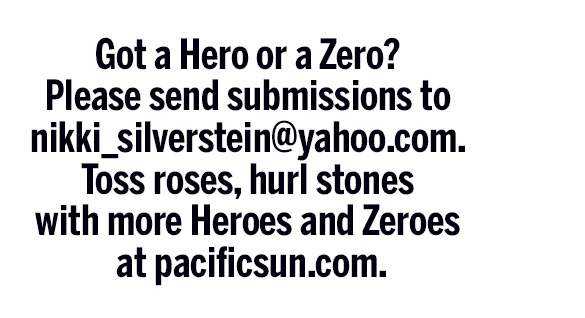 Have you ever tried to traverse the intersection of Miller and Montford in Mill Valley? The four-way stop has turn lanes and thru lanes and nobody knows who arrived first. Consequently, cars move willy-nilly through the intersection. Fender benders abound. School kids have it especially tough navigating that crosswalk. Some drivers are in such a hurry, they just won't yield to the children, who of course have the right-of-way. Enter the gentleman working at Cup of Joe's, the outdoor coffee cart operated every morning by Taco Joe's Lounge. When he notices drivers ignoring the children, he marches into the crosswalk and stops traffic. Under his watchful eye, the kids make it safely to the other side of the street. Kudos to the kind man who forces drivers to halt.
Zero
We may have identified the Marin gateway crime. It starts with stealing soft drinks from In-N-Out Burger in Strawberry. Some background: In-N-Out provides clear cups at no charge to patrons who want water.
Peter, of San Rafael, observed an elderly woman fill two water-only cups with a colored liquid from the soda machine. She kept one for herself and delivered the other to a companion sitting in a late-model Volvo parked in a handicapped spot in the parking lot.
The woman didn't commit the larceny just once; she went back inside for a soft drink refill. That's three cups. Peter finds the theft disturbing. "If people can live in Marin and drive expensive cars, why do they feel entitled to steal? If it's a small amount, like six dollars, is it ok? If it's from a chain-store, does that make it ok?" he asks. No, no and no.
email: [email protected]