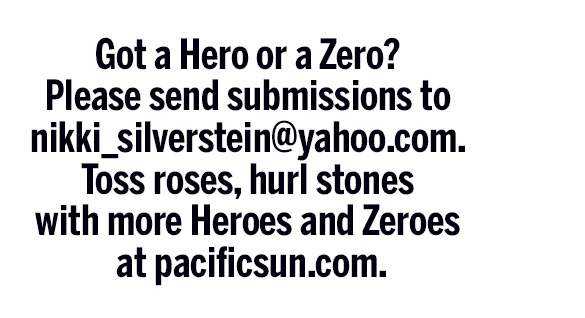 Hero
Late on Saturday night, a Mill Valley resident attempted to drive her new truck into her garage. Unfortunately, she miscalculated the location of the door frame and the truck became wedged in. Try as she might, she couldn't dislodge the vehicle, which was now blocking a public driveway. Perhaps you think she had one toddy too many to get herself into this predicament; however, she was stone-cold sober. It seemed like a good time to call the Mill Valley police for assistance.
The officers arrived at the scene and surveyed the situation. You might expect a few laughs or at least a guffaw, but the men in blue were completely professional. They had her get back in the car and instructed her on how to back out of the garage. To avoid another go-round with a stuck truck, an officer pulled the vehicle into the garage for her.
The resident said the police were gentlemen and she appreciated that they allowed her to keep her dignity during the comical call.
Zero
San Rafael police officer Kevin Finerty was on patrol Saturday morning when he saw something that caught his interest. Around 3am, he observed a driver throw a lit cigarette from a vehicle. He stopped the car and discovered that the driver was a parolee-at-large with an outstanding warrant. Officers searched the car and found over 1,000 rounds of ammunition. Who needs that much ammo, and for what? Scary.
The officers arrested the parolee and booked him into jail for the warrant and for being a felon reportely in possession of ammunition. As if that wasn't enough, the passenger was also arrested and cited for alleged possession of narcotics and drug paraphernalia. The subject was later released. What a morning!
email: [email protected]