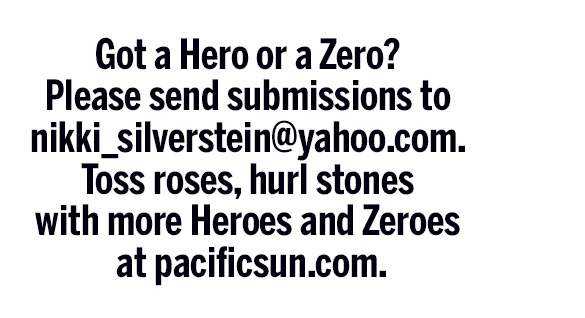 Hero
What's worse than locking your keys in the van? Locking your keys and your dog in the van with the windows rolled up in the middle of the afternoon. Mrs. S did just that at the Mill Valley Downtown Plaza and she was worried sick about her pup Louie.
Two women nearby saw Mrs. S in distress and jumped into action. They called AAA, the Humane Society and a locksmith and they stayed with Mrs. S throughout the ordeal.
Soon enough, the cavalry arrived and the van's door was unlocked. We're happy to report that Louie is doing just fine now, but we hear Mrs. S may need a few more days for her nerves to recover.
So here's a heroic shoutout to the two Mill Valley women who helped Mrs. S and Louie.
We love good neighbor stories.
Zero
Lady with the German Shepherd, quit letting your dog chase geese on the Tam High baseball field. A witness says your dog was in hunt mode. While most of the flock managed to fly away, one unfortunate goose flew into the fence and fell to the ground. Not surprisingly, your canine jumped right on its prey.
We recognize Canada Geese may be a nuisance at times, with their loud honking and the bounty of poop they produce. Even the Audubon Society admits it. Still, these waterfowl possess their charms. Their perfect V formation in the sky is rather impressive and they mate for life, a trait I personally appreciate.
We feel grateful, Lady, that you eventually pulled your dog off the goose—although you took your sweet time and byy then, the frightened bird had suffered a bloody wing.
Thank goodness for the witness, who guided the wounded goose to the flock. He also checked on it 15 minutes later and found it was able to fly.
It was a close call, Lady. Your dog could have easily killed the bird. That's why there's this thing called a leash, which is used for dogs in general, but especially for dogs that have a tendency to attack.
email: [email protected]