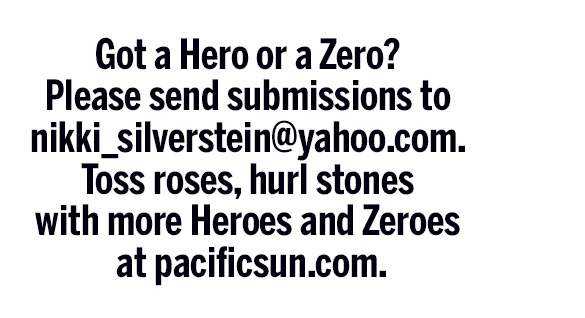 Hero
Curb appeal in a town ranks up there in importance with location, location, location. Thanks to an anonymous donor, a prominent San Anselmo traffic median is about to get a $1.5 million makeover. The transformation will take place on Red Hill Avenue, a busy thoroughfare into town. Landscaping improvements include removal of diseased trees and the addition of irrigation and thousands of plants.
"I think it's best not to look a gift horse in the mouth," said Councilman Ford Greene before the vote to accept the substantial donation.
Bravo to the mystery benefactor!
Zero
Standing in the hallowed halls of the Record Plant in Sausalito, folks get goosebumps thinking of the notes strummed there. Artists including Andrea Bocelli, Huey Lewis, Metallica, Heart, Santana, Carrie Underwood, Stevie Wonder, Van Morrison, Aretha Franklin, Kenny G, Sammy Hagar, the Doobie Brothers, Blues Traveler, Tracy Chapman, Journey, Linda Rondstadt, Joe Satriani, Dave Matthews Band, Third Eye Blind, John Lee Hooker, Faith No More, Chris Isaak, New Kids on the Block, Luther Vandross, Celine Dion, Mariah Carey, Harry Connick Jr., the Grateful Dead, Prince, Jefferson Starship, Rick James and many more recorded some of their greatest hits in its studios. Heck, Fleetwood Mac recorded Rumors, one of the top 10 best-selling albums of all time, at the Plant.
Today the Record Plant is a yoga studio called Harmonia. They give tours of the revered building. But some fear the tours are no more. Marinites, on Nextdoor posts and in emails sent to Hero & Zero, report being told so by Harmonia. Unfortunately, this is how rumors get started.
Jennifer Adler, owner of Harmonia, says they honor the musical history of the space and that, despite the rumours, they definitely still offer tours. She thinks the misinformation began when they stopped doing the tours through Airbnb Experiences.
"You can book one with the front desk or walk in and get a tour," says Adler.
Extra kudos to Harmonia for keeping the visits free of charge. A zero for those who would spread rumours. We hope this settles the no-tour tall-tales once and for all. Email [email protected] for more info.
email: [email protected]