The New Year is almost here, which means it's time to start thinking about plans to ring in 2023 with style and good cheer. Luckily, Marin County is chock-full of celebratory affairs to attend on and around Dec. 31. So, the time has come to break out the bubbly and celebrate the last days of 2022 the North Bay way—and remember, New Year's resolutions don't kick in until Jan. 1, so feel free to let loose and enjoy the last of this year's holiday spirit!
Bouncy Ball New Year in Downtown Novato
For a family-friendly version of the New Year's ball drop celebration, look no further than downtown Novato's bouncy ball drop. This playful take on the New Year's ball drop tradition will take place at Trek Winery and is free to attend. Children and adults of all ages are invited to swing by and see exactly what happens when 23,000 (celebrating 2023) small bouncy balls are dropped onto the street from a ladder truck 40 feet in the air.
Children in attendance will receive a souvenir "hard hat," sponsored by Rempe Construction, and will be allowed to keep as many bouncy balls as they can gather. They can come chase after balls as they bounce in every direction, or stand to the side and watch others scamper. The ball drop will happen rain or shine Dec. 31 at noon—whatever the weather, participants should bring an umbrella to protect themselves from the bouncy ball cascade!
Hot Buttered Rum New Year's Eve Celebration in Mill Valley
One can choose to celebrate the end of 2022 with a meal and music at Sweetwater Music Hall in Mill Valley. Hot Buttered Rum, an American five-piece progressive bluegrass act, will join forces with Jessica Malone and Hattie Craven on Dec. 31 to put on a show highlighting the best of California's love of bluegrass, folk, jazz and soul, in a riveting strain of Americana.
Doors open at 8pm, and the show begins at 9. All ages are welcome to attend, and those over 21 may have a complimentary glass of champagne for a celebratory toast at midnight. Tickets range between $80 to $150. For more information, to buy tickets and to see the New Year's Eve dinner menu, visit sweetwatermusichall.com.
Left Bank Brasserie NYE Dinner in Larkspur
As the French say, "Bonne année!" If celebrating the end of 2022 with a decadent, fine dining experience sounds appealing, Left Bank Brasserie in Larkspur is the place to be. This refined French restaurant will celebrate New Year's Eve by serving holiday menu additions for lunch and dinner alongside their regular all-day menu and brunch until 3pm.
The New Year's Eve menu additions will include a Sea Scallop Crudo with citrus vinaigrette and shaved fennel salad; Surf & Turf with roasted beef tenderloin, a half lobster, broccolini, roasted fingerling potatoes and Béarnaise; and, for dessert, an Opera Cake with crème Anglaise. The restaurant will (of course) be festively decorated for and in the spirit of the occasion with multicolored balloons and streamers. Left Bank's sister restaurant, Petite Left Bank in Tiburon, is also featuring New Year's Eve menu additions. One may make reservations for Dec. 31 between 10am and 10pm. For more information or to make a reservation, visit LeftBank.com or call 415-927-3331.
New Year's Eve at the Lark Theater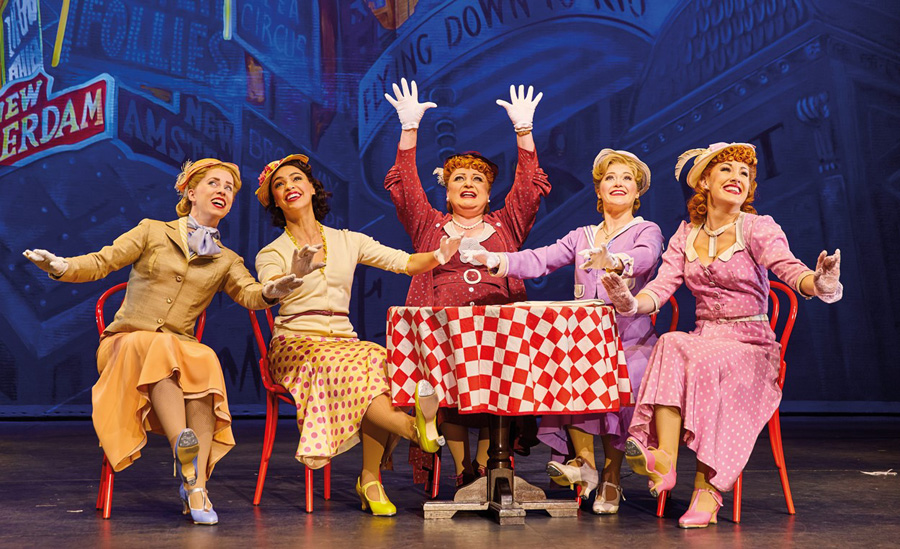 Speaking of the Left Bank, the Lark Theater is offering a limited number of "dinner and a show" packages that include a screening of 42nd Street (the largest-ever production of the musical filmed LIVE at London's Theatre Royal), dinner provided by the aforementioned neighborhood brasserie, and complimentary champagne and chocolates. The full package runs $100 and kicks off at 6 pm, Dec. 31.
For more information or to make reservations, visit the Lark online.
12th Annual New Year's Eve Stand-up Comedy Showcase in San Rafael
One may laugh the last hours of 2022 away with Marin's 12th Annual New Year's Eve Stand-up Comedy Showcase at the historic Angelico Concert Hall in San Rafael. This show is presented by the creators of the infamous Haight-Ashbury comedy club, The Other Cafe Comedy Showcase, and will feature six national headliner comedians. Bay Area legend and CEO/founder of Comedic Ventures, Bob Ayres, believes the show will be "a wonderful collection of comedic styles and perspectives."
Among the featured performers (in no particular order) are Emily Catalano, a master at joke writing and deadpan delivery, recently named "one of the top comedians to watch" in Los Angeles. Catalano performs regularly alongside Sarah Silberman, Tig Notaro, Judd Apatow and Patton Oswalt at the Largo Theatre.
Dwayne Perkins, a classic thinking person's comic with a critically acclaimed comedy special on Netflix from 2018, will perform as well. Perkins has a talent for poking fun at real life and people's perceptions in a way that will make the audience think.
Bay Area native Johnny Steele is next to be featured—he has been a radio show host, a TV show host, the subject of a documentary and a San Francisco Comedy Competition winner. Steele is known for his ad-libs and comments on the big issues of the day, from politics to modern American culture.
Last, but certainly not least, is Maureen Langan, an award-winning broadcaster and comedian. Her quick wit and honest rants on life's absurdities have been featured across the U.S., Canada and the U.K. Langan was an on-air personality on KGO Radio for many years and now has a podcast called Hangin' with Langan.
This comedy show takes place Dec. 31 from 8 to 10:30pm and offers free event parking at 1475 Grand Ave. (at the corner of Acacia), a short half-block walk from the venue. To watch a preview of the comedians, reserve tickets and get more information, visit TheOtherCafe.com.