Our writer goes to London for the real deal
Gin has been a go-to spirit among the British for a long time. Though the Dutch came up with its precursor, gin as we know it today, is actually a British invention.
The Dutch invented a whisky-like, amber-colored alcoholic drink which they named jenever, while the British drink, shortened to gin, was a clear spirit.
In the 18th century (mostly between 1720 and 1751), London went mad for gin. Called the "Gin Craze," it was when extremely cheap, unlicensed gin was available everywhere in London, and its rampant consumption outright killed and ruined a good portion of the population—particularly the poor. One must remember that available water was too unhealthy to drink at those times, so other substances containing germ-destroying alcohol were preferred and consumed.
Eventually, the government passed the Gin Act of 1751, which made it illegal to sell unlicensed gin, and brought most "bathtub," i.e., homemade gin, under control. The 1751 act forced the alcohol industry into enacting higher standards for gin and outlawed small producers. By the 19th century, the Gin Craze was under control, and new "gin palaces" built out of glittering glass, ornate dark woods, brass and artistic carvings began popping up. Gin was back in London, and many of these gorgeous old haunts can still be visited today.
What Exactly Is London Dry Gin?
"There's a long list of regulations about what does and does not constitute a London Dry Gin, but in a nutshell, these are the most important parts," said Jake Burger, master distiller for The Ginstitute, located on Portobello Road in the trendy Notting Hill section of London.
Continued Burger, "We must start with a neutral spirit (i.e., column distilled), which has been taken pretty much as close to complete purity as conventional distillation technology allows, and it must be of 'agricultural origin.' We can only flavor that by redistilling it in the presence of natural botanicals—essentially any part of any plant—we cannot use extracts/flavorings/synthetic flavors. The Ginstitute is not only a classroom for gin education; it's a hopping bar too."
Burger went on to state, "The predominant flavor must be juniper berries. After the botanical distillation, the only things we are permitted to add are more distilled alcohol of the same quality (unflavored) and water."
Additionally, London Dry Gins don't have to be made in London. There are many fine examples of London Dry Gin on the market today, produced in the UK and beyond. One may try Sipsmith, the London City Distillery, Ford's plus classics like Tanqueray, Beefeater, Bombay Sapphire. These are all fine London Dry Gins. Incidentally, gin drinks in London are customarily served in large, Copa de Balon glasses. They're festive and fun.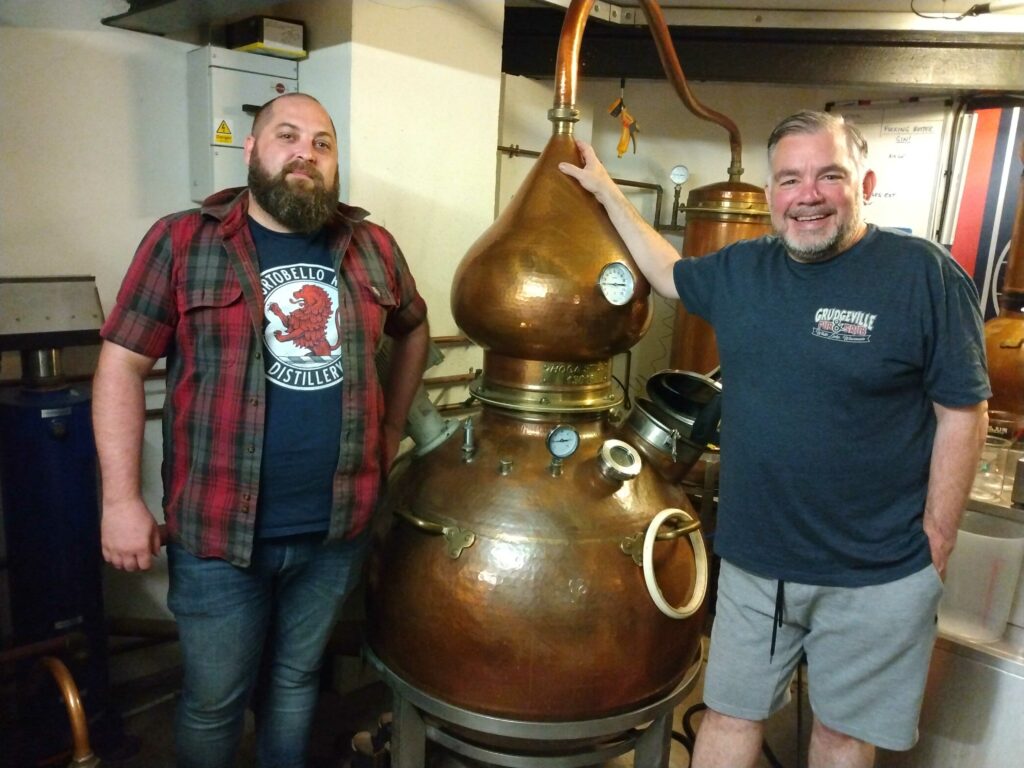 London sports many wonderful bars, hotels and other spots to enjoy an excellent gin & tonic, such as the Ginstitute, Duke's Bar, Viaduct Tavern and The Franklin Hotel. A company called Imagine Experiences offers great tours of venerable gin haunts in London: imaginexperiences.com/the-gin-craze-experience-2.
For a very special gin experience, one may try going to Highclere Castle, located about an hour west of London. It's an amazing, historic place to visit. Besides being the actual castle/grand manor house used in the hit PBS Show, Downton Abbey, it's home to one of the smoothest, premium gins available: Highclere Castle Gin.
"Premium Gin is one of the fastest growing spirit sectors in the U.S. Some estimates have it growing at nearly 35% per year. However, in the U.S. it's still a relatively small category, accounting for roughly 6% of spirit sales," said Adam von Gootkin, co-founder and CEO for Highclere Castle Spirits. "We are projecting 25,000 cases this year and nearly double that for 2024." Besides enjoying at the castle itself, this gin is available in upscale retailers throughout northern California. Lord and Lady Carnarvon are the brand's other co-founders, and live on the Highclere Castle property.
And Tonic
Another important recent—and related development to the modern "Gin Craze" is the sales of artisanal tonic waters in the drinks marketplace. In fact, on the tonic side, things have also changed drastically. For years, tonic water was relegated to the commonplace, high fructose tonics readily available, such as Canada Dry, Schweppes and Seagram's.
Nothing against those brands, but around 2010 or so, artisanal foods and drinks were gaining in popularity as consumers were seeking out more authentic products to eat and drink. So, it was only natural that this artisanal revolution came to tonic waters. After all, half or more than half of a good gin & tonic is made from … tonic.
So why wouldn't discriminating imbibers opt for high quality tonics in their drinks? Most of these products today come in small 6.7-ounce bottle sizes, good for two drinks or one large G & T. (Big bottles go flat too soon anyway.) The largest company in this category is Fever Tree which produces a number of excellent products. But other, smaller companies also offer fine tonic waters worth trying. These include Jack Rudy, Top Note, Q and Navy Hill, among others. They are more expensive, but worth it.
"Premium tonic waters are made with more than generic quinine and flavor, and can combine with just about any exceptionally crafted spirits, like vodka, rum, even pisco, and of course gin, which tonic is best known to mix with," said Mary Pellettieri, co-founder of Milwaukee based Top Note Tonic. "No matter the spirit, premium tonic water makes a simple highball drink more complex because it plays the perfect combination of sweet, sour, salt and bitter, crafting a complex arrangement with every sip."
Gin, and tonic, respectively, have hit the big time, and there's no going back. Premium products help elevate the flavors, so one's drink will really stand out. When trying some, don't forget to ask for the big glass.
Bob Ecker is a Northern California based writer and wine judge.