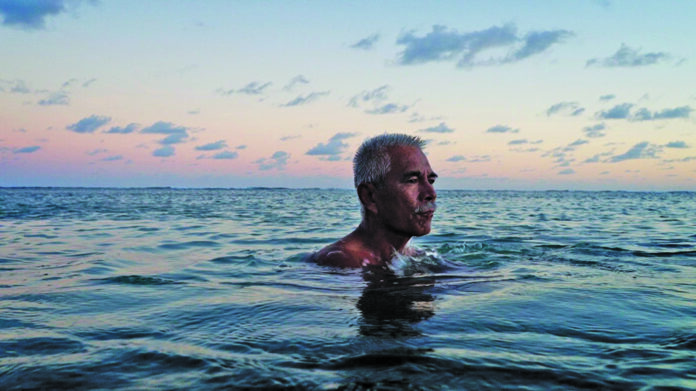 Selling itself with great gusts of uplift—non-competitive, non-juried and gender equal, all good things—the three-day DocLands Documentary Film Festival (May 3-6 at the Christopher B. Smith Rafael Film Center) may sound so optimistic that it worries the pessimist who, like Don Vito Corleone, insists on getting bad news promptly. The fest is big on encouragement: It includes an open-pitch meeting with the audience voting on the best proposals pitched. The dozens of films have a concentration of the upbeat aspect of downbeat problems.  
Chris Jordan's Albatross profiles the fascinating creatures. They may have inspired poet Samuel Taylor Coleridge (The Rime of the Ancient Mariner), but the well-known 'gooney birds' aren't poetry in motion when they land. Their principle preserve is Midway Atoll, remotest of the Hawaiian Islands, some 1,300 miles from Oahu; director Chris Jordan spent years on that faraway place watching them. Distance hasn't protected these high-flying birds from peril, however; the world's discarded plastic has found its way into the birds' food chains.
Even farther out into the seas is Anote's Ark by Matthieu Rytz, observing the slow rise of waters in the nation of Kiribati in the Central Pacific—population 114,000, it's situated on a series of atolls hundreds of miles apart. As the climate changes, there's the question of what will become of them all. From too much water to not enough: Co-billed with Anote's Ark is Maya Craig's short documentary Water Town about the craze for supermarket water, and a corporate grab of the aquifer in the town of Weed, California. Not too far away from Weed is the Eel River, subject of A River's Last Chance, about how both wineries and marijuana grows are endangering a river that's already drying up.
No one who saw the 2009 Best Documentary Oscar winner The Cove will forget it—as suspenseful as a spy movie and as outrageous as any muckraking doc. It concerned the obscene market for dolphin meat in Japan. Butchering creatures of such intelligence and friendliness is disgusting, but happily the cetaceans have their revenge: It's bad for the people who eat them, since dolphin meat is loaded with mercury and PCBs. The Cove's director Louie Psihoyos will be on hand to receive the first DocLands Honors Award and to screen his recent film The Game Changers. To sum up The Game Changers briefly: It's a profile of several vegetarian athletes who prove that you don't need to eat a bull to be as strong as one.
Those with an equal passion for cinema and garage sales will note Saving Brinton, an Iowa-based documentary about Michael Zahs of Washington, Iowa. This vastly bearded, retired junior high school history teacher stored relics at his place—everything from architectural salvage to memorabilia of Grant Wood (the artist behind American Gothic). At one estate sale, Zahs found something choice: A cache of films left behind by the pioneer Midwestern film exhibitor William Brinton. Movies go back a long way out there. A fun fact, gleaned from Mike Kilen's article about Zahs in the Des Moines Register: The oldest continually operated movie theater in the world is the State Theater, in that town of Washington. When Zahs sorted out his tangle of celluloid, it was revealed to contain two lost films by special-effects pioneer George Méliès—the subject of Martin Scorsese's film Hugo.
To quote Scorsese, go and get your shine box for Shiners, Stacey Tenenbaum's observation of various humble and lovable shoe-shiners from Mexico, to Japan to New York City (one an ex-accountant who had had enough with number-crunching). Harleen Singh's Drawn Together: Comics, Diversity and Stereotypes, is a choice subject during the year of T'Challa the Black Panther's triumph; interviewees doing their part to put the rainbow back into comics include Keith Knight of The K Chronicles and Andrew Farago of the Cartoon Art Museum in San Francisco; one of the playful yet pithy ideas being Vishavjit Singh, a cosplayer who dressed as a turbaned Captain America.
DocLands Documentary Film Festival, May 3-6, Christopher B. Smith Rafael Film Center, 1118 Fourth St., San Rafael; doclands.com.