By David Templeton
A large, sprawling tree, apparently growing from the center of a large granite boulder—what geologists might call "an exotic block"—is not just the first thing that people notice as they drive past Spirit Rock Meditation Center in Woodacre. It's more than just the geological-botanical genesis of Spirit Rock's name. The enigmatic image is also an apt metaphor for the history of what, according to many, has become one of the most influential and well-attended meditation centers in the world. Visited by an estimated 40,000 peace-seekers every year, long connected with acclaimed Buddhist author and co-founder Jack Kornfield, Sylvia Boorstein and others, Spirit Rock has weathered storms and earthquakes, endured time and trial and still continues to thrive, sprout branches and offer shelter and inspiration to those who visit.
Recently, after decades of planning, dreaming and—this being the real world—fundraising, Spirit Rock finally opened a beautiful new Community Meditation Center building. The expansion includes a new administration building, with offices and housing for teachers and staff. There are new restrooms—long a pressing need at Spirit Rock—and generally more space to spread out into. Which is what Spirit Rock plans to do.
The new facility will allow the faculty to increase its programs to a degree, and also to expand its reach globally. With state-of-the-art connectedness and internet abilities, the new meeting rooms are wired for video and audio, so events can be recorded or live-streamed around the world.
Last week, the Pacific Sun's David Templeton spoke with Spirit Rock's Sally Armstrong, a longtime teacher of Vipassana meditation, and one of the meditation center's founders.
Armstrong, who began practicing meditation in India in the early '80s, managed Gaia House Meditation Retreat Centre in Devon, England, and was a co-founder of the Sharpham meditation community in Sharpham, England. After moving to California in the mid-'80s, she immediately joined forces with a small group of like-minded folks to create Spirit Rock, for which she now serves as a co-guiding teacher. Currently the chair of Spirit Rock's Board of Directors, she's been deeply involved with the center's gradual evolution of the last 28 years.
David Templeton: Spirit Rock has been a part of Marin County for nearly 30 years, but many people don't know its history. Can you give the short version of how Spirit Rock came to be?
Sally Armstrong: Well, we bought the property in September of 1987, after people spent five years looking for a suitable property. We were a small group of people who came together with the idea of creating a meditation retreat center somewhere in the Bay Area. At that point, it was just an open piece of land, 400 acres of rolling hills, valleys and forests. Since then we've built a world-famous meditation center there. So yes, it's been a huge evolution in that time, with huge changes along the way. It's taken us much longer than we thought it would take, but we're getting there.
Templeton: Why has it taken so long to get to this point?
Armstrong: This was farmland, originally. When we bought it, it was owned by Nature Conservancy, so the money we paid for the property not only bought the land that would become Spirit Rock. It went to support an organization that does important conservation work throughout the world, literally saving the rainforests.
But, there wasn't much here. It's a huge project, developing anything, anywhere. In Marin County, there are a lot of zoning and planning guidelines that we had to follow. It was slow going at first, and to tell the truth, at the beginning, people didn't know what to think of us, a group of people wanting to create a meditation center. But building a sense of connection with the community around Spirit Project was important to us, and that was much easier than dealing with all of the legal requirements and zoning requirements.
Templeton: Fundraising, too, was probably a big part of the process.
Armstrong: Oh yes. We don't get any government grants or anything. From the beginning, Spirit Rock has relied on donations from individuals. There have been the occasional grants from nonprofits who like to support this kind of thing, but for the most part, it's all been done with individual donations. And that's a slow process. We bought the property in 1988, and in 1990, we installed some trailers, eventually seven of them. We arranged them into one big open space, and used some for meditation, and some for staff to live and work in.
We got five-year permits for the trailers, and at that time, we thought we'd certainly have all the plans and permits and funds in place, within five years, to create the kind of facility we all envisioned together. The short story is, it took longer than that.
Templeton: In the beginning, meditation classes were held in those trailers, including those started by Jack Kornfield. His classes became increasingly popular, and through positive word-of-mouth, steadily built up Spirit Rock's reputation as a place where good things were happening.
Armstrong: We gradually built up a whole program of classes and daylong non-residential meditation retreats on the weekends. Within those trailers, Spirit Rock became a flourishing meditation center. And then, in the late '90s, we finally started building a few more things. We opened our residential retreat center, with a meditation hall and housing for 80 or so people. That opened in 1996. But we still had those trailers. We kept renewing the permits, every five years, and they were eventually starting to show a bit of wear and tear.
I taught an event there, just before the trailers were finally taken down, and there were black plastic tarps on the roof, with buckets to collect the rainwater. Those trailers have served us incredibly well, but they were definitely at the end of their life cycle.
The new building offers us opportunities for events and teaching that we just weren't able to do. Not only do we now have a beautiful new space to hold our non-residential events in, with high ceilings and big windows, it's got ancillary space, meeting rooms and breakout rooms. In the past, it's been difficult to have more than one little event at once, but now we can have book groups meeting in one space, while we have a small senior meditation group nearby. We can meet one-on-one with individuals, to help them with their meditation practice, all while a larger event is happening, too. We have much more flexibility now. It's the next step in the evolution of our being able to share these teachings.
Templeton: Speaking of next steps, Spirit Rock, through its website, already sees tens of thousands of downloads of its classes and Dharma talks. With the new technology built into the expanded facility, you'll be able to use the internet in all kinds of new ways. It's a bit ironic, isn't it, that social media and the World Wide Web, which bring so much distraction to so many, can also be used to expand the message that meditation and silent reflection can be life-changing?
Armstrong: It is ironic, but it's true. So many people get inspired by meditation, and by the effect is has on their lives, their minds, their hearts. But keeping it up is not always easy. It's like any new undertaking—diet, exercise or whatever. It's the continuity that is essential if you really want to integrate it into your life in a meaningful way.
To do that, most people need support. They need connection. And yes, the business of people's lives—even just the challenge of driving in traffic in the Bay Area—can be distracting. But even if it's difficult or maddening to get out here to a meditation retreat, there are ways, through our internet services, [ways] to still connect with our teachers and get the support that is needed—whether you live just down the road or across the planet.
I think it's fabulous, to be able to take what we are offering, and make it more and more accessible, and we're looking forward to including more of that.
Templeton: The faculty of Spirit Rock has, in recent years, been very open about wanting to expand the diversity of those attending programs, learning and practicing meditation and even serving on the staff. Can you speak to how that's come about?
Armstrong: It's always been our intention that the teaching we offer, our events and programs, are open and accessible to anyone who wants to come. That attitude has been there from the very founding of Spirit Rock. Not just in terms of including more people of color, and LGBT people, but also wanting families and young people and seniors and parents and people with mobility issues. Meditation shouldn't just be for people who want to hide away in a cave on a hillside or something. Meditation should be, and often is, very much a part of being in a community.
As we've grown and created our center, we've realized that there are barriers to that inclusivity, barriers that we weren't even aware of. Our location is one of them. We're way out here in West Marin County. It's a relatively white, rural neighborhood, that doesn't have much public transport. So, ironically, this beautiful remote location—which is part of the appeal of Spirit Rock to some—is also a liability in our efforts to be more diverse.
We've woken up to that, and we know there are a lot of things we need to shift and change and address, if we are going to be as truly welcoming as we wish to be.
Templeton: Spirit Rock has publically stated that you'd like to lower any accidental barriers that might exist for people of color, or the LGBTQ community and other underserved groups. How do you do that?
Armstrong: Well, I think it starts with the teachers, being aware and willing to use inclusive language, teachers who are aware of the pain and anger that come from systemic racism, classism and gender inequality. But it's also the makeup of the teachers themselves. We simply have to expand who it is we have in our teaching roles. We've been trying to bring more teachers of color in, to train more teachers of color and find ways to encourage more diverse people who enroll in our teacher training programs.
Spirit Rock has been in the forefront of holding retreats for people of color. We began that very early on. And they've always been well attended. So we learned very early that it wasn't for lack of interest that there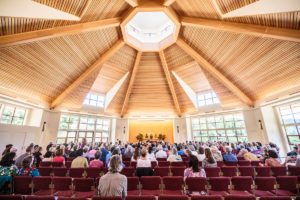 seemed to be so few persons of color participating in the rest of our events.
It's clearly that people feel safe when they are not in the minority. Of course, when you have teachers of color, then you attract more students of color. But when your pool of experienced meditation practitioners of color is small, then your pool of teachers is small. So it's a chicken and egg thing.
But we are very committed to shifting the balance to become more representative of our community. It's a slow process. Slower than sometimes we would like, but the intention is certainly there.
Templeton: When discussions of overt racism and inequality are constantly in the news, along with stories of gender bias and prejudice against gays and lesbians and members of the trans community, it feels like an important time to be making an effort to demonstrate support and inclusivity. Along those lines, how do you believe the practice of meditation can contribute to the healing of a world that is so at odds with itself?
Armstrong: These are huge issues, of course. Not that Spirit Rock is setting out to try and transform the world, or that we believe it's even possible that it can, but what we really do see as essential is that, as each individual person transforms their own heart and mind, they bring that transformation out into the world. As a result, the world then is impacted and changed for the better.
One of the things we've done for many years is to support people who are active in the movement for social change, social justice and governmental change. We are, in some ways, potentially a restorative place where people can come on retreat and find some balance and understanding of their own process. So when they go out into the world and do that work, there's more equanimity, and balance and they are able to be more effective.
Templeton: Do you offer specific programs for people who are doing that kind of justice work?
Armstrong: We certainly have had those kinds of programs. And also, when people come on retreat who happen to be very active in those fields, they find encouragement and sustenance through meditation.
Templeton: How does that work?
Armstrong: It's really the shift in perspective that meditation offers. It's a shift from being focused on what's out there—with the notion that what's out there is wrong, that it's the problem, which only leads to more anger and antagonism—to the idea that we can tend to our own hearts and minds, and that as we do that, we quiet down a little. Not that we become numb to the pain of the world. Actually, it's about becoming more sensitive to it, and more emotionally tender towards it. Out of that comes a shift in our relationship to the world, and to ourselves. There is often more acceptance—and what comes after acceptance is kindness.
Templeton: Kindness sounds like a very beneficial byproduct.
Armstrong: One of the things that's always so inspiring about being a teacher on a meditation retreat at Spirit Rock is seeing people go through these dramatic and amazing transformations. It comes through learning mindfulness, and staying in touch with what they're actually feeling, not letting themselves become lost in their thoughts, and fears and projections. But breaking through to some deeper level. It happens all the time. It's why people keep coming back. It's why Spirit Rock continues to exist.