By Charlie Swanson
Summer is near and it wouldn't be complete without our Hot Summer Guide, your official program to all of the music, festivals, art shows and fun that summer in the North Bay has to offer.
MAY
The Mountain Play
Magical outdoor theater is already performing Disney's Beauty and the Beast under a canopy of trees on Mount Tamalpais, with special pre- and post-show entertainment. And mark your calendar for June 10, when the Magic Mountain Play's Music Festival presents an all-day outdoor music festival celebrating the "Summer of Love" 50th anniversary, culminating in a concert version of Hair. Cushing Memorial Amphitheatre, 801 Panoramic Hwy., Mill Valley; $20-$40; 415.383.1100; mountainplay.org.
West Point Inn Sunday Morning Breakfasts
Feast on pancakes, sausage, coffee and live music while enjoying a spectacular view from the mountaintop at the West Point Inn, monthly through the second Sunday in October, 9-11am; $10/adults, $5/children; 100 Old Railroad Grade Fire Road, Mill Valley; westpointinn.com.
Mill Valley Memorial Day Parade
Enjoy the biggest community event of the year. Monday, May 29. Veterans Ceremony in Lytton Square at 9:45am, parade at 10:30am; mviloveaparade.com.
Season of Wine & Lavender
What began as a daylong celebration is now a three-month season—May through July 15—of tastings, food pairings and tours of lavender-filled fields. Special events include plein air painting sessions and photography safaris, with winemaker seminars elevating the palate at Matanzas Creek Winery, 6097 Bennett Valley Road, Santa Rosa. matanzascreek.com.
Ross Valley Players
The players wrap up their exciting 87th season with two popular productions. The sophisticated romantic comedy Private Lives is playing now, through June 18. Then, the suspenseful The 39 Steps, adapted from the novel and the Hitchcock film, runs July 14–Aug 20. Barn Theatre, 30 Sir Francis Drake Blvd., Ross; $15-$27; 415.456.9555; rossvalleyplayers.com.
Funky Fridays
The weekly summer series brings popular North Bay bands like the Bruthas (May 26), Hour of Tower (June 23) and Frobeck (Aug. 4) to the gorgeous lawn in front of the historic Hood Mansion while raising money for Sonoma Valley parks every Friday through Sept. 1. 1450 N. Pythian Road, Santa Rosa. Doors at 5:30pm; $10; kids under 18, free; funkyfridays.info.
Marin Country Mart
Get the weekends started with Friday Night Jazz concerts each week at the mart, featuring performers like Pamela Rose and Mads Tolling. Then, go acoustic on Sunday afternoons when the weekly Folkish Festival books local artists like Ain't Misbehavin' and Miracle Mule. 2257 Larkspur Landing Circle, Larkspur. Fridays, 6pm. Sundays, 12:30pm; 415.461.5700.
Marin Greek Festival
Spend the weekend steeped in traditional Greek cultural staples like cuisine, music, dance and fellowship. Highlights include Friday's performance by the Hohlax Band, on tour from Greece, and an appearance by Euripides "Rip" Kastaris, the four-time Olympic artist. May 26-28. Nativity of Christ Greek Orthodox Church, 1110 Highland Dr., Novato; 11am-10pm; nativityofchrist.org/festival.
Novato Theater Company
The long-time Marin theater company's current run of modern favorite August: Osage County ends on June 4, so act quickly to see the family drama. Then, June 24–25, NTC performs two nights of inspiring theater with Private Lives, Private Lies. In September, the company starts its 2017 season with Neil Simon's Rumors. 5420 Nave Dr., Novato; novatotheatercompany.org.
Friday Nights on Main
Tiburon's beloved tradition closes roads to traffic so that local restaurants can set up shop outside and visitors can stroll the streets enjoying live music, wine tastings and more. Last Friday of the month through September. 415.435.5633.
BottleRock Napa Valley
The biggest concert festival to hit Napa has been sold-out for months, so hopefully you already got your tickets to see headliners Maroon 5, Tom Petty & the Heartbreakers and Foo Fighters, and eat the best of Napa Valley food and wine. May 26–28 at the Napa Valley Expo Center; 575 Third St., Napa; bottlerocknapavalley.com.
Muir Beach Volunteer Firemen's Barbecue
Festive fundraiser for the whole family boasts delicious food, activities for the kids and music from André Pessis & His Allstars and Soul Ska. May 28 at Santos Meadows, Muir Woods Rd., Muir Beach; noon-5pm; free attendance/$20 parking; 415.381.8793.
Rancho Nicasio's BBQ on the Lawn
Whether it's Memorial Day weekend, Father's Day, the Fourth of July or Labor Day, Rancho Nicasio has you covered with top-tier musicians, like Elvin Bishop and Paul Thorn, performing alongside some of the tastiest
'que this side of the Mississippi River. Every Sunday, 1 Old Rancheria Rd., Nicasio; gates at 3pm, music at 4pm; 415.662.2219.
OysterFest
It's a Memorial Day staycation in Marin as the inaugural OysterFest offers lots of local flavors. Live music from Lazyman, with guests Phil Lesh and Scott Law, makes for a fitting soundtrack to a laid back day of oysters and other delicious options, cold beer, fun games and more. May 29, Terrapin Crossroads, 100 Yacht Club Dr., San Rafael; 1pm; $10 admission/kids 12 and under are free; 415.524.2773.
JaM Cellars Ballroom
The historic ballroom that sits above Blue Note Jazz Club in downtown Napa is now known as the JaM Cellars Ballroom at the Margrit Mondavi Theatre to be exact, but we're more excited about the lineup than the title. After a slew of BottleRock after-parties featuring performers like Bob Moses and House of Pain, the ballroom hosts performers that range from Jazz Getaway founder Brian Culbertson (June 10) to laidback songwriter Donavon Frankenreiter (June 16), and events ranging from community dance event Salsa con Vino (June 17) to a benefit for the Schoolbox Project with the Brothers Comatose and others (July 7). 1030 Main St., Napa. Full lineup at bluenotenapa.com and jamcellarsballroom.com.
JUNE
Marin Shakespeare Company
Now in its 28th season, Marin Shakespeare's summer lineup features three of Shakespeare's most delightful plays: Much Ado About Nothing (June 23 to July 23), The Three Musketeers (July 28 to Aug. 27) and Love's Labour's Lost (Sept. 1-24). Enjoy summer evenings in the beautiful outdoor Forest Meadows Amphitheatre, where you can bring your own picnic, or purchase snacks and drinks. On the campus of Dominican University, 890 Belle Ave., San Rafael; marinshakespeare.org.
Concerts at Montgomery Village
Santa Rosa's Montgomery Village Shopping Center offers several music lineups throughout the season. Look for rocking weekend afternoons and Thursday evening shows with bands and performers like Pride & Joy, Pete Escovedo's Latin Jazz Ensemble and others. June 1 through October; 707.545.3844; mvshops.com.
Mendocino Film Festival
The 12th annual film fest features an acclaimed lineup of films including an Oscar winner and five Oscar nominees, eight films from Sundance, eight films premiering in California and one premiering in the US. Other highlights include spotlight programs that boast the best short films of the year, and live music performances accompanying several screenings. June 1–4 at several venues in Mendocino and Fort Bragg; mendocinofilmfestival.org.
Jazz & Blues by the Bay
Sausalito's summertime series is becoming the stuff of legends, with headlining acts like The Daniel Castro Band and Andre Thierry, performing on the waterfront with breathtaking views of the bay. Fridays, June 2–Aug 25. Gabrielson Park, Humboldt Avenue and Anchor Street, Sausalito; jazzandbluesbythebay.com.
Sonoma County Pride Celebration
What's not to love about 30 years of Russian River pride? This year's festivities start on June 2, with a concert featuring Billy Gilman and Steve Grand at the Graton Resort & Casino in Rohnert Park. On June 3, a Solidarity Rally and National LGBTQI March at Guerneville Lodge features speakers, music, food and a film festival screens at the Rio Theater in Monte Rio. A festival full of entertainment, exhibitors and more follows the annual unity march and parade on June 4. Downtown Guerneville; sonomacountypride.org.
Healdsburg Jazz Festival
Sound the trumpets and walk that bass right on up to Healdsburg for the 19th annual Healdsburg Jazz Festival. There are more than a dozen concerts scheduled, and this year features the Heath Brothers, the Bobby Hutcherson Tribute Band, Henry Butler, the Joe Lovano Quartet and the Kenny Garrett Quintet, among many others. Concerts take place June 2-11 at various locations in and around Healdsburg. Prices vary; 707.433.4633; healdsburgjazzfestival.org.
Uptown Theatre's Summer Lineup
Downtown Napa's art deco concert venue welcomes an array of performers to its landmark stage. Veteran Bay Area rockers Y&T perform on June 2. Gifted guitarists Taj Mahal and Keb' Mo' team up for Taj Mo on June 15. Celebrity-biting comedian Kathy Griffin takes the mic on June 17. Songwriters Aimee Mann (July 13) and Judy Collins (July 21) dazzle, and Robert Cray brings the band on July 23. 1350 Third St., Napa; 707.259.0123; uptowntheatrenapa.com.
Curtain Call Theatre
The company takes on the hilarious play-within-a-play Noises Off! June 2–24, including a fundraising Champagne buffet gala closing night, and dreams up an adaptation of Oscar Wilde's Salome, Sept 1–23 at the Russian River Hall, 20347 Highway 116, Monte Rio; $15-$20/$50 gala; 707.524.8739.
Art at the Source
More than 160 artists in dozens of studios throughout western Sonoma County open their space to the public for an interactive art experience during two weekends, June 3–4 and June 10–11. Maps can be found at artatthesource.org or at the Sebastopol Center for the Arts, the home of the event's preview exhibit. 282 S High St., Sebastopol; free; 707.829.4797.
Napa Live: Inside & Out
Last year's debut music crawl through Napa was so popular that it's back for three days this summer. Thirty locations inside and out once again offer music by more than 40 live bands and performers, with local venues, shops, plazas, patios, restaurants and more hosting Serf & James, Full Chizel, Craig Corona, the LoWatters, the Deadlies and many others throughout downtown Napa on June 4, Sept 3 and Oct 1. Noon to 6pm; free admission; 707.257.0322.
Goose & Gander Music Series
Napa Valley's wine country public house is the perfect setting to see locals play on the lush patio. The summer series opens with Lonesome Locomotive on June 4 and continues each Sunday afternoon through Sept 24. 1245 Spring St., St. Helena; 1pm; goosegander.com.
Town Center Corte Madera Summer Music Series
The Town Center's courtyard sets the mood for music as bands and performers play in the family-friendly, outdoor atmosphere. Sundays, June 4 through Aug, 100 Corte Madera Town Center, Corte Madera; 2pm; free; shoptowncenter.com.
Mill Valley Wine & Gourmet Food Tasting Festival
Annual fundraiser is looking more exciting and delicious than ever and features wine from more than 65 premium wineries, fine craft beers from 11 breweries and food from nearly 30 food purveyors and 12 local restaurants and chefs. Proceeds benefit local nonprofits. June 4 at Depot Plaza; 85 Throckmorton Ave., Mill Valley; 1–4pm; $55 and up; age 21 and over; 415.388.9700.
Live at Lagunitas
Everyone's favorite Sonoma County brewery has lots of music on tap this summer in their Petaluma amphitheaterette. High-energy rock band Low Cut Connie opens the series on June 6. Soulful hip-hop group Tank & the Bangs performs June 27. Indie rockers Whitney play on July 25. Songwriter James McMurtry croons on Aug 7. Free tickets are limited, and go on sale three weeks before each show on the bands' websites, so set your calendars accordingly. 1280 N McDowell Blvd., Petaluma; lagunitas.com/live.
Napa Valley Jazz Getaway
Musician and producer Brian Culbertson's sixth annual event features an incredible lineup of jazz and R&B artists including guitarist Marcus Miller, funky front woman Candy Dulfer, legendary group The Whispers and more. Wine receptions, dinner concerts and after-parties mix up the fun, June 7–11, at various locations throughout Napa Valley; jazzgetaway.com.
Marin Theatre Company
The ambitious and innovative company hosts a special summer show this year, with the Bay Area premiere of The Legend of Georgia McBride, about a desperate Elvis impersonator who finds stardom when he goes drag, June 8–July 2. Then, in September, the company's 51st season opens with the world premiere by the 2017 PEN Award-winner, Thomas and Sally. 397 Miller Ave., Mill Valley; 415.388.5200.
KRUSH Backyard Concerts
The summer series reflects the radio's laidback, community-oriented vibe with a selection of North Bay stars of Americana and beyond. On June 8, a pre-party for the forthcoming Railroad Square Music Fest features the Crux crooning along with help from the Easy Leaves and Ashley Allred. Other performers this summer include Keller Williams (June 29), Sang Matiz (July 27) and Kingsborough (Aug 10). 3565 Standish Ave., Santa Rosa; doors at 5:30pm; free; krsh.com.
Rock Star University's House of Rock
Santa Rosa's recording space and live music venue celebrates a year under its belt this summer with a stellar lineup of new and returning favorites. Classic rockers Blue Öyster Cult are back in town for the venue's anniversary show on June 9, former Dokken guitarist George Lynch brings his band Lynch Mob to rock the house on June 16 and more shows are set to be announced soon. 3410 Industrial Dr., Santa Rosa; rockstaruniversity.com.
Sonoma Arts Live
Community-produced musicals and plays take center stage at this series of performances. Playwright Steven Dietz's funny and thought-provoking play Becky's New Car stars Melissa Claire as the mid-life woman considering big changes, June 9–25. Then, the 1920s world of vaudeville comes alive when the classic musical Gypsy runs July 14–30. The Rotary Stage in Andrews Hall at the Sonoma Community Center, 276 E. Napa St., Sonoma; sonomaartslive.org.
Huichica Music Festival
Sonoma's top two days of music, food and wine feature a lineup that includes veteran stars like Robyn Hitchcock, the Mother Hips' Greg Loiacono and Galaxie 500's Dean Wareham, and indie stars like Allah Las, Beachwood Sparks, Cave Singers and Two Sheds. Amazing culinary options like Zuzu and Ippuku, and plenty of beer and wine round out the weekend. June 9–10 at Gundlach Bundschu Winery; 2000 Denmark St., Sonoma; $40-$95; kids 12 and under are free; 707.938.5277.
Enchanted Forest Gathering
Seventh annual outing once again enchants audiences with a bevy of wondrous music including the only California set of 2017 for British electronica producer Tipper. Other immersive experiences include performance and visual art, workshops and other fairy tale fun for the whole family. June 9–11. Black Oak Ranch, Laytonville; enchantedforestmendo.com.
Sweetwater Music Hall
Dance the summer away with a lineup of music that boasts bluegrass bosses Peter Rowan and Ramblin' Jack Elliott (June 9), folk friends Langhorne Slim and Sara Watkins (June 15), Bay Area hip-hop staple Lyrics Born (July 22) and Country Joe McDonald celebrating the 50th anniversary of his album Electric Music for the Mind & Body (July 28). 19 Corte Madera Ave., Mill Valley; 415.388.3850.
Fairfax Festival & EcoFest
Marin's premier community party turns 40 this year, and offers something for everyone. The kick-off Family Film Night sets the weekend's tone, mixing social responsibility and sustainability while having fun. Then, Saturday's parade leads the crowds to three stages of live music, flea market vendors, wholesome food, a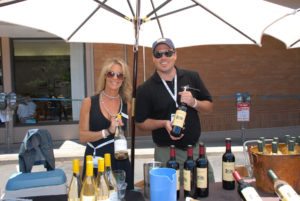 kids' area and more. On top of that, the EcoFest, part of the festival since 2004, showcases the best local environmental movements and figures working towards a cleaner tomorrow. June 9–11, 142 Bolinas Rd., Fairfax; fairfaxfestival.com.
Novato Festival of Art, Wine & Music
Thirty-fourth annual music fest features art and crafts vendors, good things to eat and drink, a wine garden and live music on two stages. Musical acts include Poor Man's Whiskey and Ronstadt Generations on Saturday; and a solo acoustic set from G Love and rock 'n' roll from Matt Jaffe & the Distractions on Sunday. There's also a kids' area with art projects, petting zoo, train rides and more. June 10–11 at Old Town Novato, Grant between Redwood Avenue and Seventh Street; free; 415.472.1553.
Beerfest: The Good One
Personally, I think that all beerfests are good, but this one gets the title for its combination of good brews and a good cause. Whether you prefer hoppy IPAs, sour beers and even ciders, you'll find old favorites and new loves at this massive tasting event featuring nearly 50 pouring stops and awesome food vendors. The day also benefits local nonprofit Face to Face, whose mission is ending HIV in Sonoma County and supporting the health and wellbeing of people living with HIV/AIDS. June 10. 50 Mark West Springs Rd., Santa Rosa; 1pm; $50-$60; beerfestthegoodone.com.
Peggy Sue's All-American Cruise
Hundreds of classic, stock and custom all-American cars roar into Santa Rosa for the annual cruise, and will be on display with live music and awards at the Sonoma County Fairgrounds throughout the day. Then those classic cars roam downtown Santa Rosa in the evening to show off for families and car lovers. June 10; cruiseforpeggysue.com.
Stumptown Daze Parade
Join the friends of Stumptown Brewery and the Russian River Chamber of Commerce for a time-honored tradition that celebrates the opening of the summer season on the river. June 10, downtown Guerneville; 11am; russianriver.com.
Creativity Jam
Napa's nonprofit arts group Nimbus hosts this seventh annual day of art and entertainment for kids and the kid in us all. Local artists are on hand to lead a variety of projects, and performers like renowned puppet troupe Magical Moonshine Theatre dazzle audiences on June 11, at di Rosa art galleries and grounds, 5200 Sonoma Hwy., Napa; 11am to 3pm; $5-$10; kids under 3 are free; dirosaart.org.
The Dipsea Race
The oldest trail race in America turns 107 years old this summer and participants once again face a grueling course that takes them from Mill Valley to Stinson Beach in a challenging and beautiful day of running on June 11; dipsea.org.
Summer Sunday Concerts at Piccolo Pavilion
Lawn chairs and blankets will once again dot Corte Madera Square, as the intimate pavilion hosts music from popular North Bay acts like Dirty Cello and Barbara Nesbitt. Old Corte Madera Square, Redwood Ave., Corte Madera. Sundays, June 11–Aug 27; 5pm; free; cortemaderacommunityfoundation.org.
Railroad Square Music Festival
North Bay Hootenanny hosts this third annual day of local music and community in the heart of Santa Rosa. David Luning Band, John Courage, La Gente, Lungs and Limbs, Black Sheep Brass Band and many others take several stages, with a shop party of local vendors, food, beer and wine, art and fun for all. June 11 at Railroad Square, Fourth and Wilson streets, Santa Rosa; noon; free; railroadsquaremusicfestival.com.
Luther Burbank Center for the Arts
The performing arts center brings some of the biggest events and names in music and comedy to the stage this summer. Popular mom bloggers #IMOMSOHARD share their hilarious outlook on life on June 14. Mexico's pop sensation REIK performs on June 23. Comedians Brian Regan (July 14) and Jim Jeffries (July 15) split a weekend of standup. NPR host Ira Glass engages the audience on Aug. 26 and classic rockers Kansas (Sept. 8) and Steve Winwood (Sept. 11) keep the music alive. 50 Mark West Springs Rd., Santa Rosa; 707.546.3600.
Third Thursday Festivals at The Barlow
Sebastopol's artisan center of merchants and restaurants is adding live music to its repertoire for select dates throughout the summer. Adult beverages and kids activities keep everyone happy, and popular bands and a silent disco get the groove going. The Highway Poets bring the rock on June 15, and the series features new acts each third Thursday of the month through October. 6770 McKinley St., Sebastopol; 4pm; thebarlow.net.
Calistoga Concerts in the Park
Bring your blankets, lawn chairs, picnic dinners and friends and family to enjoy these weekly concerts in a gorgeous natural setting. Each week's show offers something different, from rock and rollers Kingsborough on June 15, jazz band Swing 7 on July 6, outlaw country jammers Poor Man's Whiskey on Aug 17 and others. Concerts in the park take place every Thursday, June 15–Aug 17, Pioneer Park, 1308 Cedar St., Calistoga; 6:30pm; free; visitcalistoga.com.
Creekside Friday Night Concert Series
The Tam Valley venue, the Tennessee Valley Cabin, give these concerts a rustic, throwback vibe and local bands like Marble Party, SugarRush, Rewind and Juke Joint keep it intimate while they rock the house for the 12th season. Fridays, June 16­–Aug 11. 60 Tennessee Valley Rd. (park at Tam Valley Community Center, 203 Marin Drive), Mill Valley; 6:30pm; free; tcsd.us.
Pacheco Plaza Summer Music Series
The North Bay's top musicians play this annual series that also features al fresco dining and dessert in the shopping center's plaza. The series starts on June 16 with Dr. Locos Rockin' Jalapeno Band. 366 Ignacio Blvd., Novato; 6pm; pachecoplaza.com.
SRJC Summer Rep
Classic musicals like West Side Story and Chicago anchor this season's theatrical offerings from Santa Rosa Junior College. June 16–Sept. 1501 Mendocino Ave., Santa Rosa; summerrep.com.
Country Summer
The biggest country music event in the North Bay also features Western-themed attractions, country-inspired culinary delights and an array of libations. Headliners this year include Darius Rucker, Thomas Rhett, Justin Moore and many more. June 16–18, Sonoma County Fairgrounds, 1350 Bennett Valley Rd., Santa Rosa; $79 and up; 707.543.0100; countrysummer.com.
Sierra Nevada World Music Fest
The world is a big place, so a world-music festival, by default, must also be big. This festival doesn't disappoint, with dozens of musical acts from around the world. Artists at this year's festival include German reggae artist Gentleman, Jamaican musicians Chronixx and Capleton, Italian reggae band Mellow Mood and others. June 16–18 at the Mendocino County Fairgrounds, Boonville; 916.777.5550; snwmf.com.
Broadway Under the Stars
Presented each year by Transcendence Theatre Company, some of the brightest stars in Hollywood and on Broadway come to perform in the Sonoma County night air. On the schedule this year is "Another Openin' Another Show" opening the season with a tribute to some of the most powerful songs and shows ever written (June 16–July 2). Fantastical Family Night (July 14–15), "Fascinating Rhythm," featuring an invigorating blend of movement and song (Aug. 4­–20) and the Gala Celebration (Sept. 8–10) also transcend theater in the outdoor winery ruins at Jack London State Park; 2400 London Ranch Rd., Glen Ellen; pre-show picnics at 5pm; concerts begin at 7:30pm; 877.424.1414.
Novato Concerts on the Green
Soulful songwriter and performer Marty O'Reilly & the Old Soul Orchestra kick off this year's concert series on Novato's Civic Green, June 17. Lavay Smith & Her Red Hot Skillet Lickers play on July 15 and La Mixta Criolla swings in on Aug 19. In addition, Finnegan's Marin will be selling beverages to accompany your picnic spread. 901 Sherman Ave., Novato; 5pm; free; novato.org.
Cotati Jazz Festival
Share in an afternoon of music, food, beer and dancing in the town's 37th annual festival. This event encompasses several venues in downtown Cotati with main acts slated for La Plaza Park, Downtown Cotati. June 17; noon; free; cotatijazz.com.
Mystic Theatre Summer Concert Lineup
The downtown Petaluma venue has a packed schedule this summer with an eclectic array of acts ranging from electronic dance pioneers the Crystal Method (June 20), songwriter Trevor Hall (July 21) and legendary funk group George Clinton & Parliament Funkadelic (Aug 4). Oh yeah, actor Corey Feldman is playing too, (seriously!) on June 17, Mystic Theatre, 23 Petaluma Blvd. N, Petaluma; 707.765.2121.
Belvedere Concerts in the Park
The series celebrates it's 20th year of live music in the gazebo of the small community park with country music from Phil Claypool on June 18, Jonathan Poretz on July 16, RuMoRs on Aug 20 and Flaming O's on Sept. 3. Bring a picnic and be ready to dance the evening away at Belvedere Park, San Rafael Avenue and Community Road, Belvedere; 3:30pm; belvedereconcerts.org.
Sonoma-Marin Fair
This year's music lineup features Tower of Power (June 21), Jana Kramer (June 22), Loverboy (June 23) and John Michael Montgomery (June 24). Don't forget the classics, too: The world's ugliest dog contest, destruction derby, carnival rides, fair food and livestock. The fair runs June 21–25, at Sonoma-Marin Fairgrounds, 175 Fairgrounds Dr., Petaluma; sonoma-marinfair.org.
MarinScapes
Annual fine art exhibit and fundraiser turns 29 this year, and benefits Buckelew programs like the Family Service Agency of Marin and Helen Vine Recovery Center. This year's featured artist and guest speaker is Susan Schneider Williams, Marin County fine artist and wife of the late Robin Williams. Breathtaking art displays all weekend, with a Thursday gala dinner catered by Insalata's, a Friday artists' reception and other special events happening June 22–25, at Escalle Winery, 771 Magnolia Ave., Larkspur; $15 and up; buckelew.org.
Kate Wolf Music Festival
This festival always draws excellent musical acts to honor the work of the late singer-songwriter it's named for, and this year's lineup is one of the best yet. Confirmed performers include John Prine, Bruce Cockburn, Blind Pilot, Paul Thorn Band, Rainbow Girls, Mouths of Babes, David Luning and many others. Camping is the best way to experience this festival. June 22–25 at Black Oak Ranch, Laytonville; katewolfmusicfestival.com.
Marinwood's Music in the Park
Live music, food from Marinwood Market and fun for the whole family. What more could you ask for on a summer Friday evening? Shows start up on June 23 and continue July 7, Aug. 4 and Aug.18. Marinwood Park, 775 Miller Creek Rd., San Rafael; 6pm; free; marinwood.org.
Italian Street Painting Marin's Summer of Love
More than 100 street painters converge on downtown San Rafael to celebrate the 50th anniversary of the Summer of Love with art inspired by the music, culture and art of 1967 San Francisco. Psychedelic Bay Area bands, food and vendors are also on hand June 24–25. Fifth and A streets, San Rafael. Sat., 10am to 8pm; Sun., 10am to 6pm; $10-$15, kids under 12 are free; italianstreetpaintingmarin.org.
Marin Art & Garden Center Summer Concerts
The center's picturesque setting makes for a fabulous atmosphere to enjoy a picnic dinner, with beer and wine available, as you listen to a wide variety of live music from the likes of Lorin Rowan's Rattlebox, leading off the series on June 29, and Highway Poets, closing the series on Aug 10. Danny Click & the Hell Yeahs! Play on June 16, 6-9pm, as a benefit for MAGC programs. 30 Sir Francis Drake Blvd., Ross; 5pm; 415.455.5260.
Marin County Fair
This year, "Let the Funshine In," for a throwback-themed fair. In addition to traditional exhibits and events, concerts this year include Ann Wilson of Heart, The 5th Dimension, Sons of Champlin and the Commodores. Every night is fireworks night when the fair runs June 30–July 4 at the Marin County Fairgrounds, 10 Avenue of the Flags, San Rafael; $13–$15; under 4, free; 415.499.6400; marinfair.org.
JULY
Mondavi Winery Summer Concerts
After nearly five decades, this popular concert series shows no sign of slowing down, kicking off this year with a fireworks-worthy show by indie-pop pianist Andrew McMahon in the Wilderness and songwriter Allen Stone on July 1. Blues vocalist Patti LaBelle (July 8), soul band the Revivalists (July 15), socially conscious songwriter Michael Franti & Spearhead (July 22) and Ben Harper & the Innocent Criminals (July 29) also appear. Tickets are already selling fast, so don't wait. Robert Mondavi Winery, 7801 St. Helena Hwy., Oakville. Dinner available; $70-$225; 888.766.6328; robertmondaviwinery.com.
Green Music Center Summer 2017
Sonoma State University's superb Weill Hall hosts a season of concert events that spill out on the lawn and span classical, jazz, country, Latin and spoken word. The season kicks off with a Fourth of July concert featuring Grammy-winning vocalist Kathy Mattea and the Santa Rosa Symphony, followed by fireworks. The GMC Bluegrass Festival returns on July 9 with Del & Dawg Bluegrass Band, Mark O'Connor & the O'Connor Family Band and Sierra Hull. Other highlights include Gloria Estefan (July 15), Diana Krall (Aug. 4), Dr. John & the Nite Trippers (Aug. 13) and Common (Sept. 16). 1801 East Cotati Ave., Rohnert Park; 866.955.6040.
Napa County Fair & Fireworks
Farm fun, rides, clowns and food, this fair's got it all, in one svelte day of blistering excitement. Culminating in spectacular fireworks in the evening, the fun starts with a parade at noon through downtown Calistoga. July 4 at the Napa County Fair, 1435 North Oak St., Calistoga; napacountyfair.org.
Flynn Creek Circus
The boundary-pushing ensemble of performers flies, tumbles and juggles its way into the North Bay with stops at several towns throughout the month. This year's show, "Inter-Active," mixes up the circus magic with improvised comedy that's led by audience suggestions, meaning no two shows will be the same. See the circus in Santa Rosa July 7–9, Sausalito July 13–16, Calistoga July 20–23 and Windsor July 27–30; flynncreekcircus.com.
Sonoma County Yoga Festival
With more than 30 classes and workshops scheduled, this new community event puts the spotlight on yoga with local studios, food, music, art and more coming together for an exploration of mind and body. July 8-9, 1100 Valley House Dr., Rohnert Park; $30-$90; eventbrite.com.
Summer Nights at Osher Marin JCC
Oh those summer nights. Now in its 25 year, this series sets the music under the stars and boasts a diverse lineup of the hottest acts of today. Americana siblings the Brothers Comatose start off the series on July 8. Another highlight, on July 22, includes Latin jazz from Pacifico Mambo Orchestra (see August listings for more). A kid's zone keeps the little ones happy, and a no-host bar keeps the adults happy. 200 N. San Pedro Rd., San Rafael. Doors at 6pm, music at 7pm; $25-$30 and up; kids are free; marinjcc.org/summernights.
Wine Country Big Q
Seventh annual barbeque competition features grill masters from around the area competing in big beef and bold bean challenges. World class wines, award-winning brews, craft cider and spirits pair with the meats, and live music makes for a party atmosphere on July 8, Sonoma-Marin Fairgrounds, 175 Fairgrounds Dr., Petaluma; 1pm; $20-$75; winecountrybigq.com.
Rodney Strong Concert Series
The wine-tastic annual live music series in the sunny grasslands behind the vineyard features adult contemporary favorites and music legends. This year's lineup includes Chris Isaak (July 8), Kenny Loggins (July 23), Chris Botti (Aug. 27) and Kool & the Gang (Sept. 9). Rodney Strong Vineyards, 11455 Old Redwood Hwy., Healdsburg; 5pm; $89-$129; 800.514.3849.
Petaluma Art & Garden Festival
Presented by the Petaluma Downtown Association, the fest brings local eats, beer, wine and plenty of music to town for a 16th year. The vendor booths offer unique and charming items for the home and garden, plus animal mobiles and fun fairy clothing for the wee ones. The event also includes the annual chalk art competition. July 9. Kentucky and Fourth streets, Petaluma;11am; petalumadowntown.com.
SOMO Concerts
Rohnert Park's grand outdoor venue, the SOMO Village Event Center, once again packs a powerhouse lineup of performers for their seasonal series. California Roots presents reggae-infused hip-hop groups Dirty Heads and SOJA on July 11. The good vibes continue with Reggae Sunsplash, featuring Third World, Sol Horizon and others on July 29. Then, things turn blue when harmonica master and North Bay-based Blues Hall of Fame inductee Charlie Mussewhite headlines the Sonoma County Blues Festival on Aug 19. 1100 Valley House Dr., Rohnert Park; somoconcerts.com.
Shakespeare in the Cannery
Santa Rosa's outdoor theater experience, set in the brick ruins of a former canning warehouse, returns for an experimental season of works. First, David Lear directs In the Mood, a musical adaptation of Shakespeare's Much Ado About Nothing, July 13–Aug 5. Then, Jared Sakren directs Fairy Worlds, a new take on Shakespeare's A Midsummer Night's Dream, Aug 10–Sept 2. 3 West Third St., Santa Rosa; gates at 5pm, shows at 7pm; shakespeareinthecannery.com.
Sonoma County Comedy Fest
Local grape-stomping and funny-bone smashing company Crushers of Comedy host a three-day standup extravaganza with a diverse lineup of comedians, including Desi Comedy Fest co-founder Samson Koletkar, West Coast alternative comedian Priyanka Wali and veteran standup and television writer Ronn Vigh. A slew of craft beers, winetasting, live music and more come together July 13–15 at the Crushers of Comedy's own brand-new lounge, The Laugh Cellar, 5755 Mountain Hawk Way, Santa Rosa; crushersofcomedy.com.
Music Under the Oaks at Northgate
Four local and loved cover acts take to the grass on the west side of the San Rafael shopping center, with Petty Theft kicking off the annual series on July 14. Every other Friday through Aug. 25, 5800 Northgate Mall, San Rafael. Music starts at 6pm; shopatnorthgate.com.
Larkspur Wine Stroll
Take it easy at this 6th annual stroll that boasts local vino paired with window shopping and socializing. July 15, Magnolia Ave., Larkspur; 5pm; $20, which includes a commemorative wine glass; 21 and over only; larkspurchamber.org/wine-stroll.
Festival Napa Valley
Formerly called the Festival del Sole, this annual event offers more than 60 events over 10 days, ranging from concerts and dance performances to vintner-led luncheons and free community events. Opening night's gala features Danielle de Niese and Paulo Szot. Other performers include Joshua Bell, Gloria Estefan and actor Bill Murray's new touring project. Special events like the fundraising Arts for All Gala and Taste of Napa also highlight the festival, July 14–23, at various venues in the Napa Valley; festivalnapavalley.org.
Breastfest
Seventeenth annual beer tasting party raises money to help low-income women with cancer. Sample the latest brews from Marin Brewing Company, Moylan and others while noshing on BBQ and listening to music from many local players. Cheers are in order on July 15, at the Fairground Island at the Marin Center, 10 Avenue of the Flags, San Rafael; 1pm; $65; marincenter.org.
Rivertown Revival
The Friends of the Petaluma River once again present the "Greatest Slough on Earth," with live music, arty boat races, local food and drinks, crafty vendors and family fun. As in past years, this summer event also boasts local color and is one of the most eco-friendly fests in the North Bay, happening on July 22 at the McNear Peninsula at D and Copeland street, Petaluma; rivertownrevival.com.
San Rafael Sunset Criterium Ride & Run
Downtown San Rafael is transformed into a bike racetrack as pros take over the main downtown streets. No waiting for hours to see cyclists pass in seconds, here—this 1km loop brings the action back around right away while a DJ pumps the beats and your beer disappears faster than you thought it would. Watch several races with different age groups on July 29. Fourth and C streets, San Rafael; 1pm; sanrafaelsunset.com
AUGUST
Summer Nights at Osher Marin JCC
This series continues with a Summer of Love retrospective from Melvin Seals & JGB (Aug 5). A kid's zone keeps the little ones happy, and a no-host bar keeps the adults happy. 200 N. San Pedro Rd., San Rafael. Doors at 6pm, music at 7pm; kids are free; $25-$30 and up; marinjcc.org/summernights.
Concerts on the Plaza
Bring your lawn chairs and get in the summer groove at four free concerts on Mill Valley's Downtown Plaza on Wednesday nights, 6:30-8pm, Aug. 9-27; millvalleyrecreation.org.
Music in the Vineyards
Now in its 23rd season, this nationally acclaimed chamber-music festival brings together renowned musicians from around the world to perform at the most picturesque locations in the Napa Valley. This year, the Escher, Pacifica and Chiara String quartets and the Horszowski Trio perform as the festival's ensembles-in-residence and special guest performers join in on the music Aug. 4–27, at a dozen winery venues in the Napa Valley; $55 and up; musicinthevineyards.org.
Sonoma County Fair
This year, it's a celebration of "Holidaze at the Fair" with the largest themed flower show in the country and horse racing, rodeo, destruction derby, carnival rides, local art and agriculture. Separate admission is required for some events. Fair runs Aug. 3-13. Sonoma County Fairgrounds, 1350 Bennett Valley Road, Santa Rosa; 11am to 9pm; closed Mondays; $6–$12; children under 6 are free; sonomacountyfair.com.
Russian River Valley Experience & Somm Challenge
Experience the flavors of five convenient Russian River neighborhoods, where six or more wineries will gather to share wine, food and more. There's also a special sommelier dinner where top somms pair with five top chefs, and you judge the culinary results. Aug. 4-6, throughout the Russian River Valley; rrvw.org.
Petaluma Music Festival
The 10th annual festival benefiting music programs in Petaluma schools features its biggest and best lineup yet. Headlining are North Bay favorites the Chris Robinson Brotherhood, with Scott Law & Ross James' Cosmic Twang, T Sisters, Royal Jelly Jive and many others. Aug 5 at the Sonoma-Marin Fairgrounds, 175 Fairgrounds Dr., Petaluma; noon; $50; petalumamusicfestival.org.
Gravenstein Apple Fair
Billed as the "sweetest little fair in Sonoma County," the 44th annual event, presented by Sonoma County Farm Trails, praises local pollinators and celebrates the locally-found Gravenstein apples in all their delicious glory, with several food vendors, live music and local arts and crafts. Look for the artisan tasting lounge, the farm life arena, kid's activities and games and contests throughout. Aug. 12-13 at Ragle Ranch Park, 500 Ragle Rd., Sebastopol;10am to 6pm; gravensteinapplefair.com.
Cotati Accordion Festival
Accordion veteran Marjorie Konrad is saluted as the honorary director and an international cavalcade of stars takes the stage at this 27th annual squeezebox party. International stars like Finland's Tiia Karttunen and Serbia's Ljubinska Kulisic perform, as well as local favorites like Oddjob Ensemble and the Mad Maggies. Aug. 19–20 in La Plaza Park, Old Redwood Highway, Cotati; 9:30am–8pm; cotatifest.com.
Blues, Brews & BBQ
Mixing together live music, microbrews and enough barbecue to fill a pickup truck, this summertime party is not to be missed. There's a rib-eating contest, kids' area and, of course, blues artists all along the streets. Aug. 26 at First and Main streets, Napa; noon–6pm; free admission; beer tasting tickets available for purchase; donapa.com.
Bodega Seafood Art & Wine Festival
Dozens of culinary companies come together to offer delicious seafood specialties at the 23rd annual event. Aside from the art and the eats, there are four stages of entertainment. The Main Stage features blues, jazz, swing, bluegrass and more from the likes of David Luning, Lost Dog Found, Roy Rogers & the Delta Rhythm Kings and LoCura. Other entertainers ranging from jugglers, magicians and other non-musical acts join in on the fun. And local art, food, wine and beer overflows Aug. 26-27 at Watts Ranch, 16855 Bodega Hwy.; Saturday, 10am–6pm; Sunday, 10am–5pm; bodegaseafoodfestival.com.
Cochon 555's Heritage Fire Napa
Dozens of grills light up to roast and cook responsibly raised meats ranging from pig to rabbit and duck. More than 50 chefs and butchers offer up the succulent creations, paired with wine from several small wineries and artisan cheeses and other bites. The outdoor banquet commences on Aug. 27 at Charles Krug Winery, 2800 Main St., St. Helena; 4pm; $125 and up; cochon555.com.
SEPTEMBER
Sonoma Wine Country Weekend's Taste of Sonoma
Labor Day weekend belongs to wine at this signature event from the Sonoma County Vintners group. This year's offerings find a new home in Sonoma State University's Green Music Center, as Taste of Sonoma gathers more than 200 wineries and 60 local chefs Sept. 2-3. As you taste thousands of wines and pair them with delicious concoctions, seminars and demonstrations that cover a wide range of wine topics tickle the intellect and tip gleaned from chefs stir the imagination. You can also upgrade the experience with an optional VIP package. In addition to Taste of Sonoma, wine tours, talks, lunches and other events dot the county Sept. 1-3; sonomawinecountryweekend.com.
Sausalito Art Festival
One of the most prestigious art events in the country returns to the Sausalito waterfront for a 65th year, attracting collectors, aficionados and enthusiasts alike. Fine art in every medium from some 260 artists pairs well with gourmet food, sumptuous wines, music, children's entertainment and more. Sept. 2-4, Marinship Park, Sausalito. Sat.-Sun, 10am to 7pm; Mon., 10am to 5pm; sausalitoartfestival.org.
Russian River Jazz & Blues Festival
The summer's biggest party on the river celebrates 41 years with legendary artists and bands, sizzling food vendors, an indulgent wine garden and more. And if the music gets too hot, just take a dip in the water, sit in the shade of a beach umbrella or rent a canoe or kayak to paddle down the river. Sept. 9–10 at Johnson's Beach, 16215 First St., Guerneville; russianriverfestivals.com.
Sound Summit
Mount Tamalpais is the home and the beneficiary of this blowout concert hosted by Roots & Branches Conservancy. Last year's summit raised $60,000 for the park, and this year's event looks to be even bigger. Sept. 9, Mountain Theatre, Panoramic Hwy., Mill Valley; soundsummit.net.
Music Festival for Brain Health
The most successful mental health event in the country, in terms of raising both money and awareness, returns for a 23rd year of science symposiums and chart-topping songwriters. There's also a wine-tasting reception featuring several top North Bay wineries, a VIP dinner and a special guest chef. Sept. 16, Staglin Family Vineyard, 1570 Bella Oaks Ln., Rutherford; music-festival.org.
Mill Valley Fall Arts Festival
Now in its 61st year, this fest features music, sculpture and plenty of children's activities in the serene setting of the redwoods. Sept. 16-17, Old Mill Park, 320 Throckmorton Ave., Mill Valley; 10am–5pm; $5–$10; kids under 12 are free; mvfaf.org.
Valley of the Moon Vintage Festival
One of the oldest and biggest parties in the Sonoma Valley is back for its 120th year with live music, amazing food, spectacular wines and family activities like the traditional grape stomp, a light-up parade and more. With a focus on local culture and community, this vintage fest is organized by local volunteers and benefits several Sonoma County nonprofits and projects. Sept. 22-24, Sonoma Plaza, First St. E, Sonoma; valleyofthemoonvintagefestival.com.