By Flora Tsapovsky
If you crave the tranquility and inspiration of  Headlands Center for the Arts this season, you'll have to curb your enthusiasm. The center, a long-standing Marin County staple, has been closed for the winter and will remain inaccessible to the public through spring. When it reopens, in summertime, a new area named The Commons will welcome visitors and artists. The redesigned outdoor space between the center's two main buildings will enable, according to the press release, "more public programming," and provide a "welcoming space to relax, connect with art and artists, and enjoy the natural environment."
There's more to the $1.8 million dollar project than originally meets the eye. Funded by a group of individual supporters and foundations, The Commons will feature newly commissioned, permanent artworks by local, national and international artists, an outdoor amphitheater and a promenade that connects the two main buildings—plus, of course, the location's famous views. Among the artists selected to create specific elements of The Commons are Chris Kabel, a Dutch designer based in Rotterdam, and Nathan Lynch, a Bay Area sculptor and performance artist. Additional artists will help with the renovation process itself, led by San Francisco-based Conger, Moss & Guillard Landscape Architecture.
While change and progress are welcome forces in the art world (the center has spearheaded not one, but six rehabilitation projects since 1986), the campus has always kept a smidge of austerity and simplicity in its atmosphere, staying true to its military past. Originally home to the Native American Coastal Miwok, then Spanish and Mexican ranchers, and later Portuguese immigrant dairy farmers, the space was mobilized for military purposes in the 1890s, adding the Fort Barry buildings to its landscape. The area served as an active military center until 1950, and the National Park Service took over in 1972, eventually turning it into an arts center originally named Headlands Arts Center in 1982. Now, it's the home of events, changing exhibitions, an Affiliate Artists Program, a Graduate Fellowship program and a lively bi-annual Artist in Residence program, running since 1982.
Offering residencies that are generally four-to-10 weeks, studio space, meals prepared by chef Damon Little and housing, travel and living stipends, the residency program is one of the county's most sought-after gigs—especially given the dreamlike location and the program's multidisciplinary approach (painters, sculptors, photography, film, video and new media artists are all welcome, as well as nonfiction writers, poets, dancers and musicians). Artists are chosen by panels—comprised of curators, educators, scholars and artists—specific to each discipline.
It is the program attendees who will get to witness the renovation in progress, as it will take place on campus this spring. One such attendee, Chicago-based artist Edra Soto, is looking forward to the experience.
"I've never been to the West Coast," Soto says. "Colleagues of mine that have attended this residency have the highest regards for it. I've been focused in moving my artistic career forward, and Headlands has the reputation of being a place where artists get visited by professionals in the field and engage in significant conversations regarding their art practice."
Born in Puerto Rico, Soto grew up in an urban development in the San Juan area, spending her early years in a Catholic high school. "Attending church services every morning became influential to my art practice," she says. "The stage and its symmetry, ideas of hierarchy and the impetus for congregating communities is all dispersed throughout my work."
Soto attended Escuela de Artes Plásticas de Puerto Rico to pursue an undergraduate degree, and then moved to Paris for a year; eventually, she attended the School of the Art Institute of Chicago for her M.F.A., which she obtained in 2000.
Specializing in conceptual art, installations and 'architectural interventions,' Soto plans, while attending the Headlands, "to develop a new body of work, create something site-specific while addressing issues that are interesting and personal to me. Hopefully, this is a place where I will be able to find growth, new connections and networks to expand my career's visibility, inspiration and productivity."
The artist is also looking forward to the weather and the famous Californian vibe. "Considering the great reputation of California's weather, I am expecting nothing but the best," she says.
Prior to settling in, Soto will be given the opportunity to visit her studio on campus. "This will allow me to visualize the space and its surroundings, and basically daydream about the possibilities before heading over to the residency to work," she says. "My studio will be an open space that welcomes visitors to engage with me while I'm working, so when they told me about this particular aspect of my residency I was absolutely thrilled!"
Oakland-based Christopher White has completed the daydreaming stage—he attended the residency last fall, and is happy to reflect on the time spent at Headlands.
"The Headlands residency is quite well-known in Bay Area performance circles, and many friends have done it in years past—Jesse Hewit, Erika Chong Shuch, Larry Arrington," he says. "I had heard wonderful things about the experience and decided that this would be a good time to apply, because it would give me the space to refocus on my art-making practice and slough off some of the sclerotic administrator-brain that had accumulated over the years."
Working as a theater and performance artist, White started his career as a director specializing in new plays and new play development, which led him to "the downtown NYC scene in the late '90s." In 2000, he moved to Dublin, Ireland, and immersed himself in European performance theater, following groups like Forced Entertainment and Pan Pan Theatre in Ireland. A move to Boulder, Colorado followed, and White attended grad school at Naropa University. He was in the first class of an M.F.A. program in "Actor-Created Physical Theater."
"My program moved to London after the first two years and became the London International School of the Performing Arts," he says. "It's based in the pedagogy of Jacques Lecoq, a very influential French theater teacher and the training focuses on empowering actors as the primary creative force in creating a piece of theater."
After school, White moved to the Bay Area with two classmates and co-founded Mugwumpin, a performance theater ensemble based in San Francisco. "For 12 years I ran the company, during which time we made many works, both full-length pieces for theater and smaller performance works for non-theater spaces," he recalls. "All the work is created collaboratively by the ensemble and the pieces are generally non-narrative, preferring to explore thematic and emotional terrain through potent images, spacial dynamics, movement and a protean internal logic."
About a year ago, White took a leave of absence, following a health scare, during which he "continued teaching and redeveloping my own voice as an independent artist, but as someone who derives power and inspiration from collaboration."
White says that the residency allowed him ample time for reading, hiking, thinking and percolating.
"Of course, I also had an enormous studio space to work in, and took advantage of that as well," he says. "I ended up focusing on ways to think deeper about collaboration as a process that I can engage in with the audience, not just with my fellow artists."
While at Headlands, White created a piece called Asking, which he calls "a little bit Quaker meeting, a little bit seance." For each showing, the artist recruited an audience member  and gave him or her a prompt question to elicit a story from their own life, followed by questions from the audience. "The key aspect is that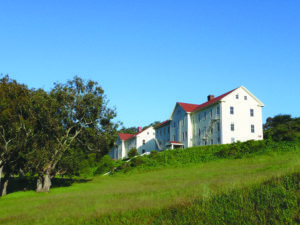 the participant is never seen; instead, a performer wears an earpiece and is channeling the participant's words in real time, never having heard them before, to the audience," White says. "It's a quiet, meditative piece that nonetheless carries a lot of emotional heft, largely because of its simultaneously intimate and mysterious qualities."
According to White, the Headlands residency is a retreat, in the truest sense of the word. "The location is remote; despite its proximity to the city, you feel far from civilization, and you're surrounded by miles of gorgeous hills and trails and coastline," he says. "There's almost no phone service, and the internet available there is very weak and spotty. It was very valuable because it forced me to get out of 'go' mode and shift into a more reflective mental space."
For artists living in the current social climate and economy, such opportunities are fuel. White says that disconnecting, relaxing and carving out space and time allows artists to "connect to the basic root impulses that drive us to work, quieting some of the pressures of deadlines and technology and urban living that insidiously shape our habitual thinking patterns."
Then, there are practicalities and not-to-be-underestimated human connections.
"It is an individual's journey, but there [are] places like Headlands that understand that aspect of an artist's professional needs, providing space for engagement, resources and time to develop your work and practice and exposure to their community," Soto says.
Soon, the center will welcome her, along with more than 40 other artists from all over the world, to do just that.
Headlands Center for the Arts, 944 Simmonds Rd., Sausalito; 415/331-2787; headlands.org.