'Tis the season to give gifts to friends and loved ones. But why go to the big-box stores or shop online when you can support local artists? Below, discover a few places where creators embrace the community and are inspired by Marin's landscape. And maybe you'll even be inspired to make your own gifts.
Tam Weavery
What did life look like before the Instagram aesthetics took over? Surely, there were less fiddle leaf fig trees, marble countertops and mud cloth pillows involved. One of those highly trendy, Instagram-inspired decor objects is the woven wall hanging—the ultimate mix of artisanal and pretty. But Whitney Lenox, a Mill-Valley based fiber artist, would have probably specialized in it even pre-social media. It was simply a calling—and a result of curious circumstance.
For someone who creates such homey, cozy items, Lenox's life has been very nomadic. She was born in Alabama and spent the majority of her adult life in the greater Nashville area. "In my late 20s I reconnected with an old friend from college," she recalls, "and after dating for a few short weeks he asked me to quit my job, sell all my stuff and move to South Korea with him to teach English. And I did it! It was one of the best big decisions of my life."
Upon returning to the U.S., after completing their teaching contracts and backpacking through Asia, the couple embarked on a 9,000-mile cross-country road trip in an old pickup truck. "We visited the Grand Canyon on this trip and decided then and there that it would be our next home," Lenox says. "We spent two great years living and working in the park, and then set our sights on California. We're attracted to beautifully unique places, so it comes as no surprise that the Bay Area has been such a great fit for us."
Settling in Mill Valley, with an apartment reserved by the future landlord without actually meeting them ("he loved our story," Lenox says), and a new job in hand, Lenox was suddenly laid off six weeks after the move. Quite shocked to have so much free time, she remembers the idea of picking up the fiber art skills she once had, and decided to give it a go. "One week later, I found myself digging through boxes and boxes of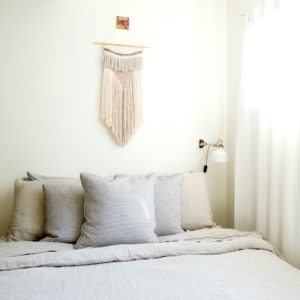 beautiful vintage yarn at the Muir Beach community sale and it felt like a wink and a nod from the universe that I was on the right path," she says. "I'm mostly self-taught and have been weaving since that day."
For her brand, Tam Weavery, Lenox creates atmospheric, pretty and voluminous hangings incorporating wood, fiber and, occasionally, rocks. She uses jute, baby alpaca, wool blends and cotton and favors earthy tones, deep blues and pastels. Each creation has a name—Elma, Ralston, Carrera—giving them a personal, animated appeal. As of now, the hangings, which are also sold at Lenox's Etsy store, can be purchased at Beach House Style boutique in Fairfax.  
"I believe weaving is having a resurgence because of a deep need to connect," Lenox says. "What surprised me most is the sense of community I've found since picking up the craft. It has given me a new reason to connect with people in person, whether it be with a local shop owner or with a group of women at a weaver's gathering or class. I love that it encourages me to step away from my digital life to use my hands and connect with the community around me."
Describing the beginning of her California chapter as 'bumpy,' Lenox is now deeply rooted in her surroundings, her work drawing inspiration from Marin nature and day-trips and her resources intertwined in the everyday. "The yarn I select for my woven wall hangings is purchased from local shops and inspired by the colors of the landscapes," she says. "I think it's just absolutely magical."—Flora Tsapovsky
Tam Weavery; tamweavery.com.
Neve & Hawk
At first glance, San Anselmo's Neve & Hawk looks like a regular, if stylish boutique. If you walk past the soft sweatshirts, accessories and the tie-dyed decorative tent, a workshop area reveals itself, complete with big desks and materials. Just like the merchandise in the store, the workshops and classes taking place cater to the whole family. Neve & Hawk is owned by Kris and Bob Galmarini, a San Anselmo couple, with adult and kids clothing, knick-knacks and souvenirs.
Neve, 9, and Shep (middle name Hawk), 5, the two children, are the inspiration for the designs, and valuable helpers in the business. On various days of the week, other people's kids—and some adults—gather around the tables in the back and get creative with fabrics, screenprinting and even succulent planting. The place is buzzing and busy non-stop, and the clothing styles sold there reflect this active, adventurous vibe.
Before it was a store, Neve & Hawk was already an online clothing brand, specializing in stylish, comfortable and very California clothes—think graphic T-shirts, cotton maxi dresses and embroidered trucker hats for adults, along with adorable denim and striped pieces for kids. On San Anselmo's picturesque and family-friendly main shopping street, it fits right in.
"We chose San Anselmo because we live here and we love it," Kris says. "There are a ton of families with creative and active lifestyles and we have described our store as a place for the creative and adventurous family. That translates into our clothing as well. Our pieces are meant to be worn and played in. They are meant to be comfortable and easy."
In workshops, happening on a weekly basis, there's plenty of room for exploration and creative energy. "The fun part of our workshops is that they generally encourage a bit of a mess," Kris says. "We are using dye and ink and cutting fabric and a bit of misbehaving is usually encouraged."
Adults can indulge in leather clutch-making, macrame and succulent planting, while kids are welcome to create wall hangings and handmade holiday gifts. Sound unrealistic in the age of 'screen time?' Not to Kris. "It's not hard at all to get kids engaged," she says. "Our workshops are a set amount of time and we generally fill that time with fun, hands-on activities. We find that kids love doing these things."—F.T.
Neve & Hawk, 641 San Anselmo Ave., San Anselmo; 415/306-7657; neveandhawk.com.
I Made It! Glass Creations
When people tell Lynn Rovelstad that they don't have an artistic bone in their body, she simply tells them, "Just wait."
A visit to I Made It! Glass Creations—Rovelstad's project-based fused glass studio on Fourth Street in San Rafael—changes the minds of the "unartistic," who are often pleasantly surprised by their handmade creations.
"You should see some of the stuff our customers are making—it's just absolutely crazy beautiful!" Rovelstad says excitedly. "Three-year-olds make things that come out like a 30-year-old art major did it."
The bright and inviting space, opened at the end of July, offers walk-in visitors more than 70 different beginner-friendly projects—ranging from fused glass jewelry, to suncatchers, to bookends, to bottle stoppers to dining utensils—from which to choose. Before-and-after examples line the walls for inspiration and are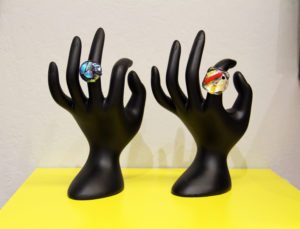 color-coded with difficulty level (green=easy; yellow=intermediate; and red=advanced). Prices, ranging from just under $10 to just under $100, include materials, instruction, tips and firing of pieces in a computer-controlled kiln that heats the glass to 1,490 degrees.
"I'm really into functional art," Rovelstad says, showing off the finished products. "I like for things to be useful, not just dust-catchers."
Rovelstad, who has a business background, moved to the Bay Area with her family from Flagstaff, Arizona, where she had taken multiple fused glass classes, fell in love with the process and began selling the pieces she made. "And then I thought, 'I wonder if we can break it down and just make it accessible for everyone,'" she says. "And that was sort of the kernel that started this whole thing. I thought, 'If I ever move someplace where it would make sense, maybe I can pull it off.'"
Rovelstad knew that Marin was the right place for her "field of dreams." "This community has been so warm and welcoming," she says. "I don't think I could have stumbled upon a better place to try to start this business. I just couldn't be any happier."
To Rovelstad's knowledge, I Made It! Glass Creations is the only one of its kind in the country. There are places where you can experiment with fused glass, she says, but usually they have only "afterthought corners," and are not exclusively dedicated to the art. "Not only is it a brand-new business, but it's a brand-new concept," she says proudly.
The timeframe on most projects is four days, which includes the creation, the kiln firing and the adhesive drying. And depending on personality and ambition, visitors crank out projects in 20 minutes, or stay for hours. Rovelstad, who says that she wants to create an atmosphere where guests get invited "into the family," encourages everyone to relax and "have a blast."
"It's surprisingly easy to make beautiful, functional glass art," she says. "And we're prepared to take it to whatever level you want to go."
In this day and age, Rovelstad says, we can all go to stores and buy things that were made in China—but what's better than giving a handmade gift?
"Something that you've made," she says. "I think people just appreciate it more."—Molly Oleson
I Made It! Glass Creations, 1938 Fourth St., San Rafael; 628/234-1005; imadeitglass.com.
Helping hands
There are countless places in Marin to shop until you drop, but there are also many people among us who don't have the resources to buy gifts for their families—and in some cases, even food or warm clothes. The roundup below will point you in the right direction when it comes to spreading holiday cheer to those in need.
Holiday Gifts of Love: The Center for Volunteer and Nonprofit Leadership of Marin is seeking volunteers for a variety of projects, including preparing and serving holiday meals, donating food and clothing, wrapping presents and more. Through Dec. 23; cvnl.org.
U.S. Marine Corps Reserve Toys for Tots Program
Donate your new, unwrapped toys to be distributed as holiday gifts for less fortunate children in Marin, San Francisco and San Mateo counties. Through the end of December; san-bruno-ca.toysfortots.org.
San Rafael Santa Cop: The San Rafael Police and Fire Departments are seeking new, unwrapped toys for needy kids who might not get them otherwise, as well as volunteers to help wrap gifts at noon on Dec. 17; sanrafaelsantacop.org.
Holiday Share: The Novato Human Needs Center plans to give gifts to 150 families in Novato, and is seeking cash donations and/or wish list items such as $25 Target and Safeway gift cards, and new children's books in English or Spanish; nhnc.org/programs/holiday-share.
One Warm Coat
Help this organization keep people in need warm by donating new or gently used coats at a variety of locations throughout Marin; cash donations are also appreciated; onewarmcoat.org.
The 2016 Holiday Gift Drive: Help Sparkle Foundation, Inc. make a difference to women and children by donating gifts or funds. One hundred percent of donations go directly to those in need; sparklenow.org/2016-holiday-gift-drive.
CHiPs For Kids Holiday Toy Drive: This is an annual drive by the California Highway Patrol for unwrapped toys and canned goods; there are various drop-off locations for the Golden Gate Division in Marin County; chp.ca.gov.
West Marin Community Services Holiday Gift Program
Donate food and gifts that will be distributed to low-income families over the holidays through a partnership with Point Reyes Books, the California Highway Patrol and the Dance Palace Community Center; westmarincommunityservices.org.
SF-Marin Food Bank
Donate money, or get your community involved in raising awareness and money for those who don't have enough to eat by learning how to host your own holiday food and fund drive. Through Dec. 31; sfmfoodbank.org.
SMART Holiday Express Toy Drive
Hop on the SMART Holiday Express Train for a tour when you bring an unwrapped toy or gift card to the Cotati, Petaluma or Novato SMART station. Donations to be distributed to a variety of local nonprofits. Dec. 10; sonomamarintrain.org.
Family-Family Holiday Sharing: The Ritter Center needs generous people from the community to "adopt" a less-fortunate family and help them out in various ways, including holiday gifting; donated toys are also needed; rittercenter.org.