Wouldn't it be great if Google or Facebook moved to the North Bay? Well, yes and no. It would certainly create a lot of jobs, but the impact on housing prices and traffic wouldn't be great. Anyway, such a move isn't likely to happen and I say that's just as well.
Folks move to or choose to remain in the North Bay because of the quality of life, open spaces and the slower pace. Silicon Valley, with its crushing traffic, Gold Rush-style development and stratospherically high cost of housing are not things we aspire to. In fact, many bail on Silicon Valley and San Francisco and for those reasons, present company included.
But we still need jobs and economic development. Increasingly, that's coming from small-scale makers, farmers and artisans, not big corporations. Small and home-based businesses are part of the North Bay experience. Local purveyors, be they farmers, brewers, artisans or apparel-makers, are part of what gives the North Bay its look and feel. And while they don't have the economic might of a Google, local businesses keep dollars circulating locally, they create local jobs, they reduce reliance on carbon-intensive imports and contribute to the North Bay's identity.
Last year Sonoma County's GoLocal Cooperative, a network of local businesses, residents and nonprofits that support local, sustainably minded businesses, produced $5.6 million in sales through its rewards card program. That generated more than $2 million to the North Bay's economy.
Two-year-old North Bay Made, co-founded by farmer Kelley Rajala and weaver Pam Dale, grew out of GoLocal. The membership-based group is helping to unify small North Bay businesses by acting as their sales and marketing team. With more than 50 makers and markets in its portfolio, the group is really a force of private-sector economic development. But instead of trying to attract new business to the North Bay, North Bay Made is cultivating homegrown makers in the North Bay and stoking the benefits of a homegrown economy.
"We're just stacking up win-win scenarios," Rajala says.
In this issue of the Pacific Sun, we're highlighting several of our favorite local purveyors—they can be found from Sausalito to West Marin to the Sonoma Coast to Napa. The good news is that there are more where these came from.—Stett Holbrook
The Shop
It's a hot and delightful Thursday in Olema and there's really no place to be except eased back on the sun-dappled porch of a new way-West Marin outpost of "uncommon mercantile" called, simply, The Shop.
Sit on the porch in a Jane Brooks–designed baseball hat that features the store logo—she's a co-owner and designer here—as you sip cold-pressed iced coffee out of a milk jar and watch a flow of customers peruse the offerings.
Repurposed as a shop of local goods, vintage wares, "Northern California classics and practical provisions," the joint is positively bustling today.
Score! A young man of obvious means emerges with a pair of vintage California license plates tucked under his arm. There's a whole crate of them out back, if you take the time to look.
Take the time—it's worth it.
The Shop found its genesis in Fairfax several years ago when a quartet of West Marin women artisans took over the former Good Earth parking garage. "We did a pop-up mercantile that lasted two years," says Brooks, where she, her partner Val Yandell, Liz Lavoie and Michele Schwartz made stuff, gathered stuff and sold stuff.
When the Good Earth building was sold, the women scoped out the Olema property, which last housed an art gallery. An old-time print behind the cash register shows the building—the original Olema post office—as it was way-back-when.
Together, the women set out to curate a retail joint that offered and emphasized a particularized aesthetic. The gist is utility with style, preferably repurposed, salvaged or otherwise gathered from the beach, the woods or some old barn somewhere.
And, where possible, Brooks says the women set out to keep the preciousness factor at a bare minimum. Preferably, none at all. This is, after all, rugged and wild—and quirky—West Marin.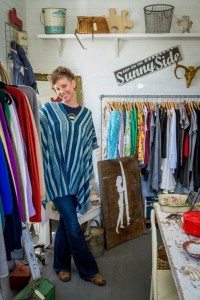 The resultant shop is itself a fascinating set-piece of intersecting interests and emphases—wander around awhile and it emerges as a holistic manifestation of a group vision.
It's a crossroads boutique nestled in the wilderness, with a functional conceit best described as "general purveyor at your service": The Shop angles to fill the various and sundry-seeking needs of the many whom roll through this tourist turnoff.
One section of The Shop features lots of kids' toys, but also Schwartz's exquisitely soft and luxe cashmere creations, hats, ponchos and scarves repurposed from previous couture incarnations.
Elsewhere, vintage hand tools share shelf space with soft and supple handmade Sundog T-shirts that depict old maps of Mt. Tamalpais and other iconic outposts. There are hand-printed greeting cards from Bolinas' Sirima Sataman, jewelry from Fairfax's Sarah Roberston and T-shirts and bags with the shop logo, to go along with that baseball cap.
The vintage-cool offerings take the form of old tools, vintage flannel shirts, paint-dappled coveralls, old fishing reels, old binoculars and camera gear—and a notable collection of old typewriters, which are found in all corners of the store. Schwartz also makes jewelry from old typewriter keys.
The quirky factor finds a voice of sorts in the shelves themselves: The post office survived the infamous 1906 earthquake, but the wall-in shelves wound up on a permanent slant after the fact. Hey, it adds character.
"We don't put marbles on those shelves," Brooks says with a laugh. They do, however, offer five-cent pieces of Double Bubble Gum to the kids.
Another anchor product comes from LaVoie: The store is peppered inside and out with simple stencil designs of surfers (and others) rendered on repurposed grape-drying trays; those retail for around $90.
Visitors to The Shop are heartily encouraged to hang around until they've uncovered every choice niblet of functional nostalgia, utility and the handmade on display here.
Oh look, a metal box filled with old matchbooks! Jewelry fashioned from beach flotsam and jetsam, cool. Delicious fudge offered in an old fruit jar, yum. Handmade beaded jewelry and leather bracelets from Sister Sue—beautiful.
Brooks tells the story of a recent visitor who was somewhat blown away by the offerings: A 9-year-old walked in and shouted, "I didn't even know places like this existed! Why didn't anyone tell me?!"
Tell your friends, tell everyone. Brooks says that the shop aims to find appeal with "people who lost luggage at the airport," to general-issue tourists, locals looking for art and wares to decorate the yurt and whomever else happens to be blowing in with the wind up and down Highway One.
The utilitarian emphasis is represented in new products on offer, such as those cool and French-made Opinel knives—they can shuck an oyster, open a bottle of wine or dust off some mushrooms lickety-split.
The kind of functional beauty embodied in the knives, says Brooks, "takes away the preciousness factor" that might otherwise run rampant in a boutique-barnyard hybrid such as this.
But it's the well-curated handmade stuff that drives the aesthetic here.
The store offers consignments for wares that represent "a new kind of craft that is combining good design with an emphasis on the way it is put together—color, texture, quality, style as fun, beautiful, durable products," says a cheery Brooks.
At the functional end, supple and sturdy Gumshoe Briefcases by Inverness' Willis Bigelow are a stand-out product.
Then there's Ray Forbes, also of Inverness, who carves one-of-a-kind, functional mini sailboats that retail starting at around $250.
"He's an off-the-grid craftsman who makes the most delicate and refined pieces of sculpture—and that take a ton of time to make," Brooks says.
"We love handmade, we love vintage and we love new stuff," she adds, "but mostly we just love community. We're proud to be representing people who are making things."Y The Shop, 9960 Highway One, Olema; theshop-olema.com—Tom Gogola
lilah b.
It's only natural that a natural cosmetic brand would come out of Sausalito, where bay views and gorgeous hills give way to thoughts on wellness and bliss. It's even more natural that the lilah b. products are shaped like pebbles—round and asymmetrical. Open such a white, slick pebble, and inside are silky foundations, bronzers and pops of color that double as cheek and lip tint.
Natural cosmetic lines—no animal testing, no parabens and sulfates—are all the rage these days, far beyond Marin County. Beauty giant Sephora lists more than 20 of them—some are international stars like Josie Maran and bareMinerals, while others are niche and hail from as far as Hungary and South Africa. The saturated market doesn't scare founder Cheryl Yannotti Foland, whose resume includes more than a decade of consulting on marketing and branding to huge names such as Benefit and Urban Decay.
Ten years ago, as she moved from New York to San Francisco and started working with smaller, independent brands in California, Yannotti Foland aimed to strip down her beauty routine and de-clutter her makeup bag, realizing that "you tend to gravitate to these two, three special products that will give you an amazing look as you're rushing out the door."
Not finding what she was looking for on the shelves, Yannotti Foland put her experience to work, pulled some strings, tapped into some professional relationships—and lilah b. was born. The formulations are made and produced in Milan, and the packaging is inspired by Italian beaches. "I wanted the products to look and feel organic and peaceful," she explains. What's inside matters, too—lilah b. products swap artificial preservatives and synthetic fragrances for agar and aloe, and Yannotti Foland swears by their "healthy, high-end, high-performance formulations." You can't launch a product in California and slip on the healthy selling point.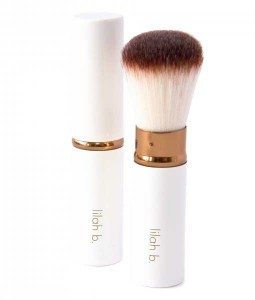 As with any well-planned, modern-day venture, solid branding is ever present—lip and cheek colors, ranging from blush pink to look-at-me coral, are named b.sassy, b.darling and so on, playing on the brand's name, which is borrowed from a "very inspirational friend." Foundation names explore the theme further, mobilizing somewhat new-age, and some might say, very Californian adjectives—b.natural, b.pure, b.classic. Effortless and fast-talking, Yannotti Foland happily embodies lilah b.'s credo—she splits her time between Sausalito and Napa, and frequently enjoys the health benefits of running, yoga, fresh produce and other Californian perks.
Yet, not unlike Silicon Valley entrepreneurs, she dreams big—lilah b. just launched at a couple of Ron Robinson boutiques in Santa Monica and Los Angeles, and there's more to come. "I'm very particular about my retailers, their location, audience and what they represent," Yannotti Foland explains. She is currently in talks with additional retailers in Northern California, as well as on the East Coast, and a top-secret spa collaboration is in the works. At the same time, the products already sell at the company's online store—the selection is as minimalistic as the package, but new shades and products will appear each season, Yannotti Foland promises. "California is so ahead on everything, from food to beauty," she says, when asked about the benefits of the local market. Now, there's home-based packaged glow to match all of those healthy, forward-thinking, local faces.Y Lilah b., 415/729-9974; lilahbeauty.com—Flora Tsapovsky
Clutch Monkey
There's something very wrong about throwing your leg over a vintage motorcycle wearing a pair of Dockers. It's not only fashion suicide, it's not smart. Riding a bike requires a heavy-duty pair of trousers built to withstand hot tail pipes, flying gravel and high-speed asphalt encounters.
Jeans are the pants of choice for most self-respecting bikers, but as Bodega vintage motorcyclist enthusiast Marc Bencivenga discovered, there's not a lot of heavy-weight denim on the market, especially when you're 6'3" and 260 pounds of badass biker (note to self: make sure you spell Bencivenga correctly).
"There wasn't anything out there," Bencivenga says. "That was the inspiration for Clutch Monkey. There was an unmet need."
Clutch Monkey makes burly, selvedge denim jeans and vests for bikers and those who appreciate bulletproof denim. Selvedge is heavy, stiff (at first) denim made on shuttle looms that fell out of favor when denim went mainstream in the 1950s. Newer, projectile looms make more denim, faster and cheaper, but from a durability standpoint it's inferior to selvedge. Selvedge is made in tightly woven strips of heavy fabric that are finished with tightly woven bands down each side, which prevent fraying and unraveling.
Turns out that there is only one mill in the U.S. that makes selvedge to Clutch Monkey's standards: North Carolina's Cone Mills. Clutch Monkey also sources its selvedge from Japanese mills that use retooled Draper and Toyota looms.
"The Japanese put out the best selvedge on the planet," Bencivenga says.
Clutch Monkey jeans and vests are designed in Bodega and sewn in San Francisco's last denim factory. (The factory is in such high demand that Bencivenga was asked not to divulge its name. Top-secret denim!)
As a revival product, selvedge is often expensive, but Clutch Monkey sells most of its goods via crowd funding campaigns and thereby offers it at near-wholesale prices because a production run only begins with cash from backers on hand. No marketing or sales are required, although they lean heavily on Facebook and Instagram.
"All the marketing comes to us in real dollars," Bencivenga says. "People pay for what they believe in."
If you want to handle a pair of Clutch Monkey jeans or a vest for yourself, get on your bad motor scooter and ride to the newly opened Soul Riders in Santa Rosa (404 Mendocino Ave., 707/978-3819), the company's only retail outlet. Opened by former Brotherhood skate shop owner Kurt Hurley, Soul Riders specializes in Southern California beach culture ware in the form of surf, skate, hot rod fashions and reissues of classic skateboard decks, along with a bin of vintage vinyl in the rear. But Hurley is excited to carry Clutch Monkey denim as the one nod to the North Bay.
"The jeans will outlive you," he says. Clutch Monkey, clutchmonkey.com—Stett Holbrook
dhbetty
Spokes, cogs, chains, fenders, rims and valves are all used by Christine Culver, owner of dhbetty Bicycle Gems, in creating jewelry from upcycled bicycle parts.
"It's all about the bicycles," says the artist, who designs bracelets, earrings, glass pendants and necklaces.
Dhbetty Bicycle Gems was the first business to connect with North Bay Made.
Culver, a long time cyclist, began her passion for the bicycle in her late teens when she started racing professionally. She moved up to Sonoma County to work at a bike shop and continue bike racing.
Culver's bike love led her to take on a position as executive director of the Bicycle Coalition in Santa Rosa. The group advocates for better bicycle access throughout Sonoma County.
"I got involved as a volunteer, then got myself on the board and created a job for myself," she says.
While Culver was running the bike organization, she began creating her jewelry.
"The thing that really kicked off this whole doing-the-jewelry-with-the-bicycle-focus is I just wanted a pendant with a bicycle on it, "she says. "Everything I was finding was really chintzy. It started a quest for looking for one and then finally I started making them."
Bike shops and the Santa Rosa Cycling Club all donate retired bicycle parts for their next lives as jewelry. Culver sells her jewelry at bike-based events, local retailers and the Clif Family Winery in St. Helena.Y dhbetty Bicycle Gems, dhbetty.com—Haley Bollinger
NBC Pottery
Settled in the mountains above St. Helena in the small town of Angwin, husband and wife duo Will and Nikki Callnan create intimately crafted clay works that are redefining everything from plates and vases to sculptures with an emphasis on the rugged beauty inspired by their North Bay surroundings. Under the name NBC Pottery, (named after Nikki Ballere Callnan), the pair specializes in custom-made wares made for private customers, as well as restaurants and wineries throughout the area.
"We've been in clay and creating as long as we can remember," Will Callnan says.
The two met while studying fine art at Sierra Nevada College in Lake Tahoe. Originally from the East Coast, Will says that they decided to stay and work in California because of the natural wonder of the area, and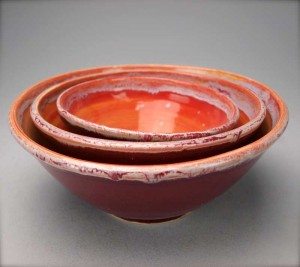 that's reflected in their one-of-a-kind clay works.
If you've ever dined in the Restaurant at Meadowood in St. Helena, you've eaten off of their plates. Often resembling organic materials such as bark or mushrooms, the colorful and unique clay highlights chef Christopher Kostow's singular cuisine.
"They were looking for something different," Will says. "With each piece, we want to show the qualities of the material."
The unique, flexible qualities of the clay are also on display. In their vessels, vases and bottles, they mimic the fluid movements of waterfalls and birds taking flight. With a world of influence right outside their home studio, Will, Nikki, their young son Gavin, and newest addition Evie, are happy to host guests for a studio visit. Their custom wares are available for order or commission online as well as directly from their studio location.Y NBC Pottery, 707/965-1007; www.nbcpottery.com—Charlie Swanson