By Stephanie Powell
It's day six after opening and a gangly boy tiptoes through the door of The Forge Tattoo, Fairfax's first-ever tattoo shop, with his passport in hand. "Hi, I'm 18—I swear," he offers up, as if he's about to be interrogated.
Sitting across the unfurnished shop and with one eyebrow raised, Josh Burks, The Forge's tattooing apprentice, asks the barely legal adult if he's interested in getting some work done.
"Yeah—my friend in Nashville, he got his knuckles done," the boy explains. "They look really cool. I want to get mine, too."
Sanitizing his tattooing station in the rear, shop co-founder Adam Roach interjects, "Do you have any other tattoos?"
"Uh, I've looked into it," the boy begins to say before trailing off.
"If you don't have full sleeves, we won't tattoo your hands," Roach says. "If you have full sleeves, you understand the social implications of what it's like to live with tattoos."
The boy manages to stutter out a few more questions before coming to terms with the fact that he just received a resounding, "No, we won't tattoo your knuckles."
"Well, that's officially our first one," Burks says with a laugh, "the first business we turned away."
"His mom is so happy right now, and she doesn't even know why," Roach chimes in.
Open for Business
It's because of four Fairfax residents—Adam Roach (41), Nate Gonzalez (41), Marcelo Díaz Sepúlveda (37) and Josh Burks (26)—that the little enclave at the base of Mt. Tam, known for its rich, eclectic history, finally received the final piece to its artistic, yet distinctive puzzle: A tattoo shop.
The shop remained a daydream until August of 2013, when Gonzalez called Roach to float the idea of opening a shop in the Fairfax area. The two launched a respectful partnership—as artists and colleagues.
They began to look for locations, preferably in the town of Fairfax—although they did try San Anselmo and received a speedy, "No." It took about a year to find the ideal spot—located on the main drag of Sir Francis Drake, in a building that formerly housed Purple Haze Smoke Shop and Fat Kat Surf Shop.
Despite its close location to San Francisco, a city that has more than 50 tattoo shops, Marin's tattoo scene has managed to remain rather modest. With the addition of The Forge, there are now three tattoo destinations in the county. The two other shops, Spider Murphy's and Lucky Drive, are both in San Rafael.
"I feel really close to this community," says Roach, who has been tattooing for 24 years and living in Fairfax since 2009, about why Fairfax felt like the right place to open up shop. "It's a very special place—it's got its own identity and I felt that the shop would fit right in."
The building lends itself to one of The Forge's goals: To remain completely transparent. Enter the building, sandwiched between Quality Liquors and Barefoot Café, and two pillars—each adorned with an electric guitar made by a Fairfax resident—support the foundation for a wide-open space. No cubicles or pony rails to
be seen; just four tattooing stations surrounded by a collection of artwork—from old film noir movie posters to black and white photos of family members to paintings by local artists—that fills the walls from ground to ceiling. Near one of the front windows, a chess set made up of pieces from 12-gauge shotgun shells is displayed on a wooden table with assorted magazines and artist books.
"That was absolutely intentional," Roach says of the openness of the space. "The energy that we wanted in here was us being able to talk to one another, bounce ideas off one another, and to let our clients enjoy themselves. It all goes into the tattoo; the whole experience goes right into it."
Discussions with the landlord, the city of Fairfax, the Health Department, a petition and a Kickstarter campaign brought the daydream to fruition.
The only problem, after finding the storefront in August of 2015, was that there was another tattoo artist from the East Bay interested in opening a shop in the same space. "We went around town and grabbed over 400 signatures from town residents in a two-day time period," says Burks, who also bartends at Peri's Bar across the street from the shop, "to show that we had town support and that we are locals."
The petition was a winning factor for their landlord, Majid Mahani—eager to help locals who were already so deeply intertwined and involved in the Fairfax community.
"We got a great amount of support from our landlord, who is an amazing guy; we really got extremely lucky with him, and also the city," Roach adds. "They thought it was a good thing for this town to keep it sort of Fairfax-y, kind of funky."
The group started to throw around ideas for a name. They settled on The Forge, a play on how tattoo artists refer to their machines as their "iron." The shop has an anvil logo emphasizing this.
After securing the location to rent, they attended city council meetings to apply for a permit to operate, and they were met with little resistance.
"Fairfax embraces artists from all walks of life and these guys are artists," says Fairfax Planning Division Principal Planner Linda Neal, who was instrumental in the approval process and has been with the Town of Fairfax for 29 years. "The more [artists] in town, the better the artistic fabric and diversity of Fairfax. They had great energy and were willing to complete their application as directed without arguing about whether the requirements were onerous or unfair."
After receiving the OK from the town of Fairfax, the gaggle of guys still had another hurdle to face: Funds.
"When Nate had $16 in his account and I had $7," Roach says with a laugh, "that was the day we realized we might need to go to Kickstarter for some help."
The group launched the campaign in November of 2015, and set a goal of $10,000. The process of raising money came fully loaded with anxiety—Kickstarter mandates that if the project does not meet the full goal, it won't receive any funds. The campaign stayed stagnant for a few weeks, hovering around $3,500. With eight hours left on the night before the campaign was set to expire, they finally exceeded their goal—ending at $10,500.
"It was the biggest sense of relief," Gonzalez says of finding that they had exceeded their Kickstarter goal. "We were so thankful—full of gratitude, and grateful for the town support."
The Artistic Four
Opening a tattoo shop had been a dream for Roach since his sister showed him a little skeleton on her ribs. "[She] came home with a tattoo when I was 15, and that was it," he says. Calling Central California home, he found his first job at Gold Coast Tattoo in Monterey when he was 18. "I learned from Steve Hendricks—this guy is an old salty dog," he says with a laugh, of his mentor. "He has the kind of classic, old-school teaching method—tried and true."
Fort Ord, an old military base on the Monterey Bay, proved to be an ideal spot to begin the trade. "We would lock 'em in at midnight and tattoo them through the night," Roach says. "We would do common military designs, but we would have lines out the door—it was a perfect environment to grow up tattooing."
Roach's tattooing took him all over the world—first to Madrid, Spain, where he spent three-and-a-half years tattooing, to San Francisco, then through Southeast Asia, Singapore, and eventually back to Spain—in Barcelona—this time, for a seven-year stint. "I decided to come back to the States because I missed it, and it felt exciting," he says. "The States actually felt foreign."
Traveling through half of the world's continents allowed Roach to "bring in influences from all types of tattooing," he says. "I like to be able to bounce in between different styles and genres of tattooing." He calls traveling a "great enabler" and "mind-opening."
It was his nine-month pit stop in San Francisco that led Roach to fellow traveler and future co-founder, Nate Gonzalez, in 1998, while working at tattoo shops in the Lower Haight and Richmond districts. They played in a band together, and fantasized about one day opening up a tattoo shop.
Gonzalez, a self-described "free spirit," went from a one-year stay in San Francisco to living in the jungles of Ecuador—where he also tattooed, to becoming a recent Fairfax resident. "I moved here to build this shop,"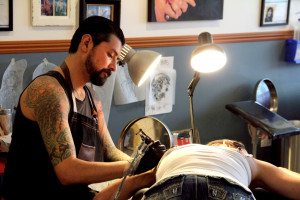 says Gonzalez, who has now been tattooing for 20 years. "Believe it or not, the jungle grew old. There wasn't enough to keep me there at this age—I'm not ready to slow down that much," he adds with a laugh.
From age 16 to 31, Gonzalez moved at least once every year; he's looking forward to settling down, especially in a town like Fairfax. "Everybody is so nice," he says. "I love the area completely—I love how close we are to the woods, how healthy it is, and I can't believe how friendly everyone is here. It blows my mind."
Gonzalez has done his fair share of traveling, too—from bouncing around the U.S. (he held tattooing apprenticeships throughout California and in Hawaii)—to visiting Europe, Thailand and New Zealand.
"There are so many different styles," he says, noting Thailand's bamboo tattooing and the intricate design work of New Zealand's Maori culture. "There's always something to learn, especially in Thailand. I mean, my god, there's so much ornamentation in the country it's unreal."
It's the traveling and old school set of ethos that sets The Forge apart, Gonzalez says. Traditional values of the trade—including lengthy and detailed apprenticeships that teach prospects everything from needle-building to the difference between drawing a picture and drawing a tattoo, which requires specific angle and line work that translate to a curved surface on someone's body—have been abandoned as the industry continues to grow. Respecting trade secrets and other shops' territories have also been thrown to the wayside since reality TV shows like TLC's Miami Ink, which follows Kat Von D and a cohort of tattoo artists based in Miami, hit the airwaves, bringing the once-stigmatized art form to the forefront of the social consciousness.
"F*** man, it completely changed the scene," Gonzalez says of shows like Miami Ink. "There were shops popping up everywhere. Everyone was giving out information—the integrity of tattooing disappeared.
"Even though we've just opened our shop, we've been in the game so long," he continues. "We could say that we are from the old school—I think our generation was the last to adhere to the old-school approach and ethics, and after us, shows [like Miami Ink] hit and at the turn of the century [tattooing] just blew up."
Forge tattoo artist Marcelo Díaz Sepúlveda learned the old-school trade nearly 2,000 miles to the south, in Jalisco, Mexico.
"I want the client to feel comfortable—to feel welcomed," he says, which is part of his personal ethos. "That's why we have an open floor [in the shop]. We want them to be able to see it from the beginning—their drawing, the setup and the breakdown. We want to be transparent."
Transparency, you could say, is what led Chilean-born Díaz Sepúlveda to tattooing in the first place. A journalist trained at Universidad del Desarrollo, a university in Chile, Díaz Sepúlveda was writing a story about an up-and-coming tattoo shop in Jalisco, Mexico. Long conversations with members of the shop sparked an interest in tattooing, he says.
"Just like you right now," he says smiling, pointing at me. "I got along with the guy super well, and I already had tattoos. We started hanging out and they saw my drawings and, long story short, he taught me. I started tattooing in Mexico—that was more than 18 years ago now."
It's been 14 years since he's lived in the Fairfax area, where he met Roach, down at the Gestalt House.
"We had a mutual friend from Spain," Díaz Sepúlveda says. "We got along really well and we both speak Spanish." Another cornerstone that sets the shop apart, he says, is their bilingualism.
"Half of my clients are Latino, and we need to treat them well because they really love tattoos," he says, jokingly. "You know some people go to other shops and they get put aside because they can't explain their ideas, but we strive to be on the same level with everybody. That's the cool thing about being bilingual."
Shared interests, travels and culture sparked a friendship and Roach and Díaz Sepúlveda went on to tattoo together at the Blue Lotus, a former tattoo shop in San Rafael, before the owner decided to move the business to Petaluma and focus on piercings only. They had rooms next door to one another and were "always yelling back and forth trying to communicate while tattooing," Díaz Sepúlveda says.
It was also Roach's first tattooing job in Marin, which he acquired rather painlessly after the owner spotted the mural of an octopus he painted that adorns the inside wall of Sushi to Dai For in San Rafael. As fate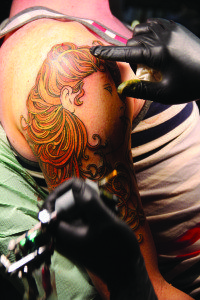 would have it, the Blue Lotus laid some serious groundwork for The Forge's future—it's also where Roach met Burks.
"I fell in love with Adam's style of tattooing—it has a solid traditional style of line work, incorporating New Age realism," says Burks, who moved to West Marin from the Stockton area in 2007 to be near his sister and to pursue tattooing. "I immediately tried to get into his ear and, in the nicest way possible, received a f**k off," he adds with a laugh.
So he started to save money and sit in Roach's chair. The two developed a rapport, and Burks eventually earned himself a job as the Blue Lotus' piercing apprentice. It shows—he sports 18 piercings.
After the Blue Lotus relocation, Roach concentrated on music—he's the singer and guitarist in the gypsy-rock group Beso Negro, which has performed the past four years at Outside Lands and is currently working on a second studio album. But the three never lost touch.
"I stayed with Adam [and waited for the shop] because he's one of the last bastions of how tattooing used to be," Burks says. "[His style] is a solid mixture of old school and new school."
A Matter of Ethics
The old-school ethics that the tattoo artists stand by include respecting the territory of other shops. In the industry, "opening up on another shop," i.e., opening a shop in the same town as an existing tattoo shop, is widely frowned upon.
"I can tell you it's nearly impossible to do something that we did," Roach says, "which is to open a shop in a town that has never had a tattoo shop. Also, opening up basically nowhere near another tattoo shop to affect their business. You get a good tip of the hat from other tattooers for doing it clean like that. The fact that we got to open up completely on our own is pretty amazing. It doesn't happen anymore."
Precious information about the craft that was once considered highly coveted is much easier for the current generation of tattoo artists to access—thanks widely to the Internet.
"You don't give out information on how it's done so easily," Gonzalez says. "I think that's something that got lost [between generations of tattoo artists]. It's a shame because it was a struggle for me to get information, and to this day I'm totally grateful that it was hard to get. It kind of weeds out the weak. These days people just go on the Internet and buy equipment and watch how-to videos."
With the once-niche tattoo bubble expanding ever since the launch of shows like Miami Ink in 2005, and spinoff shows like LA Ink and NY Ink, it feels as if sporting a tattoo has become less of a stigma and more of an accessory.
"I kind of miss that," Roach says of the stigmatization of tattoos. "I got into it because it was underground and counterculture. I'm happy that it's become more mainstream because it is a business and we will thrive from that, but it is pretty saturated these days and I do sort of miss that it was considered a little bit rebellious to have a tattoo—it still is—but in the old days it was a bit different."
Keeping in line with an old-school set of ethos, the tattoo artists were determined to open up a shop in Fairfax. "I wanted to be in downtown Fairfax," Roach says. "I didn't want to be anywhere else. I saw it happening here. We went for it, we didn't take no for an answer, and we got it."
But it wasn't that simple.
"It was in shambles," Díaz Sepúlveda says of the building. "We did everything from the ground up—every little thing! It took a lot of sweat, a lot of effort, a lot of frustration every day. Some days we were two steps forward and three steps back."
In August 2015, the team found a "hole" with no walls and "ancient tile," Roach recalls.
"We had to gut everything out and start everything from scratch: New plumbing, new electricity, we grinded the floor ourselves, grinded the concrete, sealed the concrete and polished it," he says. "Everything from top to bottom has been done by us. By hand. For months. Day and night," adding that the team couldn't have done it without the help of an assortment of Fairfax friends.
"There were other spaces available but it didn't feel right," he says, adding that the group looked at nearly 15 different locations. "The ceilings were too low, or they were too small. We wanted a huge environment because we didn't want any walls between us and the customers. We wanted everyone to see us hands-on."
'Miami Ink' Moments
Twenty-three-year-old Kelsy Hatfield, of Novato, walks into the shop with four of her friends. She asks for a tattoo of four triangles, the first shaded, the rest simple line work. Not the most challenging piece Díaz Sepúlveda has been faced with, but later, as we sit in the back on a fold-out futon across from a dartboard, he tells me that he strives to treat all clients as equals.
"It's important to represent yourself in a really good manner—you have to understand that the tattoo is really important [to the client]," he says, "and you have to really care about it."
Hatfield was considered a "walk-in," which means that she didn't make an appointment prior to being tattooed. The shop welcomes both walk-ins and set appointments, but typically, as a custom shop, the client will come to the shop first and communicate the idea to the artist, Gonzalez says, and "ideally we set a time to look at a drawing that [the tattoo artist] spent time on."
Once the sketch is approved by the client, the tattoo can take anywhere from 15 minutes to multiple four-hour sessions to complete, depending on the complexity of the design.
Since opening on January 2, business has been steady—even busy for both walk-ins and client appointments. Depending on the season, the workload is typically divided up into 70 percent custom-made pieces for clients, and 30 percent walk-ins. "Walk-ins increase during the summer," Díaz Sepúlveda says.
Asking about the meaning behind the piece, for both walk-ins and clients, is something that he says he doesn't typically do. "I try not to do it because normally if they really want to tell you, they will," he says, adding that for most custom-designed pieces, he winds up learning the backstory through the collaborative design process. But his goal is to remain respectful. Not all tattoos have meanings, he adds—some people just like the artwork.
When I ask Gonzalez about his policy on inquiring about the meaning of the artwork, he smiles and laughs.
"I kind of call those Miami Ink moments, where people want to tell these emotional stories and they start crying," he says. "I used to be totally compassionate about it and now, ever since those TV shows came out, it's more and more frequent. It's a running joke that I'm an underpaid therapist and overpaid artist," he adds with a laugh.
Sarcasm aside, it's clear that transitioning back and forth between roles doesn't phase this group of guys. The passion, camaraderie and commitment to the art takes precedence, and is evident by how fervently they each speak of the trade and each other.
"I love those guys," Roach says. "Their artwork is incredible—but more than the amazing art, as people, it just works. All of us together work very well. It's great to be around worldly people and the way that they carry themselves you can tell that they've been around the world a little bit; they have a lot of respect."
Forging Ahead
February 2 was the one-month anniversary of the shop's opening, and business continues to boom. Roach says that they have finally arrived.
The destination is exactly where the four had hoped to land, and they are eager to grow with the community of Fairfax. Hopes and goals for the future range from possibly supporting a little league team to offering drawing or painting classes, muses Díaz Sepúlveda, who adds that he has two little ones of his own. "We hope to create a good environment for the community, and to be accepted," he says.
As a first-time business owner, Roach does acknowledge that he and Gonzalez will have to balance the analytical and artistic sides of their brains, and with longtime businesses like the Sleeping Lady shuttering its doors in town, growing business and gaining clientele will remain a primary goal for the first year.
"Businesses are going to come and go," Roach says. "It's a little too early for us to say what will ultimately happen with us, but I believe we have a good product, the artwork speaks for itself and it's honest work. We're going to do the best we can.
"I think [the shop] is creating something," he continues. "It's keeping this town a little strange, a little uncertain, off-kilter, a little less mainstream. A little edgy—something a little edgy is perfect for this town. It's always been a funky town with strange people doing strange things. Artwork, music, all these things—it's got an amazing history of some badass motherf*****s—some serious rebels have been cruising in and out of this town for many, many years, and the shop just fits right into this place."
---
The Forge Tattoo, 1906 Sir Francis Drake Blvd., Fairfax; 415/419-5362; theforgetattoo.com; 11am-8pm; Facebook: The Forge Tattoo; Se habla Español.
---
Good hair day
Barber Phil Mills offers old-fashioned cuts and shaves
"Long hair don't care," Phil Mills says with a laugh, describing his look of choice. He has self-described "Marsha Brady hair," which is perfect for a full-time barber and part-time rocker.
The Arizona-born barber, who has been practicing for 17 years, is featured at The Forge—he's available for cuts, trims and shaves daily. While he specializes in cuts for men ("high-fade pompadours, badass flat tops, specialized mohawks," etc.), he adds that he will trim women's hair, just no styled cuts or blow-dries.
"It was September when I signed the petition to help these guys get this place and I was talking with [The Forge tattooing apprentice] Josh and we decided that it would be a good fit," Mills says. "Tattoo shops and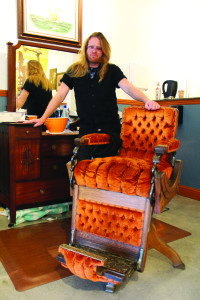 barber shops went hand-in-hand back in the day."
You can't miss him in the shop—He has a crushed-velvet orange 1891 vintage barber chair that he uses for his cuts and shaves. "That's part of the experience," he says with a smile.
"I offer the old-fashioned barber experience," Mills says. "I specialize in shaving first and foremost—that's kind of a lost art. A lot of barbers around here don't do it or won't do it—that's what sets me apart."
Hours: 11am-8pm, flexible by appointment; $42/haircut; $32/shave.