by Trent Anderson and David Templeton
Building a Tall Ship
So proclaims the curious but slightly inconspicuous sign perched just outside a massive, white, circus-like tent structure across from Marinship Park in Sausalito.
Inside is, well, a tall ship. Part of one, anyway.
That there would be a nautical vessel of some kind tucked away inside should come as no surprise to anyone. But unprepared visitors to the noisy, bustling construction site—alive with the sound of electric saws, hammering and the shouts of a team of carpenters and other workers—are surely expecting anything other than what is actually being built there.
The Matthew Turner, its massive, still-skeletal frame resembling the stripped carcass of a whale, is a traditional "tall ship," a rigged, two-masted wooden sailing vessel the likes of which is more common on the pages of a history book than tucked away under a circus tent in modern-day Sausalito. It's not a small ship, either. The deck alone will be 100 feet long, and have a 25-foot beam. The interior will include passenger and crew quarters with 38 berths. When finished, it will be the first wooden ship of its size and kind to be built in the San Francisco Bay Area in more than 100 years.
The ship's namesake—the late Matthew Turner—was a legendary 19th century seafarer, ship's captain and shipbuilder who built a total of 228 ships in his lifetime, 154 of them manufactured at the Matthew Turner shipyard in Benicia, right here in the Bay Area.
"He was easily the most prolific builder of his time," says Alan Olson, founder and executive director of Educational Tall Ship, the locally based nonprofit organization that is managing the construction and overseeing the financial end of the project. With 50 years of experience in maritime construction, engineering, restoration and sailing, Olson is uniquely suited for this $6.2 million project.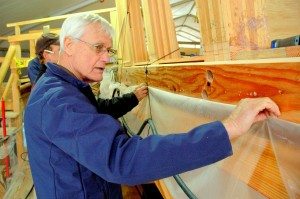 A lifelong sailor, he's built a fair number of ambitious projects on land and sea, from a scaled-down brigantine—another breed of tall ship, often distinguished from each other by the number and arrangement of sails—to an impressive Zen temple he designed and built in Northern California. Even in his dreams, Olson has felt a connection to the sea and vessels that crossed them.
"I was inspired at a young age," he says, "by early images and movies of sailing ships."
The mission of Educational Tall Ship is to first complete construction of the Matthew Turner—which began construction in 2013—and then to provide on-the-water and shore-based experiential education for students of all ages and school levels. Programs will include sailing instruction, classes in marine ecology and maritime history and programs aimed at encouraging teamwork and responsibility. It's a dynamic project, with rich educational opportunities throughout the entire construction process, and hopefully long after.
For now, a team of more than 150 active volunteers is working on a daily basis to complete the building, which is expected to continue for at least another two years. According to Olson, 32,000 hours of volunteer time have already been logged on the project. About a quarter of the work is done with paid staff, leaving three-quarters in the hands of a small army of craftspeople and laborers who just want to be part of an effort this rare and ambitious.
Earlier this year, Pacific Sun contributor David Templeton and former owner and producer of Media Group, Trent Anderson, sat down with Olson at his office just across from where the Matthew Turner is rising from the stuff of dreams into jaw-dropping reality.
*****************************************************************************************************
Trent Anderson: When I first walked in and looked at what you are creating in there, I couldn't believe it. What inspired you to build this kind of tall ship … in Sausalito?
Alan Olson: Well, it's not really an original idea. If you look around the country and around the world, there are cities and countries building tall ships that represent who they are. They build them for education and for youth experiences. The only thing that's original about what we're doing is that nobody has done it yet here in the San Francisco Bay Area, with all of its history, and all of its money and all of its beauty. With all of that going on around here, we started wondering, where's our tall ship?
So, way back in the early '90s, we put together a group of people, and we formed a nonprofit with the idea of building our own tall ship in the Bay Area. This was many years ago. We weren't able to pull it off. We weren't able to crack the funding nut at that time. So we set it aside. We postponed the idea of actually building the ship. I went off and did some sailing, actually.
David Templeton: When did you resurrect the idea of building your own tall ship?
Olson: It was 2002. During the time I was off doing other things, I kept thinking that someone else would come along who was smarter, or who had more resources and connections. It just seemed like such an obvious project for San Francisco.
Templeton: What's your background in relation to boats?
Olson: Well, I've always loved boating, and I've built some sailboats and other kinds of things. There are a few of the boats I've built [Pointing to some photographs of various vessels]. I once helped build a 150-foot catamaran down in Miami many years ago, but this thing outside is easily the biggest boat I've ever built. The catamaran was big, but it was just a big box tourist boat; but this is a real ship.
Anderson: From the plans and pictures you've created, I'm guessing it isn't going to be some ancient-looking ship, which is what some might expect.
Olson: You're right. It's not going to look too ancient. It's a late 19th century design. Ships like this were built in 1891. This design was probably the best that they had amongst the ships built for commercial use in the Pacific Ocean.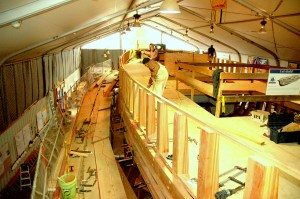 After that, they pretty much stopped building these kinds of sailing ships altogether. Everything went to steam and oil. But this was the epitome of the sailing ship era. Even clippers had stopped being built by then. I think the last clipper to be built was in 1875.
Anderson: Maybe it's just my experiences with the Living History Center, but from what I see out there under the tent, I just assumed the finished project was going to look more like a pirate ship. But this is very different.
Olson: [Laughing] Yes! No pirate ships! This is definitely not going to be a pirate ship! There'll be no cannons. We won't be dressing up like Johnny Depp.
But everybody walks in, takes a look at what we're building, and says, 'Pirate ship!' The so-called "Golden Age of Piracy" was back in the 1600s and 1700s.
This is something totally different. This is a fast, commercial trader of the late 19th century. For what it's worth, pirate ships were actually pretty slow. This one is not that. This design broke a lot of speed records in its time, and some of those records are still standing. One of Matthew Turner's boats made it to Tahiti in 21 days.
Templeton: Did Turner ever have a ship named after him?
Olson: He did, though it wasn't one he built himself. There was a ship named the Matthew Turner built in Tahiti. It was built by descendants of a company he built in Tahiti.
Anderson: Will the new Matthew Turner have an engine in it?
Olson: There will be two electric-drive propulsion motors. But the sails will be its primary power. Modern sail-makers love projects like this. They can make big sails with no problem. These sails will be a little different. They'll use a little softer material than Dacron. We might put together the sails here, ourselves, if we can find the space to do it.
Templeton: This project is primarily being funded by individual donations, isn't that right?
Olson: We've raised just about 75 percent of the money we need to complete the building of the ship. We just had a nice pledge come in recently, and a few more hanging in the balance.
Templeton: So, what's your sales pitch when asking someone to donate to this kind of project? What's the hook?
Olson: Well, most of our donors—not all of them, but most of them—come from a boating background. Some of them have retired from it, but they remember how important boating and sailing was to them. They can see the value of young people having the chance to get out on a ship like this. Some of them are focused on the educational part of it. Most of them just want to be part of something that promotes and preserves a tradition that is important to them. If they were golfers, they'd probably want kids to learn something about golfing.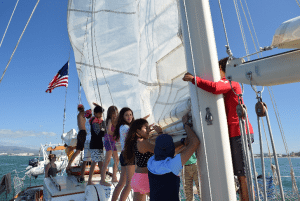 We want to make sure kids have the opportunity to be sailors, or at least to experience sailing. So, that's primarily it. Though some donors come in from the historical point of view. They want to keep these kinds of sailing vessels alive. But for most of us, it's all about the experience of being out on a boat like this. There's just nothing like it.
Templeton: And then, there's the experience of getting to be part of building a boat like this. It's one thing to see a tall ship on the water. We don't get many chances to see a ship of this kind in the process of being put together from scratch.
Olson: It is amazing, isn't it? People are blown away. When it's all said and done, if you don't see the bones of the thing, the structure, the way it all fits together, you don't really know what a boat like this is. It's fascinating to a lot of people. It certainly is to me. I'm a builder. I want to know how a thing is put together. When I go out on a boat, I start looking around, under the bilge, everywhere, because I'm just interested in how a thing is made.
There are a lot of people who feel that way. Most of the people out there working on this right now come from a boating background, or maybe a carpentry background, or are very skilled builders in some way. Getting to be part of a project like this, a ship built of wood—it's sort of the Holy Grail of carpentry.
If you are a carpenter, if you want to make something really one-of-a-kind, this is probably at the top of the line in terms of the complication of the project, the shapes, the lines and the use of materials.
Anderson: Where will the completed ship be docked?
Olson: It will be docked at the Bay Model pier. But we've got a long way to go yet. We'll start planking soon—that's the skin of the boat—but that will take a while, and we'll leave a section of it unplanked for a long time, so people can see what the inside looks like, and so builders can pass things in and out to each other.
I know it looks impressive now, with just the frame of the boat in place, but even with the planking on, I promise you, it will be a pretty imposing sight.
Anderson: The general purpose of this, then, is to give kids the experience of sailing on a tall ship?
Olson: Yes. It's about young people and their experience. Not only the experience of sailing, but just being on the water. What it means to work together, as a team. But also—and this is a very important part of why we're doing this—to get kids tuned into the ecology of the ocean, to water and what's going on with it.
Most people, kids or otherwise, think the ocean is just this big thing that's out there. Maybe they know fish come out of it, but they don't know much more. Our hope is that by falling in love with the ocean, it will inspire them to become better stewards of the ocean, and of the entire planet.
Ask Trent and David if they're lost at sea at [email protected].
SEE HISTORY COME ALIVE: Check out the progress of the Matthew Turner Mondays through Saturdays from 8am to 4pm at 2330 Marinship Way, Sausalito. To learn more about the Educational Tall Ship, or to donate to the project, call 415/886-4973 or visit educationaltallship.org.