Sponsored content by One-o-One
To understand the design aesthetics of Chris Bryant, the owner of One-o-One, fashionistas need look no farther than the website, 101Healdsburg.com.
There, Chris and a friend model new fall and winter arrivals to the chic Healdsburg boutique. They're twirling, dancing, posing and having fun in front of the camera wearing stylish prints, subdued tones and lush fabrics. Welcome to Chris' latest finds for the season.
In an interview from her Cazadero home between trips to New York Fashion Week and the Prêt a Porter in Paris, Chris remains as enthusiastic about her passion for fashion as the day she opened her first shop in 1978.
A self-confessed former hippie who attended UC Santa Cruz, Chris got her start stitching leather purses for craft fairs when she worked at a tannery selling leather. Those in-demand accessories became the backbone of Out of Hand, a store she opened in October 1978 in Duncans Mills and closed in Healdsburg in 2008. Chris made everything there herself, out of hand. "I used to make everything, all my own clothes. I made clothes for plays and friends. Then we had children, and that was the end of making everything for the shop" she laughed.
Around her 50th birthday in 2002, as life settled a bit, Chris contemplated a high-end boutique like One-o-One to showcase independent European clothing designers. She and her husband, Bill Bryant, refurbished the space at 101 Plaza Street, to create the exclusive women's store Chris had been dreaming of. She opened One-o-One in November 2002, right next door to their mens' store, Outlander.
Today, One-o-One brings in unique treasures with a bit of quirk and whimsy by designers from around the world. Each purveyor is a small designer, and many are women who not only design their lines, but also run their own small businesses. "They are all someone's vision of interesting clothes for interesting people and also someone whose vision I appreciate and agree with," Chris said, singling out Pal Offner, a designer collaboration between two young German women. "There are few young women designers that really have a vision like mine, making clothes that are a little unusual, a little eccentric."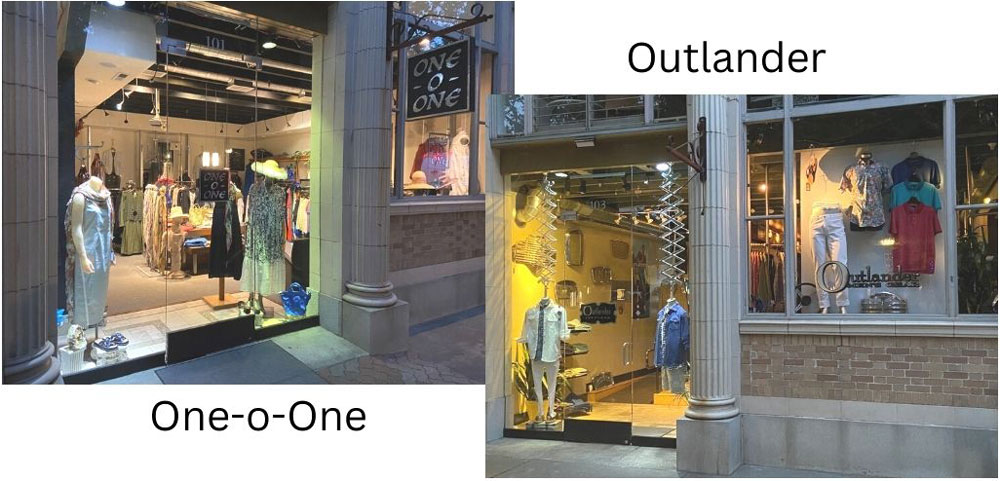 What's on the racks at One-o-One? "Not trendy clothes at all. They are all stylish clothes that stay nice for years," said Chris, who eschews fast fashion in favor of fewer, nicer and pricier garments to hold onto. "Nothing here is going to be thrown away next year."
Chris is drawn to clothes that make her feel comfortable, and this fashion maven decidedly will not tolerate discomfort. "None of my clothes go with high heels–that's what I mean," she said. "I want people to smile when they look at my clothes and think how nice I look." Chris, who prefers fashion that enhances her own personality and style, said, "I want to show confidence, and I look for a sense of play in my clothes. I don't like them to be super strict or restrictive. I like them loose and playful." You won't find intense colors or wild prints in Chris' collection, because she doesn't want to be wearing an "art piece." Instead, she views herself more like an artist using her clothed body as an everyday canvas for fashion that will endure the test of time.
On the buying front, this savvy retailer goes for what she likes and follows a simple philosophy: If she likes it, she buys it, and if she loves it, she buys a lot.
Over the years, Chris has developed a loyal base of customers, catering to Healdsburg locals and regional customers from Ukiah to the Bay Area, but also attracting shoppers from all over the country.
One annual event that regular and new customers alike adore–and very much look forward to–is One-o-One's annual New Year's Day sale, when the merchandise is marked down to half price. It's Chris' way of putting some truly expensive items into a more reasonable realm. "It's quite a big deal," she said.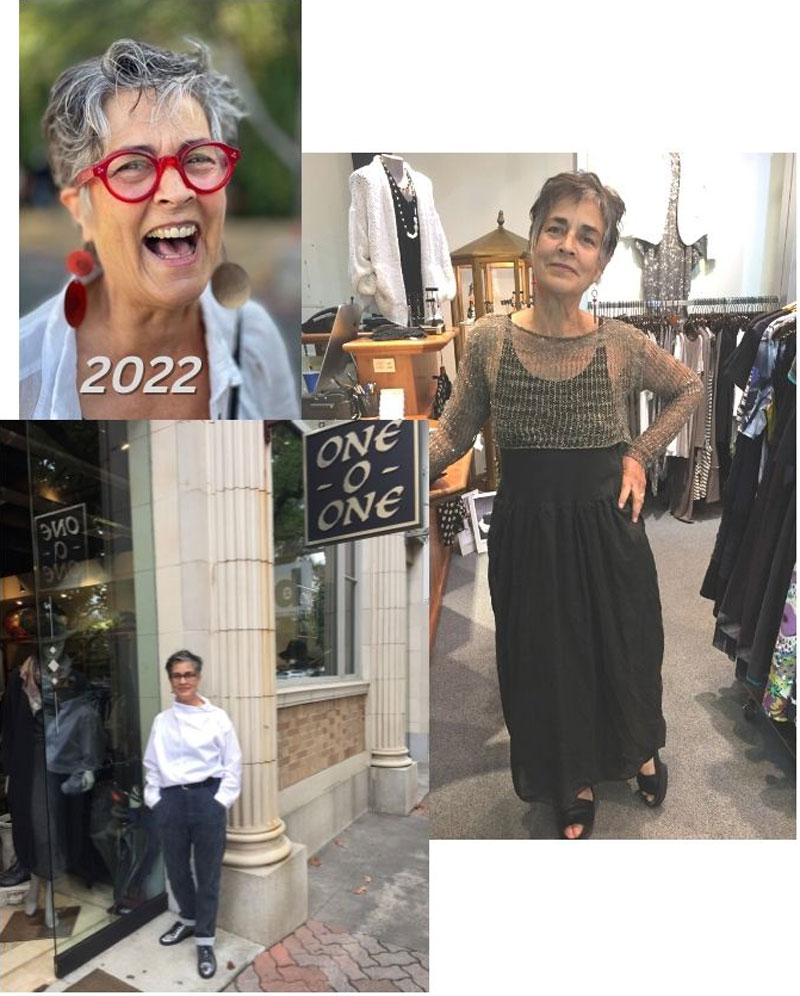 Chris said she's been lucky to have Bill Bryant as her partner in life and business, summing up their relationship this way: "He is the starter in our lives, and I'm the finisher. You need both."
While Chris has been searching the world over for unusual and unique designers and lines for decades, she hasn't tired of it one bit. In fact, she relishes her time alone at the annual apparel and fashion trade shows where she can do as she wishes and go where her eye and heart tug her.
It could be that even after 44 years in business in Sonoma County, Chris doesn't consider what she is doing to be work at all.
"I am proud to say I have not had a real job since 1974," she said—just before heading off on her 39th buying trip to Paris.
One-o-One, 101 Plaza St., Healdsburg, CA, 707-433-2800, 101Healdsburg.com, open daily 10 a.m. to 6 p.m.