by Molly Oleson
"You're tall—watch your head," warns Jennifer Carden, as she leads me into the tiny Aristocrat camper that's parked on her front lawn in Novato, and which has been gutted, renovated, painted a sparkly bluish-green with a tangerine-colored door and dubbed "Teal Thunder."
Inside, small works of art—all food-themed—line the clean white walls.
"We're calling it a mini gallery," Carden says proudly of the space, which is the new home of Super Fresh Food Art Gallery—known as the world's first contemporary art gallery dedicated to art about food.
Carden, director of the gallery, co-owns the successful business with her husband, Matthew Carden—well-known for his photographs that combine food with popular culture to create images of small figurines floating on seas made of cake frosting, hiking across giant strawberries or scuba diving inside wine glasses.
On top of running the gallery, Jennifer, a chef, cookbook author and food stylist, styles the food for her husband's photos. "He'll say, 'I need a cake that looks like an ocean,'" she says with a laugh. "Or, 'I need a popsicle that looks like a 6.'"
The two artists, who have collaborated on numerous books together and have "always been interested in the food world," merged their interests to create the gallery, which was located on Grant Avenue in downtown Novato until a three-year lease ran out in April. A love of campers, and an idea to move the artwork more into the virtual world, led to the small version of Super Fresh—which gets its name from something that's "really cool." "The art is super, and it's all fresh and it's food, and it's something totally different and new," Jennifer says.
In addition to Matthew's work, the art of around 10 artists, all with different styles and perspectives on food, is represented. There are pastel-colored paintings of desserts by Pat Doherty, detailed drawings by Beverly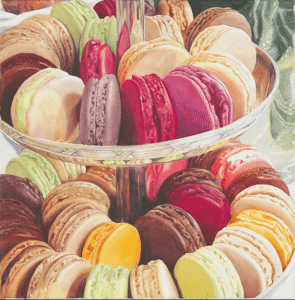 Shipko of half-eaten Oreos and vibrant mosaics of Twinkies by Jim Bachor. "We want stuff that's really pop-y," Jennifer says, noting that she's in the process of adding more artists and expanding the business to include "satellite galleries" at places like winery tasting rooms in Sonoma.
Art about food prompts conversations about food culture. "It depends on what age you are, but like my generation—we grew up with a lot of junk food, and a lot of fast food," Jennifer says. "It wasn't a big deal to have a box of Slim Jims and a box of Ho Hos in your house." Now, she says, living down the street from a grocery store that only carries food produced within a 30-mile radius, those habits are not so common.
"There's a lot of judgment around food," she says of living near the California coast, after growing up in upstate New York. "And so I think it's really fun that I can have artists who can make a mosaic and a painting and a photograph of a Twinkie, and it's OK, you know?! You can put that on your wall. If you want to judge me for having a Twinkie on my wall, fine!" she says, in between giggles. "Go ahead! But that's what I ate growing up, you know?"
The food-themed art also stirs up memories of eating the food, and a specific time and place. "It's interesting," Jennifer continues, "because my husband—a lot of his work is based on nostalgia—what we remember. So a lot of his work has to do with fast food, junk food, sugar—all that stuff. Because it's your comfort; because if that's how you grew up, that's what you remember, right?"
It's entertaining for Jennifer to see what foods her artists are drawn to, and what foods viewers flock to. "People have all these different feelings about food," she says. "The little white squiggle on the chocolate frosting [of a Hostess cupcake]—everybody knows that. And so I think most of our clients buy art for the nostalgia of it—of what's in the art."
The mission of Super Fresh Food Art Gallery has always been to inspire people, Jennifer says. "I think we've definitely met our goal. We like talking to people and saying, 'What would you like to do if you could do anything?'"
When they tell her, she encourages them to do it. "And I think with this," she says, pointing to the mini gallery at her "carnival-like home," "This is so crazy to park a sparkly blue camper on your front yard. I just think, if that doesn't inspire people to just do something crazy, then we've got it all wrong!"
"There are many versions of your own dream," she says. "I feel like you can create something out of anything."
Text Jennifer at 415/377-7212 to stop by the gallery, or visit superfreshgallery.com. And check out Matthew Carden's photograph on our cover this week.