Hero
The descendants of Camillo Ynitia (the last chief of the Southern Marin Coast Miwok), are working to keep the tribe's memory alive, as distinct tribes of indigenous people are blurred into generic tribal groupings. Let's help them honor their ancestors,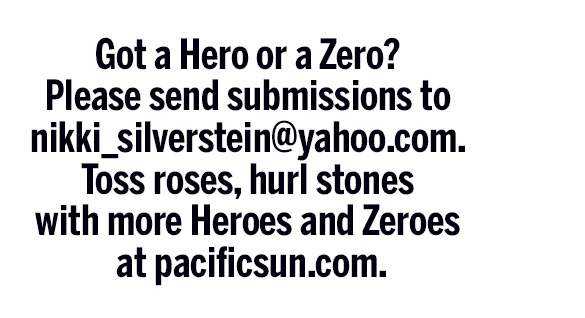 who lived on this land for thousands of years, with a striking bronze sculpture created by celebrated Bay Area sculptor Will Pettee. Fundraising efforts are underway to produce a highly-detailed maquette (a small model) statue of a Miwok family, which will be used to promote the creation of the life-size bronze monument. Be a hero and donate at gofundme.com. Search for Coast Miwok monument.
Zero
A duo of brainless bandits took a right turn into the Panda Express drive-thru and found a shortcut to the slammer. It all began when San Francisco police phoned the Marin County Sheriff's Office to report a tracking device from a stolen U-Haul was pinging near the Target in Marin City last Wednesday morning. Deputies discovered the unoccupied van backed into a space in front of the store. To prevent the suspects from escaping in the vehicle, the deputies placed spike strips in front of its tires.
While keeping the van under surveillance, they contacted Target and learned that security was watching two men in the store who were acting suspiciously. About an hour later, the pair skedaddled from the store, hopped in the van and drove away. So much for the spike strips. Deputies pursued them across the shopping center parking lot to the Panda Express drive-thru, and then observed the Mensa members drive over a berm and into a fence. After a short foot chase, both subjects were arrested. Stolen merchandise from Target was later found in the van.
Justin Wade Keller, 24, of San Francisco, and Brandon Anthony Ramirez, 24, of Concord, were booked into Marin County jail on charges of conspiracy, vehicle theft, shoplifting, possession of stolen property, resisting a public officer and more bad acts.
email: [email protected]