Newspapers from San Francisco to Los Angeles have recently reported on issues with Urban Alchemy, a nonprofit that manages homeless encampments, including the city-sanctioned camp in Sausalito.
Criticisms of Urban Alchemy run the gamut, from being a "mercenary" organization to inadequate staff training. At least six lawsuits have been filed against Urban Alchemy since it was founded in 2018. Last year, more than 450 employees filed a potential class action suit alleging labor violations. In addition, three homeless individuals are suing the organization for civil rights violations by Urban Alchemy employees.
Most of Urban Alchemy's 1,100 employees "have served life sentences in prison," but did "serious self-work to get out from under" their incarceration, according to its website. Urban Alchemy asserts that "spending 20+ years in a confined environment" teaches instincts that can't be learned in a classroom, making their "practitioners" uniquely qualified to work with homeless people.
The residents of the Sausalito homeless encampment emphatically disagree about the staff's qualifications. Fearing retaliation, the campers have remained silent for months about serious allegations against Urban Alchemy employees. Until now.
Some Urban Alchemy staff members did drugs on the job and sexually exploited homeless females, according to more than 10 current and past residents of the Sausalito camp who spoke to the Pacific Sun.
Urban Alchemy made their first contact with Sausalito's homeless residents on Feb. 13, 2021, about two months after the first tent was pitched, according to Robbie Powelson, a former Sausalito camper and president of the Marin Homeless Union. Ian Clark-Johnson and "Loving" Lou Hammonds told the campers they came to help and make them more comfortable. Although the pair mentioned they were with Urban Alchemy, Powelson said the men gave the impression they were homeless advocates from San Francisco. At the time, Powelson and the other campers had no idea Clark-Johnson and Hammonds were high-level managers in an organization retained by the City of Sausalito.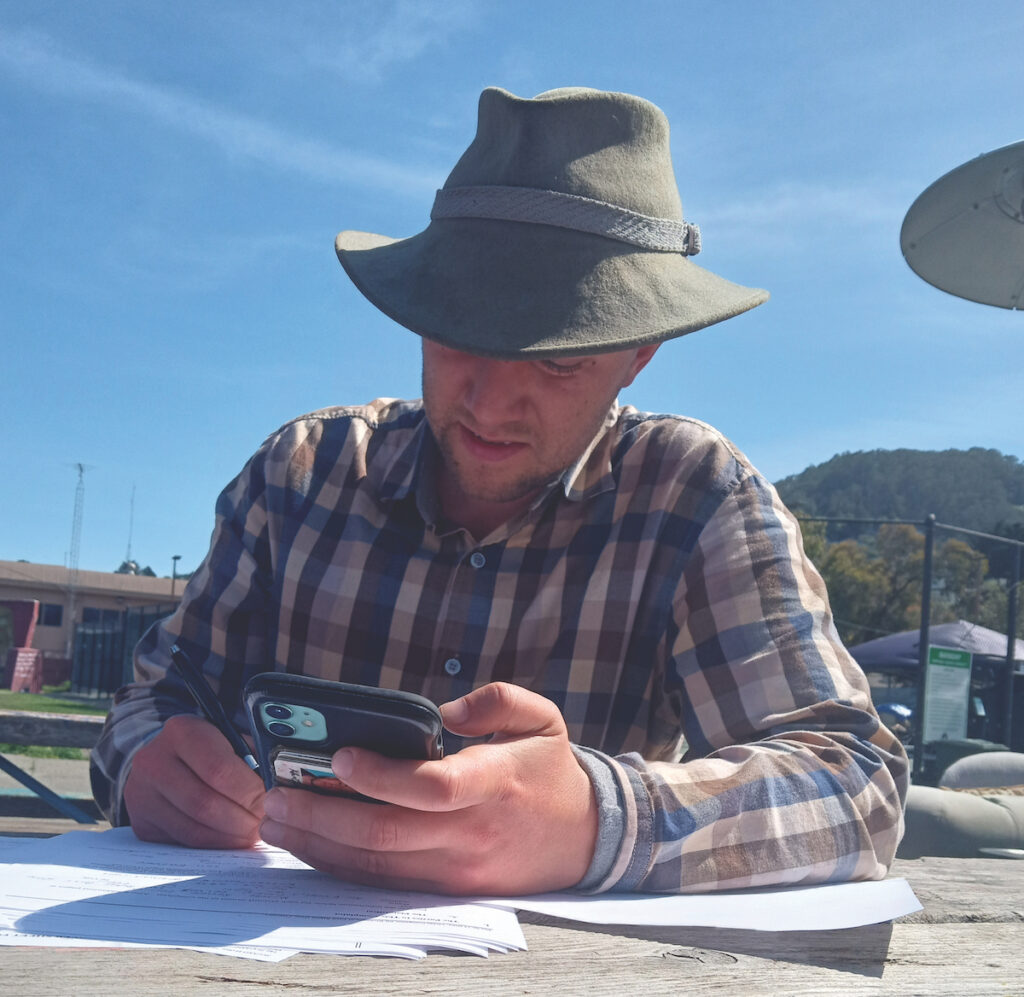 The city formally announced its relationship with Urban Alchemy in a Feb. 16, 2021 online statement.
"They were salesmen, you know," Powelson said. "Very charismatic. They never said they were working for the city. I looked on their website and it was hella vague. We didn't know who they were."
Clark-Johnson and Hammonds came back several times. They helped pick up trash, brought pizza and smoked concentrated marijuana oil out in the open with the homeless residents, according to Powelson.
After Clark-Johnson, director of residential services, and Hammonds, chief of training, stopped coming to the camp on a regular basis, two Urban Alchemy employees, Mike and Joseph, whose last names are unknown, took over.
From February through December 2021, the City of Sausalito entered into several contracts with Uban Alchemy. One reason the city cited for retaining Urban Alchemy was the amount of time the Sausalito police were spending at the camp.
Throughout much of that period, Mike and Joseph oversaw the camp and helped move the encampment from downtown Sausalito to Marinship Park last June. Most campers reported few problems with Mike and Joseph.
"I like them," Ken Kennedy, a camper who is in the process of leaving the Sausalito encampment, said. "Joseph gave me a quarter ounce of weed. He just gave it to me. He wasn't trying to sell it."
Mike drank a beer while working, according to Kennedy. He then clocked out, came back into the camp, and "hung out."
However, Mike was later moved to another Urban Alchemy location after being caught on cell phone video calling a woman at the Sausalito encampment a "bitch" and a "whore."
In December 2021, the Sausalito City Council approved a $463,620 contract with Urban Alchemy for around the clock site management services, from January through June 2022, at the Marinship encampment. The agreement calls for Urban Alchemy to provide "positive engagements" with the campers, de-escalation interventions and custodial services.
The current contract expires on June 25. Urban Alchemy notified the city on May 9 that they wouldn't be entering a new agreement, according to Urban Alchemy's media representative.
"Once the city increased the contract, we got all these new Urban Alchemy people coming and going," Powelson said. "They don't have name tags on, and some were pretty confrontational. There was a lot more anonymity and a lot more opportunity for exploitation. It turned dark."
Four homeless people told the Pacific Sun about Urban Alchemy employees who have brought methamphetamine into the encampment for their own use or to share with campers.
"I did a line with an Urban Alchemy guy," Sarah Gossage, a current encampment resident, said. "He asked if I want to do a line and I said sure. He handed me a rolled up 20-dollar bill with crushed up crystal meth. After I was done, he let me keep the 20 dollars."
Gossage gave the employee's name off the record because she said he's the "only Alchemy person I could trust."
Aaron Kelly, a current resident of the camp, said he did crystal meth with the same Urban Alchemy employee, who no longer works at the Sausalito encampment.
"He wanted information about what's going on at the camp," Kelly said. "I can attest to the fact the meth was real."
Kennedy said he knows two Urban Alchemy practitioners who brought meth into the camp, although neither works at the Sausalito location any longer. Steveo Cook, an Urban Alchemy staff member, told Kennedy he could "bring in the really good meth."
"Steveo would drop off drugs to a woman at the camp and ask campers to find him drugs," Phil Deschamps, a current encampment resident, said.
Drugs aren't Cook's only problem, according to the campers who have made other serious allegations against the employee. Based on Cook's Facebook profile, it appears he still works at Urban Alchemy; however, he is no longer on duty in the Sausalito encampment.
"A UA employee fucked [a female camper] in the tent next to the tent I'm in," Deschamps said. "I heard it happening. Steveo. I was going to hit him, but UA escorted him off the property."
Kennedy claims he watched Cook take an intoxicated female camper, who was stumbling when she walked, out of the camp. Cook was going to take her to the liquor store until Kennedy intervened and brought the woman back into the encampment.
The Pacific Sun contacted Cook through Facebook for comment on the allegations. Within seconds, he blocked all further communication.
A female camper spoke about her intimate involvement with Josh, an Urban Alchemy supervisor who worked at the camp until recently. The woman said she was at a vulnerable place in her life when she began "making out" with Josh in the bushes near the encampment.
"I really liked him," the woman, who requested anonymity due to privacy concerns, said. "It seemed like he was looking out for me."
The situation came to a screeching halt after another Urban Alchemy employee told her Josh was taking time off work because he was getting married that weekend.
"I was in a vulnerable situation," she said. "Josh treated me like trash. That was predatory…. With this setup at the camp, you have males preying on vulnerable women."
Josh, too, is frequently mentioned by the campers. They allege he is a bully.
A video shot earlier this year by Deschamps shows Josh yelling at Kennedy. According to Deschamps, he heard Josh threatening Kennedy for a few minutes before he was able to turn on the video recorder on his phone.
"I'm going to fuck you up," Josh can be heard shouting in the first second of the video.
(Watch the video here.)
The police eventually arrived at the camp in response to the verbal altercation, although it's not clear who called them. The woman who spent time in the bushes with Josh had witnessed the incident and explained to the police what had occurred.
"She's just mad because I won't let her suck my dick," Josh said to the police, according to two campers.
Some campers were offended by several of Josh's numerous tattoos, which include white supremacist symbols. On Josh's right leg, an "88" tattoo is clearly visible, which stands for "Heil Hitler," according to the Anti-Defamation League, as "H" is the eighth letter of the alphabet. The number "18" on Josh's left arm refers to "Adolph Hitler," with the "1" corresponding to the A and the "8" corresponding to the H. It appears that his left leg has a tattoo of the Iron Cross, which was a symbol used by the Nazis, according to the ADL.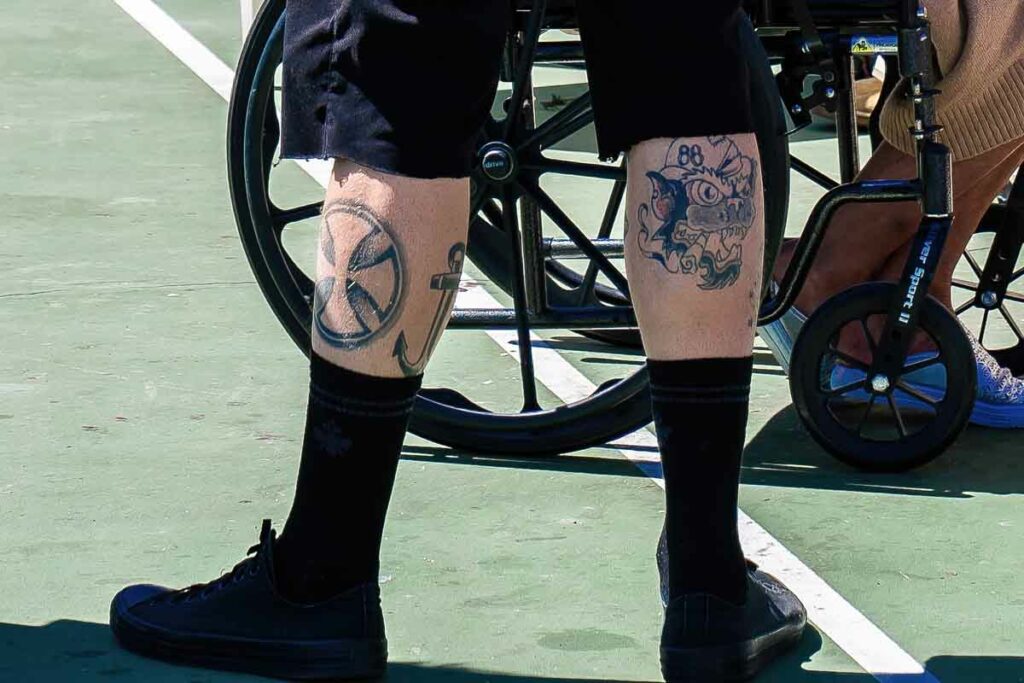 Josh, too, is no longer working in Sausalito. Gossage, a current camper, said Josh visited the camp within the last couple of weeks and told her that he is working for Urban Alchemy at a San Francisco location.
Michael Clinebell, senior director of strategic initiatives at AMF Media Group, a public relations and crisis communications firm, is the spokesperson for Urban Alchemy. Through emails, Clinebell detailed Urban Alchemy's policies about employee drug use on the job and sex with campers.
"UA has a 'no drugs or alcohol' policy while at work, and that includes a prohibition on showing up to work under the influence of those substances," Clinebell wrote. "Additionally, UA has a policy that requires practitioners to 'maintain workplace boundaries,' and that includes 'no fraternization,' such as not hanging out at the work site while not on duty."
Clinebell said that Urban Alchemy hasn't received any reports of staff using drugs at the Sausalito camp, yet he concedes someone has "a memory" of a person reporting at a Sausalito City Council meeting that Urban Alchemy staff were "smoking weed."
"…that person was later asked by a UA director for details on the remark, and no details were provided," Clinebell wrote.
The person in question could be Powelson. During the public comment period of a Dec. 7 city council meeting, he alleged that Urban Alchemy staff used drugs on the job. Powelson denies that anyone from Urban Alchemy requested more information.
"Ian came up to me and said, 'Why did you throw us under the bus with that?'" Powelson said, referring to Clark-Johnson, Urban Alchemy's residential services director. Powelson claims Clark-Johnson was one of the two men in upper management who smoked concentrated marijuana oil with the campers.
Powelson said he reported drug use by Urban Alchemy staff to Josh, who was a shift supervisor. Josh responded that he would take care of it.
Urban Alchemy also prohibits predatory sexual behavior because of the "power dynamics," according to Clinebell. And, it's always a "firing offense."
"There's no such thing as consent here," Clinebell wrote. "We teach that in our training."
After the Pacific Sun revealed the names of Urban Alchemy staff who the campers allege participated in drug use and sexual predation, Clinebell responded with an email to two of the paper's editors.
"In short, we'll be handing this matter to our attorneys if the story names any UA employee who has been alleged to have committed any of the infractions she [Silverstein] lists," Clinebell wrote.
However, Clinebell sent another email, stating that Urban Alchemy has investigated the allegations and did not find "any of the misconduct allegations to be true."
Sausalito Mayor Janelle Kellman didn't respond to the Pacific Sun's request for comment, nor did the rest of the city council members.
With Urban Alchemy's contract ending this month and their denial of the allegations, it appears the trauma the campers say was caused by the employees will not be addressed. Camp residents want to move on, hopefully to housing opportunities with the County of Marin's assistance. That, however, is a slow process, and the county has a long waiting list.