Fungus is all around, and it's time to celebrate mushrooms and the men and women who know how to hunt, identify and gather them, at Marin's third annual Fungus Festival.
This annual event is hosted by the Mycological Society of Marin (MycoMarin) and will take place on Jan. 21 from 10am to 5pm at the Mill Valley Community Center, located at 180 Camino Alto. The festival is open to the public with the hope of increasing local interest and awareness in mushrooms and fungi and to bolster membership in the organization. Designed to appeal to people of all ages, it combines entertainment and education.
The Fungus Festival will present a variety of booths, with 20-plus vendors showcasing their mushroom and fungi-related merchandise, such as mushroom kits, cookbooks, forage guides, textiles, apparel, mycocentric food and more. Attendees of the Fungus Festival can expect to learn all about Bay Area mushrooms, from what can be foraged to how to prepare, store and cook them.
Also featured will be a mushroom habitat exhibit and a cooking demonstration with a celebrity guest chef. The speaker lineup for the festival is stacked high with noted authors and experts in the field of mycology, and there will even be a guest appearance by truffle-hunting dogs, visiting (with their owner) all the way from Oregon. The mushroom display table will showcase hundreds of labeled mushroom species, and a mushroom identification table will be available for those who attend the festival to bring in their own mushrooms for identification assistance.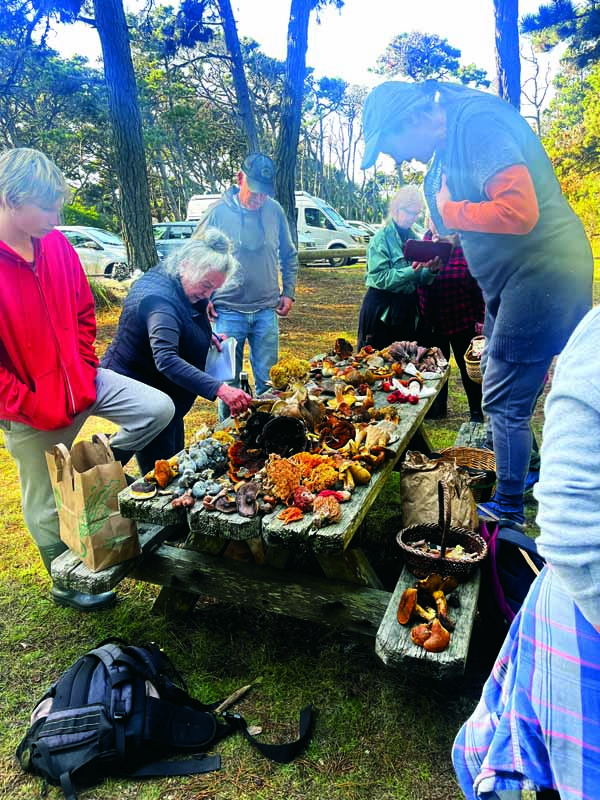 "I copied the idea for the Fungus Festival from San Francisco, where they have a fungus fair every year that's been going for 50-ish years," explained founder and current president of MycoMarin, Kevin Sadlier. "I used to volunteer for the one in the city, and since Marin didn't have a fungus fair and because it's a really fun event, I thought Marin County deserved one."
MycoMarin is a volunteer-run 5013C nonprofit organization, the mission of which is to promote the understanding, protection and enjoyment of mushrooms and fungi to the people of Marin County. The organization was established in 2015 and has since amassed a 200 to 300-person membership.
Sadlier, also the owner of Green Jeans Garden Supply in Mill Valley and chair of Marin County's Integrated Pest Management (IPM) Commission, began his career not in plants and fungi, but as a chef who worked his way up from dishwashing to become an executive chef in just 12 years.
"A young man's game is cooking—it's very stressful, and I always gardened as a hobby my whole life, and I decided to just reverse roles and cook as a hobby and garden professionally," said Sadlier. "So, I took a job at Sloat Garden Center, clawed my way to management and decided to open my own store. I opened Green Jeans 26 years ago in March with my wife, Xander Wessells. I hired Xander almost 30 years ago, and now it feels like I work for her."
After taking a local mushroom identification class with Dr. Bob West 20 years ago, Sadlier set out to learn more about mushrooms. The more he learned, the more he realized how much he didn't know, and it opened the door to a fascinating topic, as well as the pursuit of culinary mushrooms. As an ex-chef, Sadlier understood how to treat a wild mushroom, and he also knew just how expensive they were. He became determined to learn how to find good edible mushrooms.
"So I became really obsessed, and back then before we had children and the economy was good, I was able to basically hunt mushrooms almost all the time," said Sadlier. "I had a routine where I would hunt mushrooms year-round. One year, Xander sat me down and told me I'd spent more time in a sleeping bag than in my own bed, and I realized she was right.
"My game is I like to trade with restaurants where I can't afford to eat, so I do trade with a few different restaurants. I also dry and freeze a lot of mushrooms because we use them for the Fungus Festival," he continued.
Sadlier volunteered for many years for the Mycological Society of San Francisco, where he attended events and meetings. But, as he grew busier with his business and personal pursuits, the commute to the city became a burden, and he quit working with the Mycological Society of San Francisco and almost immediately regretted the decision.
"At the same time, I realized there was a great Mycological Society in Sonoma and the East Bay, but Marin didn't have one, and that's why I started MycoMarin, because I still wanted to be involved in a mushroom society," explained Sadlier. "Marin is fantastic for mushroom hunting and very rich in culinary mushrooms. Unfortunately, mushroom hunting is off limits in many of the public areas in Marin, though you can legally hunt in Point Reyes."
Should one desire to delve into the complex hobby of mushroom hunting, they should most certainly begin under the tutelage of an expert forager. Not only is mushroom hunting and identification complex, but it also can be dangerous, as there are toxic, psychedelic and potentially deadly look-alike varieties of mushrooms that only those with the proper experience and training can identify. So, before waltzing into the woods and eating the first mushroom visible, one could bring it instead for identification to this year's Fungus Festival. Better yet, one may join MycoMarin and learn from the masters how it's done.
"We want to educate the public," said Sadlier. "The main thing we encourage people to do is to get outside and get off your phone and off the computer to learn about mushrooms—it'll take you outside. The magic is it brings out your hunter/gatherer instincts that are buried deep inside of all of us…it's a complete process; you're outside hunting for prey, and you find it and process it and eat it. It's a complete process, and that is something that is, in and of itself, very satisfying."
MycoMarin offers four levels of membership for those interested in a foray into local fungus foraging, and the board of directors boasts passionate experts in the foraging field.
The Fungus Festival is open to all ages, and tickets may be purchased online or at the door. Children aged 18 and under may buy tickets for $5, members (as always) will pay $10 and general adult admission tickets bought at the door are $20. For more information, one may visit the website at mycomarin.org or send an email to [email protected].