Marin County District Attorney Lori Frugoli announced last week that she won't file charges against photojournalist Jeremy Portje, but documents reveal a disturbing narrative about the logic Sausalito police used to seize Portje's equipment and obtain a search warrant to electronically rummage through his camera, memory cards and cell phone.
Furthermore, due to conflicting statements from the DA and the police, it remains unclear whether law enforcement officials actually searched Portje's equipment. Media coverage and letters from advocates drew attention to the legal protections Portje receives as a journalist working on a documentary about homelessness. State and federal laws prohibit the use of a search warrant to acquire a journalist's unpublished materials.
Frugoli seems to be distancing herself from the legal concerns raised in the wake of the arrest. For instance, Frugoli's public statement did not acknowledge Portje's status as a journalist, instead referring to him as "a man" who the Sausalito Police Department said "injured one of its officers with a video camera." To explain why she wasn't pushing the case forward, Frugoli simply stated that the burden of proof necessary to make a case was not met.
Two witnesses told the Pacific Sun that Sgt. Thomas Georges pulled on Portje's camera, accidentally hitting himself in the face with the equipment. Georges reacted by punching Portje and placing him under arrest, according to the eyewitnesses.
The police affidavit, a sworn statement used to establish probable cause for a search warrant, tells a different story, which began on Nov. 30, when Portje, 43, was arrested while he filmed police at Marinship Park, the site of a city-sanctioned homeless encampment. 
In written accounts included in the affidavit, police allege Portje intentionally hit Sgt. Thomas Georges in the face with a camera during a confrontation. When trying to control Portje, Georges grabbed Portje's head, hair and torso. Two other officers assisted Georges in arresting Portje and seizing his equipment as evidence. Later that evening, Portje was booked into the Marin County Jail on suspicion of two misdemeanor counts of battery on a peace officer and a felony count for obstructing an executive officer.
Read the affidavit 

here

.
The affidavit claims Portje isn't a "true, objective journalist," seemingly in an effort to skirt the California journalist shield laws. Interestingly, Nick White, the officer who doesn't consider Portje a "true" journalist, is on the DA's Brady list, which is the prosecutor's watch list of officers with credibility issues.
The document also alleges Portje conspired with others "to instigate a conflict with officers" at Marinship Park on Nov. 30, merely because "Portje was talking on his phone during the incident and while filming."
David Snyder, an attorney and executive director of the First Amendment Coalition, a press freedom advocacy group, sent Sausalito Police Chief John Rohrbacher and Frugoli a letter on Dec. 7 stating that federal and state laws prohibit the use of search warrants to obtain journalists' unpublished materials.
Despite Snyder's warning, two days later, a Sausalito police detective presented the affidavit to Marin County Judge Mark Talamantes to request a search warrant for Portje's equipment.
"I will say that our detective's affidavit for a search warrant was reviewed by the District Attorney's Office and signed by a Marin County Judge," Rohrbacher wrote in an email to the Pacific Sun on Dec. 17.
Frugoli declined to comment on whether someone from her office reviewed the affidavit prior to submitting it to the judge.
Indeed, Talamantes issued the search warrant. Portje was informed about it in a Dec. 13 letter from the detective, which declared Portje's devices had been searched by peace officers of the Sausalito Police Department.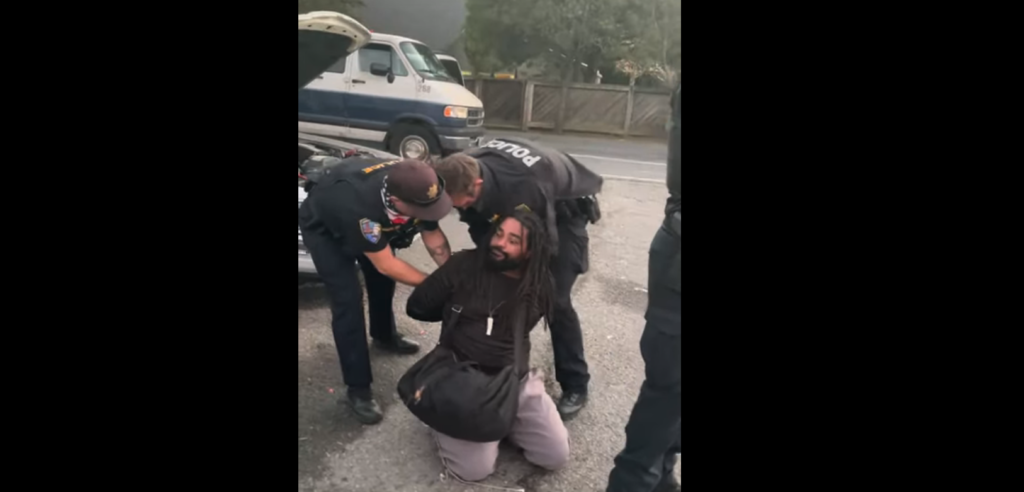 On Friday, Dec. 17, Frugoli canceled Portje's arraignment scheduled for the following Monday. According to Charles Dresow, Portje's attorney, Frugoli said the delay was due to a pending investigation.
Dresow sent a letter to Frugoli on Dec. 20 to inform her that he was seeking a court order to quash, or void, the search warrant. The materials listed in the search warrant are protected under state and federal laws, as well as the U.S. Constitution and the California Constitution, Dresow stated in the letter.
The following day, Frugoli responded that the evidence had not been reviewed and that no action regarding the evidence will be taken until further notice from her office. Attached to Frugoli's letter was a memo from an investigator at the Northern California Computer Crimes Task Force indicating the contents of the cell phone had been downloaded onto his computer, though no one had viewed the data from any of Portje's devices.
On Dec. 28, one day after returning to the office from a holiday break, Frugoli issued a public statement that she would not file charges against Portje. Chief Rohrbacher, disagreeing with the DA's decision, issued a statement of his own.
"I am disappointed to learn that the Marin County District Attorney has decided not to file charges against a man accused of striking a police officer with his camera," Rohrbacher said. "I am concerned that the DA's decision will encourage the continuing aggressive behavior of Jeremy Portje toward police."
In a follow-up email, Rohrbacher told the Pacific Sun that none of his officers viewed any data from Portje's devices, despite the statement in the detective's letter. The video from the body cameras worn by the officers during the confrontation and arrest will not be released by the police department, Rohrbacher said.
Oddly, Rohrbacher also indicated the search warrant had never been executed, which is strongly disputed by Dresow and Snyder from the First Amendment Coalition. Once the data from the cell phone was downloaded into an investigator's computer, the search warrant was executed, the attorneys said.
The motion to quash the search warrant was heard on Dec. 29 to ensure that Portje's equipment would be returned as soon as possible. During the hearing, it was agreed that Sausalito's in-house counsel and Dresow would draft a stipulation for Judge Geoffrey Howard to sign, ordering the return of Portje's equipment. Barring any roadblocks, that should be the end of Portje's criminal case.
It took exactly four weeks from Portje's arrest until the DA announced no charges would be filed. Portje could be considered lucky, as the DA can take up to three years to file charges in a felony case. But those 28 days created havoc in Portje's life, and though he's been cleared of all wrongdoing, the ordeal still isn't over, according to Dresow. Portje isn't able to work without his equipment. Even worse, Portje has received threats on social media. Dresow points to Rohrbacher's statements as part of the problem.
"The tone and content of the Chief's statement fails to recognize that Mr. Portje is innocent of the allegations against him," Dresow said. "The Chief's reckless comments are not supported by fact. The framing of a journalist as someone who behaves aggressively towards law enforcement provides encouragement to those who are hostile to Jeremy and have threatened him and his family. If the Chief falsely claims that the warrant wasn't executed, when his own detective swore under penalty of perjury that it was, how can he be trusted as to any fact related to the case? A reckless disregard for the truth exists in both [the] Chief's statements and the warrant affidavit."
Dresow remains mum on whether Portje will file a civil lawsuit against the City of Sausalito for violating his civil rights. San Francisco settled a similar case involving a journalist for $369,000 in 2020. Somehow, this doesn't seem like the end of Portje's story.