Sponsored content by Pabst Labs
Sometimes, you need more than a few measly milligrams to get your mind right. Although microdoses of weed are ideal for some cannabis consumers, many of us are looking to get properly medicated with something a bit more serious. In that case, only the highest-dose beverages will do.
It used to be that weed drinks with any kind of substantial dose tasted awful, but somewhere along the line, brands found a way to put out delicious-tasting beverages that you'd never know were infused with cannabis. Until that warm, tingly feeling kicks in. Before we dig into the most potent THC beverages of 2023, let's look at what's changed in the cannabis beverage market.
Catch a Liquid Buzz With Weed Drinks
Cannabis beverages are becoming increasingly popular as more and more people are choosing to catch a buzz with weed drinks instead of traditional alcohol. Or, for those that simply prefer a fast-acting drink as opposed to a long wait for an edible to kick in. Not to mention, who likes a hangover? THC drinks offer a social way to relax without the negative effects of alcohol. What's not to love about that? Tetrahydrocannabinol, or THC, is the primary psychoactive component of cannabis. Although intoxicating, it's easy to control your dosage to get the perfect buzz for you. 
One of the key factors driving the popularity of cannabis beverages is the use of nanoemulsion technology. By using nanoemulsion, the THC and other cannabinoids are broken down into tiny particles that are easily absorbed by the body, providing a more consistent and predictable experience. This allows for rapid onset and efficient absorption of THC and other cannabinoids, making cannabis beverages a very convenient (and discreet) way to get high. Additionally, nanoemulsion technology can also improve the flavor and drinkability of THC drinks, so it doesn't taste like you're chewing on a bud.
Furthermore, weed drinks come in a wide variety of flavors, formulations and potencies, making it easy to find the perfect one for your needs. Whether you're looking for a mild buzz or a heavy hit, there's a cannabis beverage out there that's right for you. Let us point you in the right direction.
Raise a Glass to 2023's Most Potent THC Beverages
Do you prefer to sip, shoot or mix your weed drinks into mocktails? No matter your preference, each of the drinks on our list is versatile, flavorful and loaded with highly-concentrated high doses of THC.
ST IDES Shots
ST IDES was first known for its perfectly rolled tobacco-free blunts and diamond-infused joints. Then, it dove into the cannabis beverage market with a drink that hits heavier than any you've tried before. And unlike other high-dose drinks, this one actually tastes incredible. While other companies struggle to subdue the weed flavor, ST IDES leveraged the power of nanoemulsion that allows the drink flavors to shine.
Each of the 4-ounce bottles contains 100 mg THC, so unless you're a seasoned pro, you might want to start a small sip. ST IDES Shots are the perfect mixer for THC mocktails to add a little buzz to your beverage bar.
Dosage: 100 mg per 4-ounce bottle
Varieties:
Watermelon
Blue Razz
Strawberry Lemonade
Where to Buy: Shop online and order delivery
ST IDES High Tea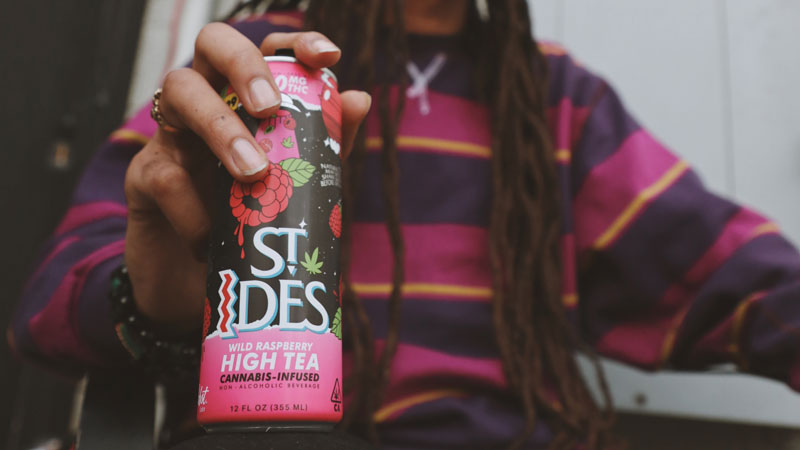 After dialing in its cannabis infusion for the popular high-dose ST IDES Shots, the brand took a nod from familiar teas we know and love and ramped them up with a hefty dose of THC. Its two newest drinks are the flavorful and fruity High Tea containing 100 mg THC per 12-ounce can.
If the artwork on the label tells you anything, there is a peach and a raspberry about to blast off into an alien spaceship. So, needless to say, you're about to get absolutely lifted. Split with a friend or just take down a can solo, and you'll be soaring high in no time at all. These teas are meant to be enjoyed chilled straight out of the can or poured over ice and mixed with other drinks of your choice.
Dosage: 100 mg per 12-ounce can
Varieties:
Georgia Peach
Wild Raspberry
Where to Buy: Shop online and order delivery
Pabst Labs High Seltzer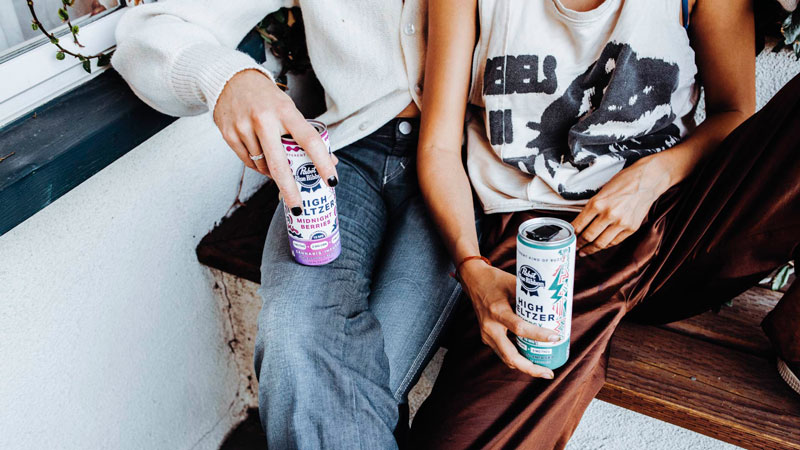 Compared to the ST IDES drinks above, PBR High Seltzers might not sound like they'll pack a punch, but hear us out. Each 12-ounce can contains just 10 mg THC, but these bubbly bevs deserve a place on this list because of their added cannabinoids. While we know and love THC for its potent highs and the buzz we love from weed, it's true that it works better when combined with other cannabinoids.
The two newest drinks from Pabst Labs are the perfect example. Energy Guava High Seltzer contains 10 mg THC and 5 mg THCV, which is becoming popular for its energizing and uplifting effects. It's even been dubbed 'diet weed' for its appetite-suppressing effects that couple with the added energy boost. THVC is a psychoactive cannabinoid found most prevalently in Sativa strains of cannabis, which are typically associated with a 'daytime' type of cannabis.  
If Energy Guava is your new favorite daytime companion, let Midnight Berries lull you to sleep. On top of the 10 mg THC is 3 mg cannabinol (CBN) and 2 mg cannabidiol (CBD.) You are probably familiar with CBD's therapeutic, anti-inflammatory effects. It's a helpful sleep aid for some and can alleviate physical tension that keeps you awake. Then, there's CBN for sleep. When combined with THC, CBN acts like a magic bullet for drifting off to dreamland. Together, these three cannabinoids will have you sleeping like a baby in no time. 
Dosage: 10 mg THC, plus additional cannabinoids per flavor
Varieties:
Where to Buy: Shop online and order delivery
Get Your Drink On
Whether you prefer a sweet tea or a crisp seltzer, cannabis beverages offer a refreshing alternative to traditional alcoholic drinks, making them perfect for social occasions. And they're just a fun way to enjoy cannabis. Any of the drinks on this list are sure to tickle your tastebuds and help you find the perfect state of mind.