80th anniversary festivities uncover forgotten stories from the community's rich legacy
Felecia Gaston has been Marin City's unofficial historian for more than three decades, collecting oral histories and memorabilia from some of the community's first residents—Black people who helped build World War II ships at Marinship.
The relics, as well as thousands of documents and newspaper articles dating back to Marin City's inception in 1942, fill an entire room in Gaston's office. All the materials she's gathered and pored over for years served as her inspiration for Marin City 80, a celebration of the community's 80th anniversary.
Gaston teamed up with Jahi Torman, a musician and writer, to produce Marin City 80 events that reveal the relatively untold and fascinating history of the county's Black population. As part of the festivities, two exhibits and a play are opening in San Rafael this month.
The Bartolini Gallery is hosting The Legacy of Marin City – A California Story, which covers the first 20 years of Black history in Marin City. The exhibit features never-before-seen photographs and memorabilia from the Black shipyard builders, including a suitcase with a story to tell.
After the United States entered World War II in December 1941, 30 shipyards sprang up almost overnight in the Bay Area to produce ships and tankers for the war. People were recruited from around the country to fill jobs at the new shipyards. Thousands of Black people, many escaping the racist Jim Crow laws in the South, answered the call, including Annie Small.
In 1943, Small boarded a crowded, segregated train in Shreveport, La., and headed for the West Coast. Finding there were no seats left, she placed her suitcase on the floor and sat on top of it for the three-day trip.
Like other Black people, including women, Small became a shipbuilder at Marinship, which was established in 1942 on Sausalito's waterfront. Marinship produced 93 Liberty ships and tankers before the war ended and, at its peak, employed 20,000 workers, according to Marin author Eric Torney's book, Marinship (Images of America).
Small worked as a welder and lived with her family in Marin City, an unincorporated area of Marin County, where the federal government quickly constructed temporary housing in 1942 for about 6,000 Marinship workers. Marin City was racially integrated, with Black and white people living side-by-side, just as they worked shoulder-to-shoulder at Marinship.
However, Marin City's housing integration ended when the wartime shipyard closed in 1946. Most white people left Marin City with money in their pockets from their well-paying jobs at Marinship. Black people had money, too, but they stayed in Marin City because of redlining, the discriminatory practice of preventing them from buying homes in other areas of the county. Renting outside of Marin City was also next to impossible.
Housing is the subject of another Marin City 80 exhibit, The Legacy of Marin City – A Housing Story, at the Marin Civic Center. The exhibit delves into the housing discrimination experienced by Marin City residents for decades and pays tribute to those who chose to stay and the people who supported them.
Redlining wasn't the only problem facing Marin City's Black population. There was a contingency that didn't want Black residents anywhere in the county, including Marin City. Gaston found documentation that Marin County leaders discussed the future of Black people in Marin City as early as 1943, two years before the war ended.
"They were asking 'What are we going to do with the Black people?'" Gaston said.
But the Black shipyard workers weren't going back to the Jim Crow South—not during the war and not afterward. In the years after Marinship closed, the shoddily built temporary housing rapidly deteriorated, leaving the residents living in poor conditions.
"The exhibit has images of the temporary housing," Gaston said. "Wooden sheds with kerosene lamps and kerosene stoves. Cold air came through the wood. There were no sidewalks, and the ground was mud and puddles."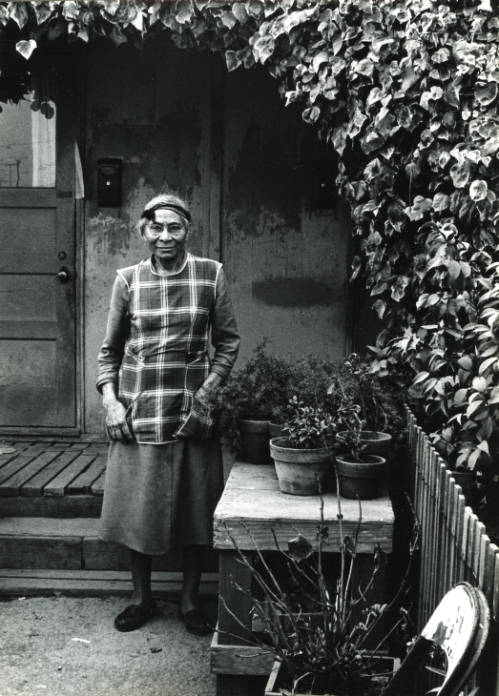 Black-owned businesses existed in the community, according to Gaston. There was a shopping area, including a market, candy store and more.
Year after year, the former shipyard workers and their families lived in the dilapidated homes. Then, a force to be reckoned with entered the county political scene.
In 1952, Vera Schultz, a strong advocate for Marin City, became the first woman elected to the Marin County Board of Supervisors. Schultz had a vision for Marin City: establish an integrated community again by replacing the ramshackle temporary buildings with affordable housing.
The Marin City 80 housing exhibit honors Schultz, who fought an uphill battle with some fellow supervisors serving on the board. Ultimately, she won. Schultz secured funding for new housing in Marin City and played a significant role in the development of Golden Gate Village, a public housing complex that opened in 1961.
After spending 15 years in the substandard temporary housing, Marin City residents finally had new homes, although it took decades for the neighborhood to become racially integrated. Today, the community of more than 3,100 people is 33 percent white and 22 percent Black.
Another Marin City 80 event opening this month is The Spirit of Joseph James – From Marinship to the California Supreme Court, a play, directed by Torman, about the remarkable life of Joseph James, a Black man who was a successful singer and actor. During World War II, James worked as a welder in Marinship and had an unfortunate experience.
The United States government, desperately in need of workers after the country entered World War II, ordered all wartime shipyards to operate without racial discrimination. However, a labor union, the International Brotherhood of Boilermakers, Iron Shipbuilders and Helpers of America, had other ideas.
The union had a "closed shop" agreement with Marinship, which meant that skilled workers must be members of the Union to be employed at the shipyard. "Negro" workers weren't permitted to join the union but were forced to pay dues to an auxiliary unit. Many refused, including James, who filed a lawsuit in Marin County, on behalf of himself and 1,000 other shipyard workers, against the union and Marinship for violating the United States order against discrimination.
The case was eventually heard by the California Supreme Court. Thurgood Marshall, who later became the first Black justice to serve on the United States Supreme Court, was one of the attorneys representing James. In February 1944, James and the other workers won the lawsuit.
Marin City 80 also published a cookbook, "Grandmothers Feed Us Love," curated and edited by Gaston. The 49 recipes came from Marin City women who were born before 1942. Anyone with a hankering for a traditional Black meal, spiced with Southern flavor, should order a copy of the cookbook, which includes recipes for salmon croquettes, Louisiana fish stew and Mama Ruby's German chocolate cake with coconut pecan frosting.
A partnership with Dominican University, a private university in San Rafael, that began several years ago was instrumental in producing many of Marin City 80's activities and books. Student interns began by archiving Gaston's collection of documents and newspapers from the last 80 years and graduated to curating the exhibits and assisting with the cookbook and a Marin City commemorative book debuting in the fall.
On Labor Day, Marin City 80 is hosting an all-day concert, Blues 'n' Soul Party in the Park, featuring blues, jazz, gospel, zydeco and soul music. The concert is also the kick-off for the Marin City Historical and Preservation Society.
Torman calls Gaston Marin City's "culture keeper," and he credits her for making Marin City 80 and the Marin City Historical and Preservation Society possible.
"Shipyard workers and the original pioneers of Marin City entrusted Felecia with their artifacts and oral histories," Torman said. "From that legacy, we show the residents' beauty, resilience and ability to thrive against incredible odds."
_________________________________
Join in the Marin City 80 Festivities
Exhibit: The Legacy of Marin City, A California Story at the Bartolini Gallery in the Marin Center, 10 Avenue of the Flags, San Rafael. Aug. 20–Nov. 1, 10am to 5pm. Free admission.
Exhibit: The Legacy of Marin City, A Housing Story at the Marin Civic Center, 1st and 3rd floors, 3501 Civic Center Drive, San Rafael. Aug. 20–Nov. 1, 10am to 5pm. Free admission.
Play: The Spirit of Joseph James – From Marinship to the California Supreme Court at the Showcase Theater in the Marin Center, 20 Avenue of the Flags, San Rafael. Two performances on Aug. 27 and 28 at 2pm. Ticket price is $20. Purchase at tickets.marincenter.org.
Cookbook: Grandmothers Feed Us Love is available at Book Passage in Corte Madera and Sausalito Books by the Bay.
Labor Day Concert: Marin City 80 Blues 'n' Soul Party in the Park, 100 block of Drake Avenue, Marin City, Sept. 5, 11am to 7 pm. Free admission.
For more information on Marin City 80, visit marincity80.com.