By Flora Tsapovsky
Mother-daughter businesses aren't hard to come by these days, as women embark on second or third careers and join forces with their creative, entrepreneurial fresh-out-of-college offspring. More often than not, such endeavors are larger than the sums of their parts—experience, risk-taking, social media skills and people skills all mix perfectly. In Sausalito, this successful business model led to a colorful, unique vintage store celebrating textures, offbeat styles and individuality. The mother and daughter in question are Lisa and Paloma Tenorio, the duo behind Baba Yaga, which opened downtown in April.
The two bring their own distinct aesthetics and a joint love of  standout pieces to the welcoming space. Lisa grew up in late-'60s Los Angeles, and experienced what she calls "a kind of a hippy childhood."
"My mom used to sew my clothes and I hated that the fabrics were itchy, and the clothes always felt too tight in the wrong places," she says. "From a very early age I was really particular about textiles and the style and fit of clothes."
During high school, Lisa started working in retail and after high school, in the '80s, got a job managing a high-end clothing boutique in L.A. called Ecru. "A lot of celebrities shopped there and I really got an education in high fashion," she says. "That was when the dream of opening my own store really started."
Paloma, on the other hand, was born in Berkeley and lived in Point Richmond, then in Montreal, and then back in California, landing in Marin County.
"During my sophomore year of high school, my mom and I decided to start an online vintage clothing store called Strange Baby," Paloma says. "At that time, we began to source and curate vintage, and by working alongside my mom I was able to learn a tremendous amount."
After graduating from high school, Paloma went to spend a year in Seattle, and when they (Paloma calls themselves 'gender neutral') returned, the time for a brick-and-mortar business was finally ripe.
"I started keeping my eye out for retail spaces that could work, and then, in February the spot at 510 Caledonia Street became available and it was a space that I had had my eye on for awhile so it felt like it was meant to be," says Lisa, who by then was, and still is, working full-time in tech.
The store's name has a meant-to-be factor to it as well: "Baba Yaga is a witch from Russian folklore who lives in a house with chicken feet and rides around in a mortar and pestle," Lisa, from Russian heritage, continues. "My mom used to read me this fairy tale when I was little because it was her favorite story as a kid."
Looking for a store name to convey powerful femininity, Lisa went back to the mythical character, upon her mom's (Paloma's grandmother's) suggestion. "I love the imagery the name conjures up and like that my mom has a personal connection to it."
The roles are divided pretty equally: Paloma takes on a management role for the store, opening and closing six days a week. They also handle Baba Yaga's Instagram account. Lisa does most of the buying, although the two take buying trips together as well. She's also responsible for the store's look and feel, along with the website. A sewing machine is tucked away, ready for Paloma's repairs and upcycling projects.
In the store, you'll find pieces that Lisa has curated while visiting antique fairs and sales, online stores and vintage shopping stops around the country, and finds that reflect the pair's passions and sartorial sensibilities.
"Our styles are pretty different, although there is some overlap," Lisa says. "Paloma is more attracted to '80s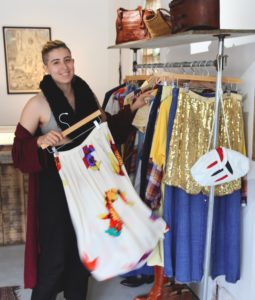 pieces—bright poppy colors, boxy shapes, androgynous looks. I am more attracted to the '70s and international pieces. We both love jumpsuits though."
According to Lisa, the difference between theirs and other vintage stores is the fact that they personally select every piece. "I look for simple shapes and good basics as well as those iconic or graphic pieces that could be paired with more simple neutrals," she says. "I love dramatic maxi skirts paired with a simple T-shirt, for example.
"I found some cool vintage when I was in Vietnam in January and when Paloma and I were in Japan we did a lot of vintage shopping," Lisa says. There are also newer pieces. For those, "we tend to focus on unisex pieces—simple jumpsuits or knitwear that can be worn by anyone. I try to look for international designers or small indie designers that are not carried in other stores on the West Coast."
In addition to the brick-and-mortar Baba Yaga, there's an online store, where offerings are divided into exciting categories like 'mystic modernist' and 'summer of love.'
"I love taking photographs of real people in the clothes," Lisa says of her sales method. "I feel like it's easier to imagine how you might wear something when you see it on a real person or see the item styled. We've had a lot of our friends and family model for us so far and I love having models of all different ages, genders, ethnic backgrounds and body types. Even my mom has modeled for us!"
Along with the highly personalized approach, something Paloma is especially proud of is the fact that the store "doesn't separate pieces into men's and women's sections. I think all clothing is unisex and I want to encourage people to experiment and mix pieces in their own unique way," Paloma says. "Being able to provide this kind of shopping experience is important to me and hopefully it is to others as well."
This pioneering approach is not the only innovation that Baba Yaga brings to Sausalito. "In Marin County, there are mostly consignment- and donation-based thrift stores," Paloma says. "At Baba Yaga, we take the work out of scouring for vintage and provide a boutique experience with beautifully curated, unique vintage pieces for our customers to look through. We do repairs in store and wash and dry clean all inventory we take in."
In Lisa's eyes, the store is "the only true vintage shop in Marin." Customers occasionally walk in assuming that Baba Yaga is yet another consignment store and are ready to offer their clothes, only to get a polite explanation. The vintage vibe, along with meticulous window displays that change on a weekly basis, is slowly catching on.
"Some customers definitely do get what we're doing right away," Lisa says. "A few customers have told us they've made a commitment to only buy vintage for environmental reasons and there are definitely quite a few vintage lovers out there already."
"There's been a lot of excitement from our customers since we've opened," Paloma adds. "I've been told that we add extra flavor to the neighborhood, which makes me feel really proud. I'm excited to grow our customer base and meet more people from around Marin!"
As the year moves forward, the mother-daughter team hopes to make Baba Yaga a destination for vintage pilgrimages.
"We really want to connect with our customers and understand what they are looking for so we can better tailor our inventory," Lisa says. " In general, I hope that Baba Yaga can inspire more people to wear and appreciate vintage and experiment with their fashion to find their own unique style."
Paloma has even bigger plans. "We've been discussing hosting events in our space as well, and I would love to connect with more artists and young people in our area," they add. "Furthermore, as a fashion student, I'd love to eventually create a line of my own for the store."
Mythical connotations or not, you just know it's going to happen.
Baba Yaga, 510 Caledonia St., Sausalito; babayagastore.com.