Two San Rafael men were arrested last week for slashing the tires of over a dozen motorhomes and other vehicles belonging to homeless people parked on Binford Road in unincorporated Novato.
James Michael McNair, 19, and Nathan Kaemon McDonald, 20, were booked into the Marin County jail on suspicion of felony vandalism, according to the Marin County Sheriff's Office.
Interviews with witnesses, video evidence and follow-up investigations led to the arrests of McNair and McDonald, in San Rafael, on Friday Aug. 6, Sergeant Brenton Schneider, a Sheriff's Office spokesperson, said.
The tire slashings occurred on Saturday, July 31, at about 1:45am. A camera mounted on one of the parked vehicles caught grainy video of two perpetrators in a dark-colored Jeep Wrangler. A camper came outside to confront the men as they pulled away.
Robbie Powelson and Jason Sarris, both members of the Marin Homeless Union, met with some of the victims and photographed the flat tires on the day of the slashings. The witness, who wants to remain anonymous, told the activists that he waited all morning for the perpetrators to come back after he saw the Jeep travel toward the dead end of Binford Road. It was his belief that the Jeep was hidden in a warehouse located on Binford Road.
As if on cue, a black Jeep, with blue tape covering its license plate, suddenly appeared while Powelson and Sarris were at the scene. Though they followed the suspects, the Jeep quickly sped away; however, they were able to photograph it.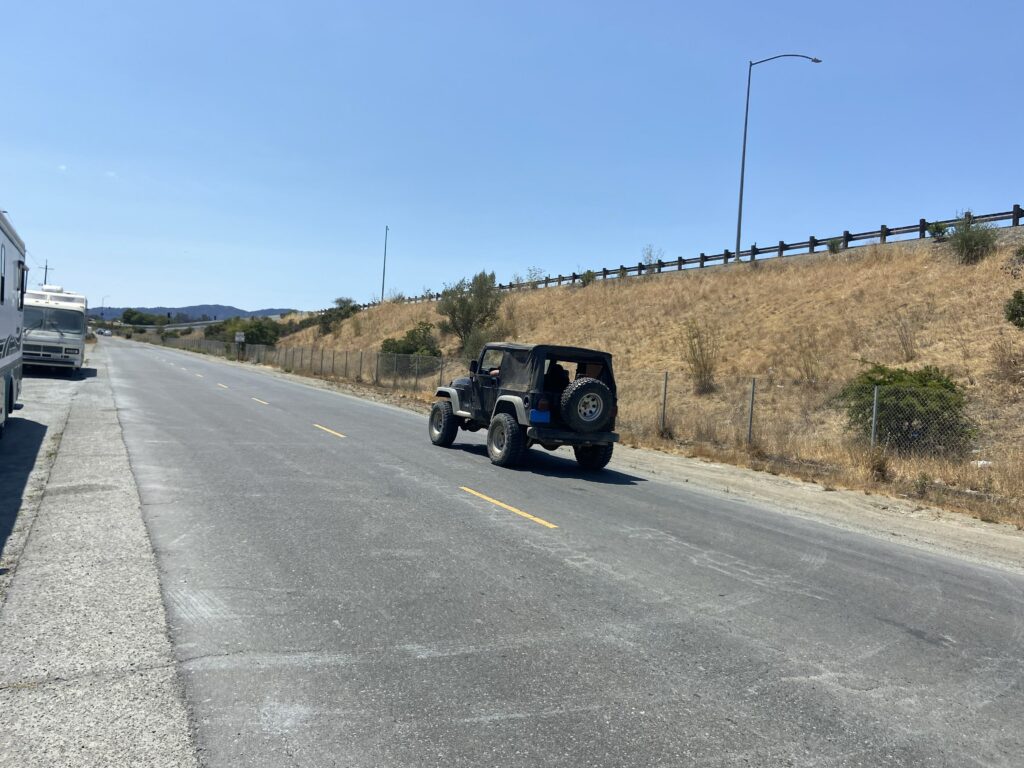 "We consider this an act of domestic terrorism," Powelson said. "Vigilantes are trying to create a climate of fear and intimidation. Unhoused people across Novato have basically been harassed."
Indeed, the tire slashings weren't the only recent action targeting homeless people in Novato. A person's vehicle was shot with a paint gun in The Square shopping center on Novato Boulevard, a tent was egged at the Lee Gerner Park homeless encampment and big trucks have been circling people late at night, Powelson and Sarris said.
The investigation into the tire slashings on Binford Road continues. Anyone with information is encouraged to contact the Marin County Sheriff's Office at 415.473.7250.