After the death of renowned sex worker and activist Margo St. James last week, I started thinking about the secluded community near Muir Woods where she lived for several years in the late '60s to early '70s.
I visited Druid Heights in 1991, long after its heyday, and was struck by the organic architecture of the dwellings; however, I knew little then about the vibrant enclave of influential writers, artists, musicians, craftsmen and activists who thrived there decades ago.
Some quick research about what's going on at Druid Heights today left me scratching my head. The National Park Service (NPS), the current owner of the land and structures, is letting Druid Heights go to ruin, much to the chagrin of Save Druid Heights, a group dedicated to the preservation of the history, buildings and artistic legacy of Druid Heights.
It's an unfortunate course of action by the NPS, because scores of luminaries from the beat, hippie and other countercultural movements lived at and visited Druid Heights. Some of the residents included writer and Zen philosopher Alan Watts, Pulitzer Prize–winning poet Gary Snyder and legal scholar and sex equality activist Catharine MacKinnon.
Allen Ginsberg, Lily Tomlin, Dizzy Gillespie, Louis Armstrong, Neil Young, Tom Robbins, Carlos Santana, Anna Halprin, Ram Dass and Daniel Ellsberg were just a few of the many famous visitors.
It all began in 1954, when a lesbian poet and an unconventional builder formed an unlikely partnership and purchased five isolated acres of land on the southwestern side of Mount Tamalpais. Elsa Gidlow put up the funds to buy the property she dubbed Druid Heights and Roger Somers supplied the sweat equity to design and build distinctive dwellings and structures on the acreage.
Druid Heights matriarch Gidlow was a trailblazer and a visionary. Considered the progenitor of the lesbian feminist era, she wrote On A Grey Thread in 1923, the first book of openly lesbian love poetry in North America.
Nine of her 13 books were written at Druid Heights, including a 1986 autobiography, Elsa, I Come with My Songs, which was the first lesbian autobiography written under the author's real name, according to the GLBT Historical Society in San Francisco.
Gidlow died in her home in 1986, at the age of 87. The poet's ashes were buried under an apple tree on the property.
Druid Heights, a former chicken ranch, started out with two houses and a few outbuildings left over from the ranch. Eventually, it featured about 16 homes and structures, many designed and built by the innovative Somers, who was influenced by Frank Lloyd Wright and Japanese architecture.
Curvilinear design became his trademark. The Twin Peaks house features a Polynesian-inspired roof and Japanese-style interior. A shoji-paneled room, a large round window, a sunken dining table with built-in benches and upright piano strings mounted into a wall are just a few of the remarkable elements adorning the inside of the home.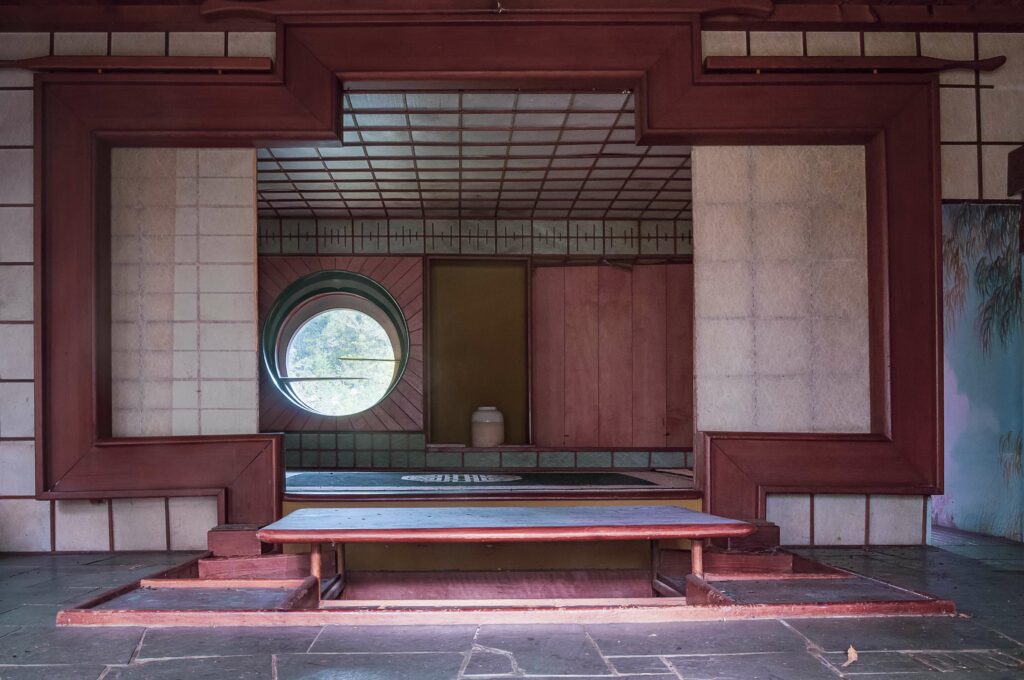 Somers customized the interior of Neil Young's 1972 tour bus, which showcased graceful woodwork with organic forms. He also designed and built part of the Trident restaurant in Sausalito, where his artistry can still be seen today.
"Roger was an advanced craftsman," said Joe Tate, a Sausalito musician who often jammed at Druid Heights. "But Roger was pretty fine on the saxophone. I don't know why he didn't do it professionally."
Somers died of heart failure in his Druid Heights hot tub in 2001, at the age of 74.
The third main Druid Heights owner was Ed Stiles, a furniture maker, who moved there with his wife in 1965, and he still lives there today. Stiles designed and built several of the buildings, including the Casa Rondo, a circular home resembling a lotus flower, constructed in 1968.
Later, the home was renamed the Mandala House by Alan Watts, who moved there in 1970. Watts was an author, lecturer and radio personality. Writing 25 books, mostly on Eastern philosophy, religion and mysticism, the Los Angeles Times called him "perhaps the foremost interpreter of Eastern disciplines for the contemporary West."
After Watts passed away in 1973 at the Mandala House, he was cremated and half of his ashes were buried near his library at Druid Heights and half were buried at Green Gulch Farms in Muir Beach, which has a Buddhist practice center.
Margo St. James, who passed away last week at 83, lived at Druid Heights from 1969 until about 1974. A colorful regular in Herb Caen's column, the gregarious St. James founded a sex workers' rights group in 1973 called COYOTE, an acronym for Call Off Your Old Tired Ethics. To raise money for the organization, she started the annual Hookers Ball, a raucous Halloween event in San Francisco that ran from 1974 to 1979.
Interspersed with the significant creative work taking place at Druid Heights were wild parties that included drugs, hot tubbing and all-night jam sessions.
Steve McNamara, owner of the Pacific Sun from 1966 to 2004, visited Druid Heights on several occasions and recalls the parties, which he says were spectacular.
"There were bands and, of course, a generous supply of pot and cheap wine (Mountain Red?)," McNamara wrote in an email. "My main memory of Druid Heights is/was that it was an astonishing fantasy that seemed to have magically appeared in the woods."
Unfortunately, the magic began to fade in the mid-'70s, after the NPS invoked eminent domain on the community due to its proximity to Muir Woods National Monument. Druid Heights owners were forced to sell the entire five acres. Gidlow fought the sale but was ultimately defeated. The federal government gave lifetime leases to owners Gidlow, Roger and Faye Somers, and Ed and Marilyn Stiles. Other "non-legal residents" were asked to leave.
Today, Druid Heights is inhabited by a handful of people, including Stiles, who is now 82. Faye Somers still has her lease and rents out the Mandala House. The inhabited homes are reportedly in sound condition.
Although Druid Heights is eligible for listing in the National Register of Historic Places, the NPS is allowing the unoccupied buildings, including Twin Peaks, to deteriorate from water damage, rats and structural failure.
"The listing itself doesn't necessarily confer protection," NPS Park Ranger Mia Monroe said. "Protecting the buildings may or may not happen."
The NPS has no anticipated date for any decisions about preserving or restoring Druid Heights, Monroe added.
"Prison and military fortifications in national parks are preserved," Save Druid Heights founder Michael Toivonen said. "If you're going to preserve historic places, are you going to have diversity? Druid Heights represents cultural diversity."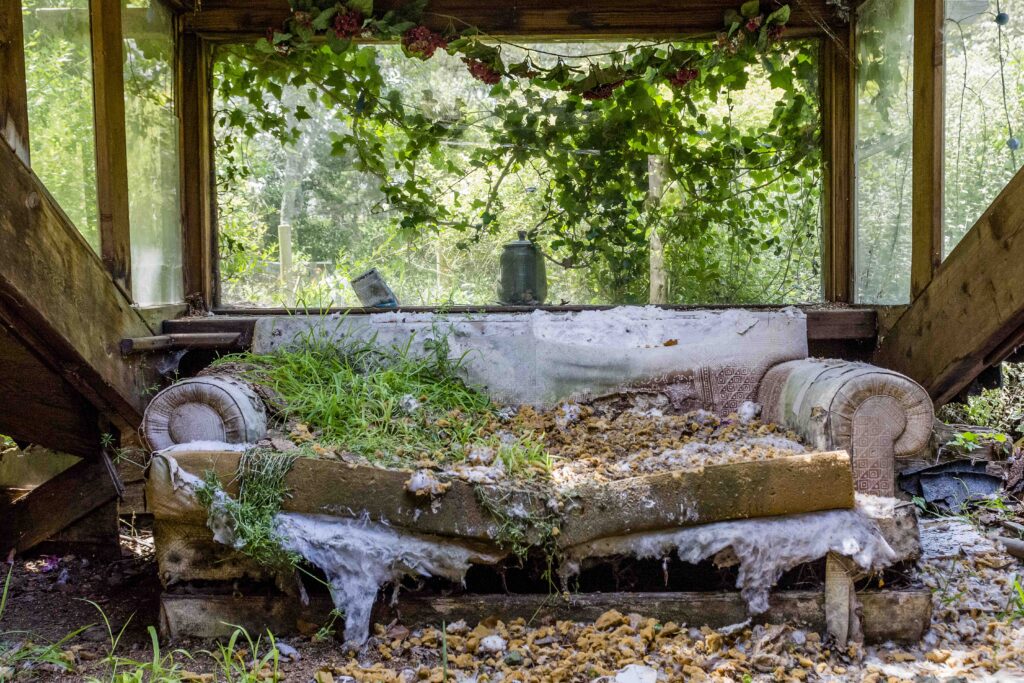 Former Druid Heights' resident and author Hallie Iglehart Austen expressed dismay after seeing the significant decline of the buildings.
"One reason I think it's really important to preserve these buildings is they're works of art and it was part of a whole culture, a whole era," Austen said in a Druid Heights oral history. "And it just seems to me like a situation of bureaucracy gone wrong …"
Druid Heights is closed to the public. For more information about its preservation, visit Save Druid Heights on Facebook.