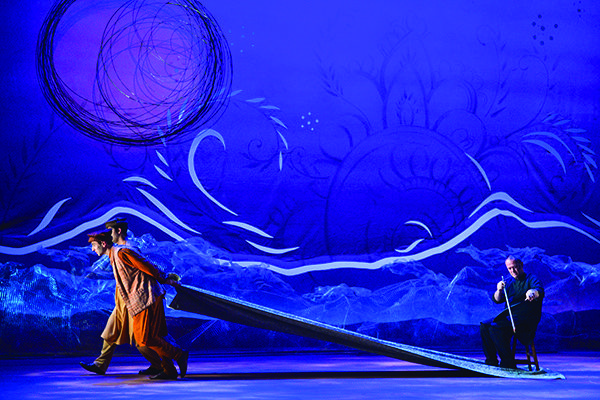 By Charles Brousse
Having to produce plays in a grand old palace like A.C.T.'s Geary Theater has always been a mixed blessing. On one hand, like the cathedrals of Europe, its scale is a reminder of how earlier generations honored their cultural heritage. On the other, the building's vast stage with its high arching proscenium, cried out for plays to match its dimensions—plays that, due to costs and other factors, fell into the category of "they don't make 'em like that anymore." The only remedy, never completely satisfying, has been to treat these plays like miniature paintings framed inside a wide matting.
There's no such problem in the case of A Thousand Splendid Suns, and the public is obviously responding. A.C.T. recently announced that the company's standard three-week run has been extended by one day to February 26. That may not sound like much, but it means that more than 1,500 additional seats became available for sale.
Suns is a sprawling, three-generational epic that depicts civilian life, particularly the plight of women, in Afghanistan from the end of the Soviet Union's 1979-1989 occupation to the advent of Taliban rule in 1996, when the weak U.S.-backed government collapsed. It was adapted for the stage by Ursula Rani Sarma from Khaled Hosseini's bestselling 2007 novel of the same name and is receiving its American premiere in association with Theatre Calgary (Canada).
A.C.T.'s production overcomes the challenge that routinely faces adapters of epic novels by managing to combine a large-scale setting and lengthy passage of time with an intimate focus on its major characters. Most of the action takes place in and around the Afghan capital of Kabul. Interiors are suggested by arched doorframes, a bed, a border control officer's desk and a few other set units that are brought on and retired as necessary. Above these, a pair of horizontally overlapping cycloramas carry projections of the barren mountains that ring the city under an everchanging "sky" dominated by a huge oval sun, flanked by a pair of graceful Middle Eastern brushstrokes.
The sense of place is further established by designer Robert Wierzel's atmospheric lighting, Linda Cho's traditional Afghan costumes and Jake Rodriguez's sound design, which is hugely enhanced by original music performed live on saw and assorted percussion instruments by David Coulter. With all of these things in place, from the moment the house lights dim, there can be no doubt that we have come a long way from the bustling shoppers and traffic outside in Union Square.
Sun's plot, which closely follows Hosseini's novel, revolves around two Afghani women who are forced to struggle for survival in a country wracked by war and misogynistic social conventions.  Laila (Nadine Malouf) is a well-schooled, attractive girl of 15 when Babi, her father (Barzin Akhavan), decides to take the family to a cousin's house in Pakistan for safety. As they wait on the street for a taxi, an errant mujahideen rocket aimed at the retreating Soviets strikes them, killing all except Laila. Badly wounded and homeless, after her initial medical treatment, Laila is taken in by their shopkeeper neighbor, Rasheed (Haysam Kadri), who promises to protect her if she will become his second wife. Feeling that she has no choice, and pregnant from a last-minute tryst with a childhood friend, she agrees, only to discover that Rasheed is a tyrant who is given to violent fits of anger if either wife provokes him. The only bright spot in this dreary picture is that she and Mariam (Kate Rigg), wife number one, after initial hostility, forge a sisterhood that ultimately leads to Laila's liberation—though the price is Mariam's life.
While overly melodramatic at times and occasionally two-dimensional in its depiction of most of the male characters as being single-minded exploiters of any women they can coax or bully into subservience, A Thousand Splendid Suns is an exciting theatrical experience. Sensitively staged by A.C.T Artistic Director Carey Perloff, it belongs among the very best of the company's long list of distinguished productions.
NOW PLAYING: A Thousand Splendid Suns runs through February 26 at A.C.T.'s Geary Theater, 405 Geary Street, San Francisco; 415/749-2228; act-sf.org.